Jagan Reddy Stabbed at Vizag Airport by Man Who Wanted a Selfie, Cops Say Attacker Wanted YSRCP Chief to Win Sympathy
Eyewitnesses disputed the police's "small attack" theory and said the attacker was aiming for Jagan's neck, but he missed and managed to stab the left arm.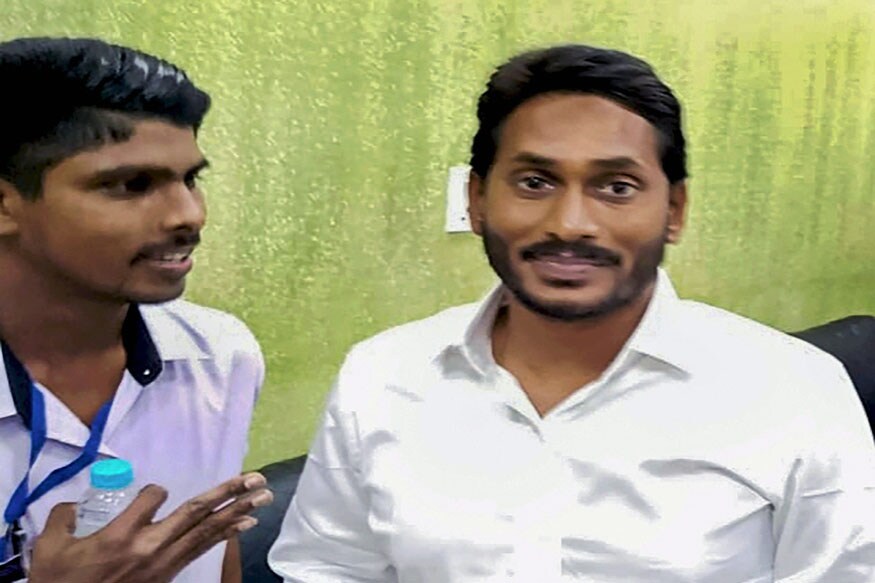 YSR Congress Party Chief Jagan Mohan Reddy before he was stabbed on his arm by J Srinivasa Rao (L), at Visakhapatnam Airport on Thursday. (PTI Photo)
New Delhi: YSR Congress president Jagan Mohan Reddy was stabbed just below the shoulder on his arm at the Visakhapatnam airport on Thursday.
Jagan, who is the leader of opposition in Andhra Pradesh, was leaving the lounge to board the flight to Hyderabad when a man approached him to take a selfie and attacked him with a knife that is generally used in cockfights, injuring him on the left shoulder.
The attacker, identified as one J Shrinivas Rao, works as a chef at a restaurant at the same airport, police said.
The police immediately swung into action and took him into custody. Andhra Pradesh DGP RP Thakur said that the CISF personnel apprehended the attacker and handed him over to the AP police.
Thakur said Reddy suffered a small injury on his left shoulder and was given first aid. "He's safe. He has taken a flight to Hyderabad," he said.
The DGP said that a letter was found in the attacker's pocket, showing that he was a YSRCP worker.
"During preliminary questioning, he said that he wanted Jagan to become the CM in 2014 but was left disappointed. He wanted to make a small attack so that he gains sympathy and becomes the CM this time," he said.
Eyewitnesses, however, disputed the "small attack" theory and said the attacker was aiming for Jagan's neck, but he missed and managed to stab near the shoulder.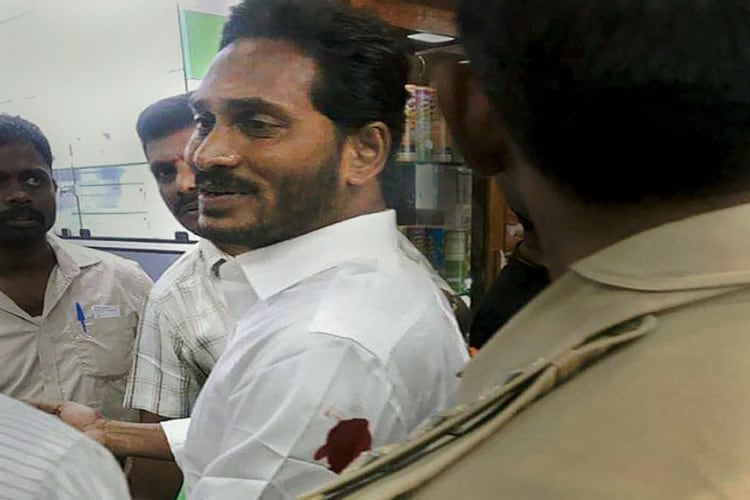 Jagan Mohan Reddy after he was stabbed on his arm at Visakhapatnam Airport on Thursday. (PTI Photo)
The YSR Congress chief tweeted say that he was safe and called the attack on him an act of cowardice.
"To everyone worried about my safety - I'd like to inform you that I am safe. God's grace and the love, concern & blessings of the people of Andhra Pradesh will protect me. Such cowardice acts will not dissuade me but only strengthen my resolve to work for the people of my state!" Jagan tweeted.
YSRC, in a statement, claimed the cafeteria at the Visakhapatnam airport was owned by ruling Telugu Desam Party leader Harshavardhan, who was aspiring to contest the next election from the district.
State Deputy Chief Minister (Home) N China Rajappa condemned the attack and said a thorough investigation has been ordered to establish the facts.
"I do not have full information but I strongly condemn the attack. A detailed investigation will be conducted into the incident," Rajappa told reporters here.
Civil aviation minister Suresh Prabhu on Thursday also condemned the "cowardly attack" and asked all agencies concerned to probe the matter thoroughly.
"The unfortunate attack by an authorised employee of a licensed airport restaurant took place before the security hold area of Vizag airport, and the same will be investigated expeditiously," the Civil Aviation Ministry said in a tweet.
In a tweet from his personal handle, Prabhu said he was shocked by the attack on Reddy and that the guilty would be punished.
"Asked all agencies to investigate matter thoroughly, including @CISFHQrs. Asked secretary civil aviation to fix responsibility. I strongly condemn this cowardly attack, we will punish the guilty. Investigations are underway, started immediately," the minister said.
| Edited by: Aakarshuk Sarna
Read full article
Countdown To
Elections Results
To Assembly Elections 2018 Results