Arun Jaitley Offers to Make Up for Lack of Special Status to AP After Chandrababu Naidu Puts BJP on Notice
Jaitley's statement comes close on the heels of TDP hinting at severing its ties with the NDA. TDP is an alliance partner in both the Centre and Andhra Pradesh.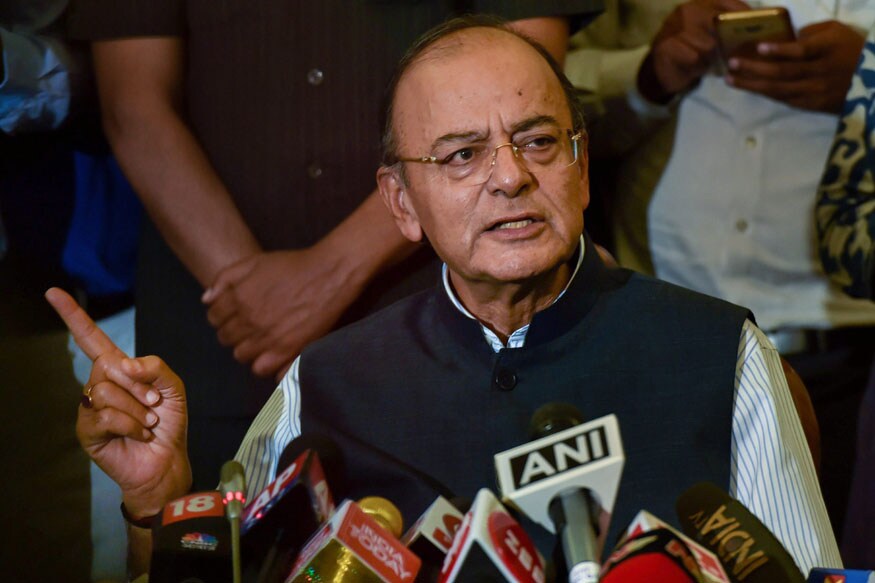 Finance Minister Arun Jaitley addresses a press conference at North Block in New Delhi on Wednesday. (PTI Photo)
New Delhi:
On a day when Andhra Pradesh CM Chandrababu Naidu warned of severing ties with the NDA, Finance Minister Arun Jaitley reached out to him saying the Centre will stand by all its commitments regarding the funds that were promised to the state after its bifurcation.
However, he added a rider, saying, "Sentiments do not define the quantum of funds" as the Centre has to look at a number of things. "We have paid Rs 4,000 crore towards revenue deficit to Andhra Pradesh, only Rs 138 crore remains. We are committed to giving monetary equivalent to special status to Andhra Pradesh."
Jaitley's statement comes close on the heels of TDP hinting at quitting its alliance with the BJP-led NDA. TDP is an alliance partner of BJP in both Centre and Andhra Pradesh.
Chandrababu Naidu on Wednesday virtually put the BJP on notice and demanded that the Centre honour the AP Reorganisation Act, 2014 and come out with a clear stand on the state's demands in the next two-three days.
Or else, he said, TDP leaders would take the "right decision at the right time", amid speculation that the party may pull out of the Narendra Modi government. Noting that Andhra Pradesh is "a special case", he said that the Centre should provide industrial incentives to it as is done for northeastern states.
"For four years, I did not raise any demand, hoping that being an ally, the BJP will honour the promises made in its manifesto as well and implement the Reorganisation Act in letter and spirit," said Naidu, reminding that Congress president Rahul Gandhi has promised to offer special status to the state if the Congress comes to power.
Jaitley, however, sent out a message to Naidu, saying, "Political issues cannot increase quantum of money because Centre does not have free floating funds. Every state in India has a right to same central funds in the same manner. I have been sympathetic to AP because I know it suffered due to bifurcation."
The finance minister took several minutes to explain the terms "special category" and "special package".
He said, "We are willing to satisfy every condition. Only variation is that after Finance Commission report instead of formally calling it a special category state, we are calling it a special package, which gives same monetary benefits that a special category state gives you."
Jaitley added that after the 14th Finance Commission report, the term "special category status" doesn't exist any longer. However, to make up for that, the Centre would give Andhra Pradesh funds equivalent to what a special category status state gets, he said.
For special category status category states, the Centre meets 90 per cent of the funds required in a centrally sponsored scheme as against 60 per cent in case of normal category states. The remaining funds are provided by the state governments.
He said the Centre had committed 90 per cent of the funds for centrally sponsored schemes in Andhra Pradesh, equivalent to special category states, through other means like external agencies like World Bank, but the state government wanted funds to be routed through agri-lending bank NABARD. The Centre is agreeable to even that provided a mechanism is worked out, he told reporters at his office here.
Earlier in the day, TD MP TG Venkatesh criticised the Centre and even threatened to quit the alliance with BJP. He said, "Jaitley was blunt in saying no special status and didn't show any flexibility. We are left with no option but to leave the alliance. A decision will be announced by CM Naidu. It will start with the resignations of ministers and will be taken forward. The Congress is also a culprit in this issue, so there is no question of joining them as it doesn't solve our problem."
Asked about Congress President Rahul Gandhi's promise to get Andhra the "special category status", Jaitley said, "I have to follow constitutional award."
| Edited by: Sanchari Chatterjee
Read full article
Countdown To
Elections Results
To Assembly Elections 2018 Results