GET Stock

Quotes

Rajasthan
Poll in 1 seat deferred
Jamia Millia Islamia University's Website Hacked for 'Pooja's Birthday', Twitter Joins the Party
While no group claimed responsibility for the hacking attack, the website of the Delhi-based Jamia Millia Islamia University was restored on Tuesday morning.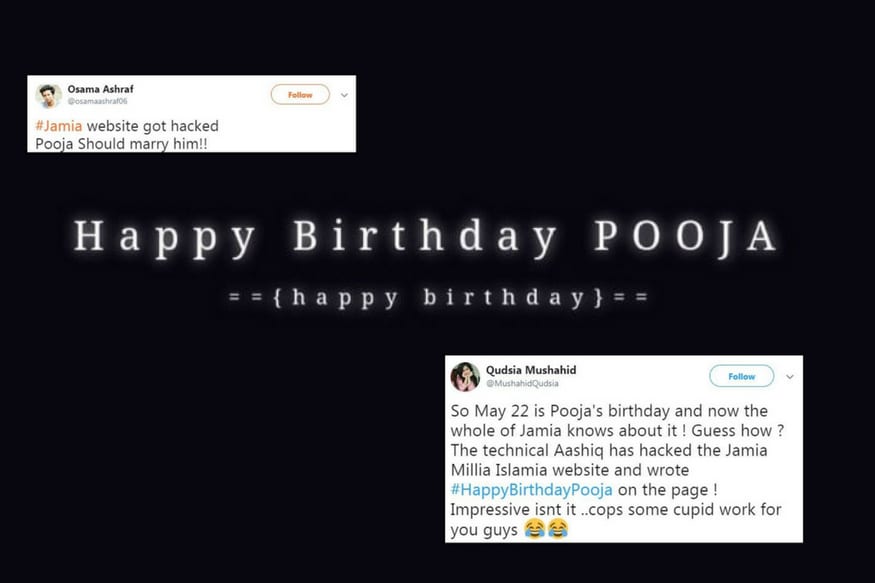 The university was yet to comment on the hack, but Twitterati had their own funny take on it.
New Delhi:
The official website of Jamia Millia Islamia University was hacked late on Monday to display a greeting which said 'Happy Birthday Pooja. Your love.'
While no group claimed responsibility for the hacking attack, the website was restored on Tuesday morning.
The Jamia Millia Islamia is a prestigious central university established in the capital in 1920. The cyber attack comes weeks after the official websites of the Home, Defence and Law ministries were hacked, raising questions on India's ability to counter such threats.
The varsity has condemned the hackers said it would be taking the issue seriously. "It is unfortunate that someone does such pranks to send personalised messages. We would be taking this issue seriously. There would be a meeting and we will decide future course of action," the varsity's media coordinator Saima Saeed told PTI.
She said that the varsity received information about the hacking between 12 and 1 am. "Our first response was to restore it and we managed to do it in six hours," she added.
In the past, websites of many educational institutions were hacked, including IITs of Delhi, Madras, Bombay and Kharagpur, Delhi University and Aligarh Muslim University.
Twitterati had a field day wishing 'Pooja' a happy birthday.
#JamiaOfficialWebsiteHaked jmi website hacked and the message is #HappyBirthdayPooja majnu ji is very serious and sensitive
Ab tu maan jawo laila ji mera matlab pooja ji. #DigitalIndia pic.twitter.com/5KuWgTBKFn

— Abdul Aasim (@AbdulAasim6) May 21, 2018
Aurat ka chakkar Babu bhaiyya.
.
Jamia Website Hacked 😊😂
.#jmi #hack pic.twitter.com/Lee7PKbIit

— Abdul Rehman (@AligArkhan) May 21, 2018
So May 22 is Pooja's birthday and now the whole of Jamia knows about it ! Guess how ?
The technical Aashiq has hacked the Jamia Millia Islamia website and wrote #HappyBirthdayPooja on the page ! Impressive isnt it ..cops some cupid work for you guys 😂😂 pic.twitter.com/GY6TdeOwi6

— Qudsia Mushahid (@MushahidQudsia) May 21, 2018
He: happy b'day
She: where is my b'day gift?
He: o wait,
(Hacked Jmi website)
Here it is...#jmi #aashiq pic.twitter.com/VCzPOAFw55

— jameel akhter (@jameel0691) May 21, 2018
#Jamia website got hacked
Pooja Should marry him!! pic.twitter.com/lgGS48uFxT

— Osama Ashraf (@osamaashraf06) May 21, 2018
Someone hacked Jamia Milia Islamia University's website with Happy Birthday Pooja GIF on it.

Wow as if there is only one Pooja in entire world. 😂😂

Happy Birthday Btw pic.twitter.com/cwSeG7q3yq

— Godman Chikna (@Madan_Chikna) May 22, 2018
Some others questioned how the cyber attack was successful in the first place.
@JamiaMillia The website has been hacked and reflect b'day wishes to some Pooja.
JMI is a reputed institute. Its website must be secured enough.
And the culprit must be punished for this for this offense. pic.twitter.com/IyisMTT1Bc

— Nouman Khan (@Nouman__Khan) May 22, 2018
This is not the time to Joke but to question the competency of CIT department of JMI as 'why and how our university website was hacked'?
Inspite of having one of best engineering faculty&proclaimed Computer science professional,
So @GoI_MeitY please take strong action on it

— Arif Khan🐦 (@mdarifk740) May 21, 2018
(Get detailed and live results of each and every seat of the state Assemblies in Madhya Pradesh, Rajasthan, Telangana, Chhattisgarh and Mizoram to know which candidate/party is leading or trailing and to know who has won and who has lost and by what margin. Our one-of-its-kind Election Analytics Centre lets you put on the psephologist's hat. Know interesting facts and trivia about the elections. Elections = News18)
| Edited by: Nitya Thirumalai
Read full article
Countdown To
Elections Results
To Assembly Elections 2018 Results