Jamia Remains Divided as Erdogan Collects 40th Doctorate Degree
Erdogan was conferred the Degree of Doctor of Letters (Honoris Causa) by the university on Monday afternoon.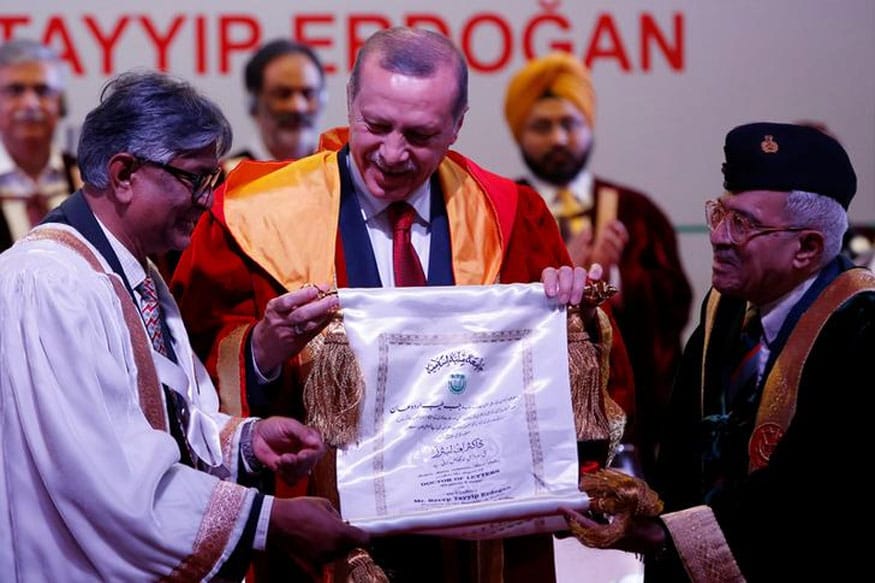 Turkish President Tayyip Erdogan (C) receives an honorary Doctor of Letters degree from M. A. Zaki (R), Chancellor of Jamia Millia Islamia University, during a convocation in New Delhi. (Image: Reuters)
New Delhi: A day after the Turkish President was conferred with an honorary doctorate, the flutter around the decision by Jamia Milia Islamia University refuses to die down.
The university seemed divided over the issue as a large section of students, teachers and alumni were critical of the administration's decision to honor Recep Tayyip Erdogan, who has been criticized worldwide for his crackdown on universities and restrictions on free speech and dissent.
Erdogan was conferred the Degree of Doctor of Letters (Honoris Causa) by the university on Monday afternoon.
Much before the ceremony, however, students on campus were contemplating online petitions and email campaigns against the decision.
Erdogan was conferred the degree amidst much fanfare. Jamia vice chancellor Professor Talat Ahmad read out the citation and declared the new programs and memorandums lined up to boost higher education. Jamia was the first university to start Turkish language and Literature Course in India in 2006-2007. The university will soon launch a post graduate program in Turkish language and Literature.
"When talking about Indo-Turkish relations, Jamia Millia Islamia's role is hard to ignore given that some of the legendary founders of the university like Dr Mukhtar Ahmed Ansari were the very people who led the Indian Medical Mission to Turkey to treat Ottoman soldiers wounded in the 1912-13 Balkan Wars," said Ahmad.
Erdogan, in his speech, advocated for India's permanent spot in the United Nations Security Council and said that terrorism was to be fought collectively. "It is unfair to associate it with just one religion," he added.
His words seem to hit the right chord with a certain section of the audience, who said the decision to confer the doctorate on the Turkish president was the government's choice and there was no lack of support for it.
"How can Erdogan be a dictator when he just had a referendum? He was elected in the past and people have been voting for him. Why would they vote for someone who crushes their liberties?" said Dr Mohsin Ali, founder of the Turkish language and literature center.
Omair Anas, the research fellow from Indian Council for World Affairs, saw both sides to the "honor".
"In 2011, Erdogan became the first high-profile figure to visit Somalia and raised awareness of the international community about the famine. Being honored for humanitarian diplomacy in regions like Somalia is very important. If any non-Muslim leader had done this, he would have received international acclaim, so why not Erdogan?" said Anas, adding that Turkey's work in Somalia would be a good case study for humanitarian projects.
It's common for political leaders to be awarded with honorary doctorate, but Erdogan seems to be particularly lucky with it. Jamia's degree is 40th such honour for the Turkish President, among the highest in the world. Interestingly, University of Aleppo had revoked on July 15, 2013 the honorary doctorate it had conferred on Erdogan on August 22, 2009 after his relationship with Syrian President Bashar al-Assad turned bitter.
@media only screen and (max-width:740px) {
.quote-box{font-size:18px; line-height:30px; color:#505050; margin-top:30px; padding:22px 20px 20px 70px; position:relative; font-style:italic; font-weight:bold}
.special-text{font-size:24px; line-height:32px; color:#505050; margin:20px 40px 20px 20px; border-left:8px solid #ee1b24; padding:10px 10px 10px 15px; font-style:italic; font-weight:bold}
.quote-box img{width:60px; left:6px}
.quote-box .quote-nam{font-size:16px; color:#5f5f5f; padding-top:30px; text-align:right; font-weight:normal}
.quote-box .quote-nam span{font-weight:bold; color:#ee1b24}
}
| Edited by: Huma Tabassum
Read full article
Countdown To
Elections Results
To Assembly Elections 2018 Results