Janta Verdict: 'Raavan' beheaded by the audience
Mani Ratnam's much hyped film gets a thumbs down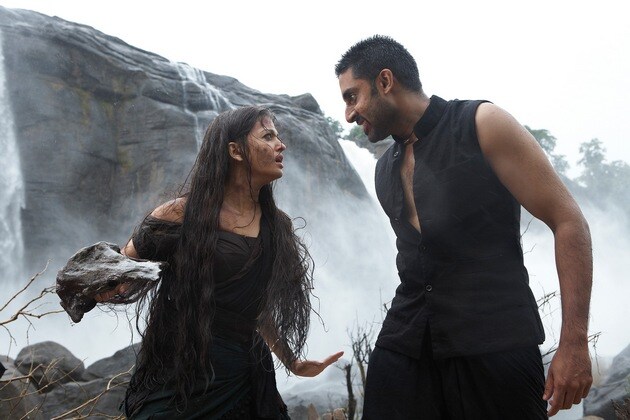 Mani Ratnam's much hyped film gets a thumbs down
Extensive film promotion before the release of any film helps the movie big time. But it can only ensure the weekends to go houseful. After that, it is the content of the film which pulls itself forward.
The makers of Raavan left no stone unturned to create a lot of buzz around the film before the release. However, the audiences at the first day first show of Raavan didn't speak in favour of the film.
Ravi Sharma, a college student, came out wearing a disappointed look. He says, "After Abhishek's performances in Yuva and Guru, I was under the impression that this would be the best of all. But Mani has missed the bus this time. Abhishek is good but not very convincing. He has hammed in many scenes. His role, inspired by the mythological character Raavan, was supposed to be the most evil character and create fear whenever he enters the frame. But he comes across as a crack head. Not taking away the credit for his honest performance, he becomes too predictable and a bore."
On the other hand, audiences not only liked Aishwarya's performance but also her look in the film. Girls went gaga over her yellow-black Kurti designed by Sabyasachi Mukherjee.
"Aishwarya is looking so beautiful. I personally prefer her in a deglam role. She adds so much of freshness to the film. Her performance is very real and I would rate it as her best. This was definitely different from all her other characters. But I haven't really had a good time watching the film," says Ashwini Desai, a law student.
Quite a few people complained about the first half being very boring and also of its poor script.
Mitesh Manek says, "The first half is so bad. Actually I had almost forgotten the bad experience of watching Kites. But Raavan reminded me of it again. Throughout the film, there is rainfall and waterfall everywhere. It is so slow that I took a nap for sometime because I was sure I am not going to miss out on anything important."
Mani Ratnam has made fabulous films in the past but this one definitely does not look like his best work, at least going by the audience's first hand reaction.
Govinda, though had a small role, did add a punch to the storyline. "Govinda was good but his role was not much. He just comes and goes but definitely adds some lighter moments," says Rupesh, a 12-year-old boy, who came along with a bunch of friends.
Being a Mani Ratnam film, it might have a good opening at the box office. But it definitely has a rough road to travel from Monday. It will be interesting to see how the Tamil version fares, where Vikram is playing Abhishek's character.
Janta Verdict: Hugely disappointing.
Get the best of News18 delivered to your inbox - subscribe to News18 Daybreak. Follow News18.com on Twitter, Instagram, Facebook, Telegram, TikTok and on YouTube, and stay in the know with what's happening in the world around you – in real time.
Read full article