Japanese chefs to open Sushi school in UK
Japanese chefs have declared war on so-called "pseudo sushi" in Europe.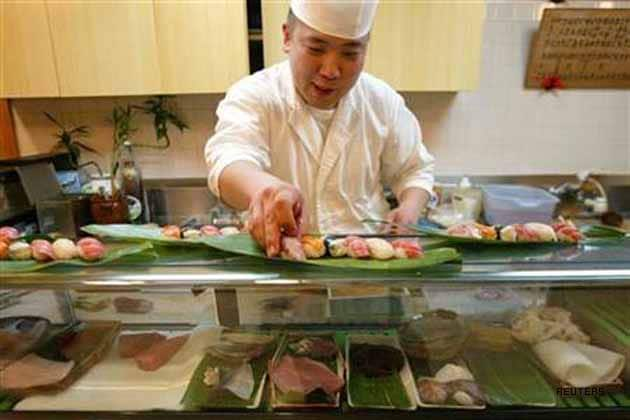 Japanese chefs have declared war on so-called "pseudo sushi" in Europe.
London: Japanese chefs have declared war on so-called "pseudo sushi" in Europe - they are to open a sushi school in Britain to stem the spread of poor quality dishes which they say demean their country's prized cuisine.
Early next year, a team of Japanese chefs is to open Europe's first sushi academy in London completely devoted to professionally training chefs in a bid to correct increasingly erroneous misconceptions of what sushi should consist of.
"When I walk into a sushi restaurant in London, it always smells fishy. A sushi restaurant serving clean fresh fish should never smell like that," 'The Sunday Telegraph'quoted Chef Hiroyuki Kanda, who leads the team, as saying.
"The Italians would never allow their pizzas not to be perfectly crusty outside Italy. The French are also protective of their cuisine. We want to do the same with Japanese food.
There is no quality control at the moment," said Kanda, the creator of a national Japanese textbook on sushi making.
The new Sushi Academy London, in Highbury Studios in Islington, will offer an array of courses to train chefs in Japanese cuisine, from the concept and philosophy to cooking methods. A one-year course professional course is expected to cost 18,000 pounds, the newspaper said.
Kanda, one several high-profile Michelin-starred chefs from Japan involved in the project, will be the supervisor and is currently finalising the curriculum.
"There are many Japanese restaurants in Europe and London. But it's almost always very bad sushi. Often sushi in Europe is very cold and hard. That's because they refrigerate it, which you should never do.
"The rice should always be warm and soft. This new school will be the first place in Europe to educate people about the philosophy of Japanese cuisine, as well as cooking techniques and method," he said.
Get the best of News18 delivered to your inbox - subscribe to News18 Daybreak. Follow News18.com on Twitter, Instagram, Facebook, Telegram, TikTok and on YouTube, and stay in the know with what's happening in the world around you – in real time.
Read full article