Jet Airways Passenger Aboard Flight That Lost Cabin Pressure Suffers Permanent Hearing Loss
Many passengers of the ill-fated flight have accused the airline of not giving compensation as was promised.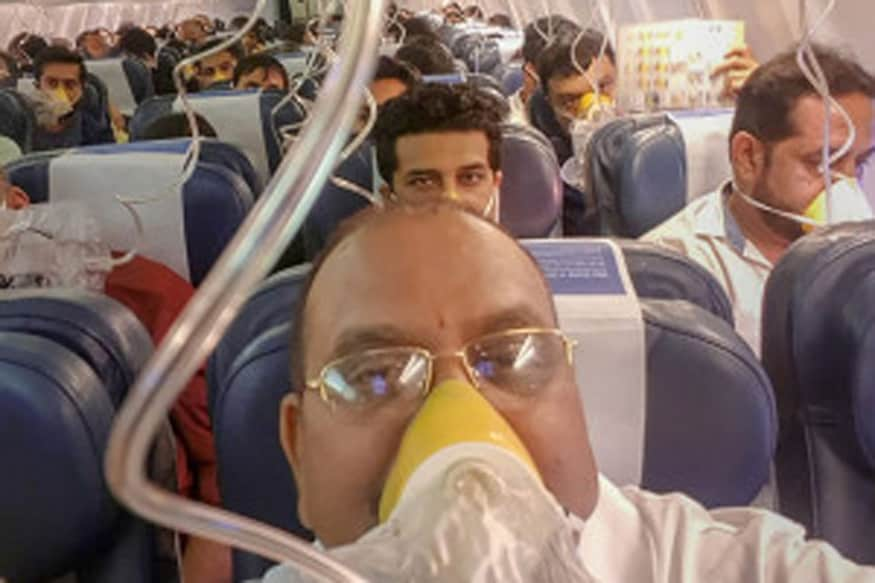 Passengers use the oxygen masks after cabin pressure fell onboard a Jet Airways flight. (PTI)
New Delhi: A Jet Airways passenger aboard the September 20 Mumbai-Jaipur flight, which experienced sudden dip in cabin pressure, has been diagnosed with permanent hearing loss.

On September 20, several passengers suffered ear and nosebleeds after the cabin pressure in the Jet Airways flight suddenly dipped. Many others travelling by the same flight complained of headache and nausea after the pilots 'forgot' to switch on the pressure maintenance system.

Passenger Mukesh Sharma suffered bleeding in his ears and underwent an audiometry test in a Jaipur hospital to assess the damage to his hearing abilities. To his shock, he was informed that his hearing has been permanently impaired, the Hindustan Times reported.

Sharma's doctor said he suffers from barotrauma — a blockage of the Eustachian tube that connects the ear and mouth — caused due to air pressure difference in the inside and outside ear. Sharma has been advised to undergo a surgical procedure and get cochlear implants to regain his hearing abilities.

Sharma was working as a research scholar in Portugal and has had to quit his job due to the injuries he suffered. He says he had to incur huge expenses for his treatment and the cost of the implants will set him back by Rs 5-6 lakh, along with additional costs for surgery.

Another passenger, Kala, too is suffering a similar fate and has decided to approach the consumer court seeking compensation. Kala's family alleges that Jet Airways had sought to reimburse his medical expenses after going through his bills but they found the demand 'unfair'. The family now intends to approach a consumer court to seek physical and psychological damages.

Several other passengers, too, have complained of not receiving compensation as the probe into the incident is still underway. The pilots responsible for the incident have been taken off duty pending investigation. The Civil Aviation Ministry has ordered a probe and sought a report from the DGCA regarding the issue.

An official at Aircraft Accident Investigation Bureau (AAIB) said that going by the preliminary information, it could be a case of negligence on the part of the pilots since controlling cabin pressure is part of the initial checks before operating a flight.
Read full article
Countdown To
Elections Results
To Assembly Elections 2018 Results