Rohi
: On the Yamuna Expressway, it doesn't take long for the multi-storied buildings to disappear over the horizon. Sixty minutes from the hyper-urban landscape of Noida, the zipping lanes of the highway bisect the Jewar Tehsil. A small road bifurcates off the highway and weaves through rolling fields and grazing cattle. Eucalyptus and sacred figs stand lined up on either side in ceremonious greeting. A narrow path turns left at a rusty Pradhan Mantri Gram Sadak Yojana board, cuts through lush paddy fields and maize crops and leads to cobbled streets of Rohi village. Nestled comfortably in pastoral expanse, Rohi is about to take a call on its future in the coming days.
On Saturday, Thakur Dheerendra Singh, Member of Legislative Assembly from Jewar, met villagers in Rohi to convince them to part with their land for the proposed Jewar airport. If the farmers consent to the land acquisition process, about 615 hectares of land from Rohi and nearby Parohi village will go towards the 1,300 hectare-airport project. Rohi, along with a few other nearby villages, will cease to exist.
"I'm a farmer too. I'm not a businessman," Singh said in his address at the village meet. "First, you must decide if this airport will be made or not. If the airport doesn't get made, what will you demand from the government? If the airport doesn't happen, we will live in regret."
Singh promised development and employment in the region. He promised street lights, sewer lines, hospitals and schools. About 25 farmers signed the consent form within an hour of Singh's speech. Some are hopeful, some reluctant, and some are downright against parting with their land. Rohi is split. "We have to trust them. And if they break our trust, the farmer is dead," said Virendra Singh. "It's the first time the government has engaged with us in this manner."
Guddu Dairywaala, as his name suggests, is the village milkman. "Humari gaay, bhains bhi hamaare saath jani chahiye (my cows and buffalos should be rehabilitated with me)," he said. "This is my profession. This is all I know."
According to Guddu, some are selling their land because they need the money. Those who have already sold some land for getting their daughters married, have some money at hand and don't want to sell.
Harish Pandit is the nephew of Tirlokchand Sharma, the Pradhan of nearby Banwari Bas village. He has land in Rohi and Kishorepur – another village that will be subsumed by the airport project if the farmers agree to sell their land to the government. He has already signed the consent form to give away his land for the airport. "Everyone likes money. But progress is more important. We want Jewar to become India's jewar (jewellery)," he said. Pandit doesn't live in the village though. He lives in a Greater Noida flat with his family, while his parents live in the family home in Banwari Bas.
Bhim Singh Chounkar, a farmer from Dayanatpur, has also decided to give his land after some deliberation. He was swayed by the government's promise of a job to one member of the affected family. "I don't want my children to do what I have done all my life," he said.
Birendra Singh and Charan Singh, neighbours in Rohi, have also consented to the acquisition. Charan Singh said that the compensation could have been higher, but it was still fair. "If we don't sell now, we will have to sell at a cheaper rate to private companies later. This is beneficial to us."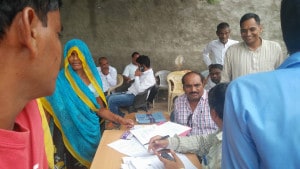 A farmer signs the consent form for land acquisition in Rohi.
If the land acquisition process is completed in the week ahead, six villages in Jewar Tehsil, Rohi, Parohi, Kishorepur, Dayanatpur, Banwari Bas, and Ranhera, will be completely or partially absorbed by the first phase of the proposed airport, a project that will put the region in national spotlight. An international airport connected to the National Capital Region through a network of expressways would not only take the load off New Delhi's Indira Gandhi International Airport, but also bring multinational corporate parks and residential complexes to the region. Connectivity to an international airport and rural land to spare changed the face of Gurgaon. Jewar could be staring at a similar future.
However, all that depends on the farmers of Jewar. The land acquisition process has been slow, even though the populace isn't opposed to the idea of an airport. There have been no protests. According to Choudhary Pushpendra Singh, president of Kisan Shakti Sangh, it is down to the shrewdness of the authorities. "The project spans villages which are dominated by Thakur and Brahman demographics. The government intentionally stayed away from the Jat villages nearby. Those would fall on the periphery of the airport," he said.
In 2011, there had been violent protests in Bhatta Parsaul, a predominantly Jat village near Jewar, when the Uttar Pradesh government had tried to acquire land for the Yamuna Expressway and other industrial and urban development projects in the region. The conflict between land owners and authorities led to four deaths, including two policemen.
The village had come under lock down and section 144 had been imposed. Pushpendra Singh said the government does not want a repeat of what happened in 2011. "The local MLA is also from the Thakur clan, so he appeals to the sentiments of villagers in Jewar. They are urging the villagers by saying that if the airport doesn't come to Jewar, then it will be matter of shame for the Thakur community," Singh added.
The absence of protests, however, hasn't expedited the land acquisition process. The authorities missed an August 31 deadline to get consent for the requisite land. Sources say, they have a week more to get the job done. Dheerendra Singh has thus been on a village-to-village drive, making speeches in Rohi, Kishorepur, Banwari Bas to get the farmers' consent. After Singh's public address in Rohi, Banwari Bas Pradhan Tirlokchand Sharma said more farmers will agree to give their lands.
The Additional District Magistrate (ADM) and the Sub-Divisional Magistrate (SDM) were also present at the meet. They were confident the land acquisition process would be successful in the next three to four days. "We have acquired over 50 percent of the 1,300 hectares required and about 35 to 40 percent of the affected families have given their consent," said ADM Balram Singh.
As of Sunday, official figures state that 627 hectares of land has been acquired from 1,688 consenting farmers. An official from the magistrate's office who was collecting consent forms from the farmers, also said the authorities would reach the required number in the coming days. "The form has the option to not give consent to the authorities as well. Not a single farmer has checked that option. So while the farmers are agreeing slowly, there is no one who officially disagrees," he said.
Disagreement and discontent, however, exists. Many in Jewar downright disagree to give their land. The major point of contention seems to be the fact that the authorities notified the land as 'urban', changing it from its earlier 'rural' status. Under the provisions of the Right to Fair Compensation and Transparency in Land Acquisition, Rehabilitation and Resettlement Act, 2013, a 'rural' land would fetch a farmer four times the circle rate, while an 'urban' land would only sell at twice the rate.
"Look around you. Does this look urban to you? This was a village then; it is a village now. Hume bina bataye sheheri bana diya. Hum to gaon ke hi hain (they turned us into city people without telling us, we belong to a village)," said Kamlesh, the Pradhan of Rohi.
A source in the Yamuna Expressway Industrial Development Authority (YEIDA) said the 'rural' to 'urban' notification process of the land in the region started in 2001. "YEIDA can't operate in a rural area. There are 96 villages in the region. Eighty villages in the region were notified as 'urban' in 2003-04 for industrial work to take place. On 18 May, 16 more villages (that include Rohi, Parohi, Dayanatpur, Ranhera, Banbari Bas and Kishorepur) were notified as 'urban' when the airport area was extended," the source said. According to him, only when the land is notified urban, can urban facilities and amenities be provided in the region.
The source also cited a Development Effectiveness Review (DEfR), which said that if the profit margin on the project falls below 10 percent (which it would have if the acquired land was 'rural'), it would discourage investors. At current offered rate (2,300 per square metre), which is an increment on the 'urban' rate, the margin stands at around 11 percent.
The villagers, however, feel cheated. Praveen Kumar, who has worked on his farm all his life, said he will never give consent for acquisition. He did not go for the village meet either. "They are cheating us. They changed the notification of the land to get cheap rates on the land. Even the circle rate of Jewar land hasn't gone up since the talk of an airport started. Earlier, every year there was an average increase in the circle rate," he said.
He also disagrees with the acquisition figure authorities have quoted. "They say 35 percent families have agreed to give the land. No way. The maximum number would be 20 percent. Only small land owners have consented, no big land owner has yet agreed to give their land," he said.
Praveen does not believe the authorities will get the required land in time. He is also unfazed by the warnings of Jewar losing out of development if the airport is moved to another location. "Shuak se le jao, aur jahan zameen sasti mile wahaan airport banao (take your airport away and build it wherever you find cheap land)."
Besides the monetary compensation, which is Rs 2,300 per square metre, farmers have issues with other elements of the compensation package too. "They say they will give me a developed plot equivalent to 50 percent of my residential plot. I have three children and five cows. Now tell me, should I keep the cattle at the new place, or should I keep my children?" 75-year-old Ajay Chautala asks.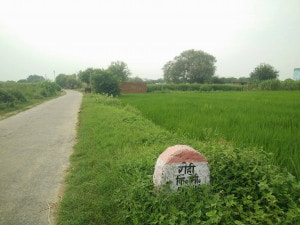 The villagers are also concerned about the rehabilitation process. "If we agree to give our lands, our homes will go. We don't know when we will get a roof above our heads," Guddu said. Farmers want to be rehabilitated in Jewar itself. They want to be around their neighbours and within their community. Authorities have promised the same. "We will keep the farmers' socio-cultural and religious identity and beliefs in mind while rehabilitating them. Communities will not be split. At the new place, we will build temples, masjids and provide land for cemetery so families can follow their faith," Dheerendra Singh said in his address at Rohi.
Singh believes the response to the village-to-village drive has been positive. He said the villagers who don't own land will be looked after. He has also promised farmers that he will urge the government to provide land-givers stamp-free land, wherever they want to buy in Uttar Pradesh. Promises of skill development, employment, developed plot all sound lucrative, especially to farmers who wish for an affluent future for their children.
For some farmers though, it is a question of identity as well. Rohi is home, no matter what. And they do not want their village to vanish. "Hum to nahin denge zameen (I won't give land). I have built my home. I worked on my farm. How can I agree to let them take it?" said a 70-year-old farmer, who only identifies as 'Baba' to everyone in the village. "If you take away the nest of a bird, she will chirp in anger too." For Baba, his land is the only thing that has brought him development.
Kusam Devi's neighbours have consented, but she is adamant on keeping her land. Standing beside her, Birendra Singh said they were going to be rehabilitated to a good place. "What good place are we going to?" Kusam interjected. "The compensation is not even good. And I have two kids. They'll give job to one; what will the other do?" Kusam, like Baba, doesn't want to leave Rohi, even if the compensation is increased. "Look at this village. It is so beautiful. Why should I leave it? Hume to gaon pasand hai (I like the village). There are so many trees here. Who will give compensation for that?"
Kusam is among the few from the younger generation refusing to give the land. The old generation of farmers do not want to part from their roots. Baba does not want to budge from his cot, let alone give up his house and land. "I was born here. I will die here. No one can take that away from me."