GET Stock

Quotes


Jhajjar is Giving Its Girls a Fighting Chance After Decades of Skewed Sex Ratio
Haryana has been infamous for its skewed sex ratio, and Jhajjar specifically has had one of the lowest sex ratios at 834:1000 as against India's average of 943:1000 (according to 2011 Census). Cut to 2018, the state government said that it had achieved a ratio of 920:1000, a phenomenal improvement.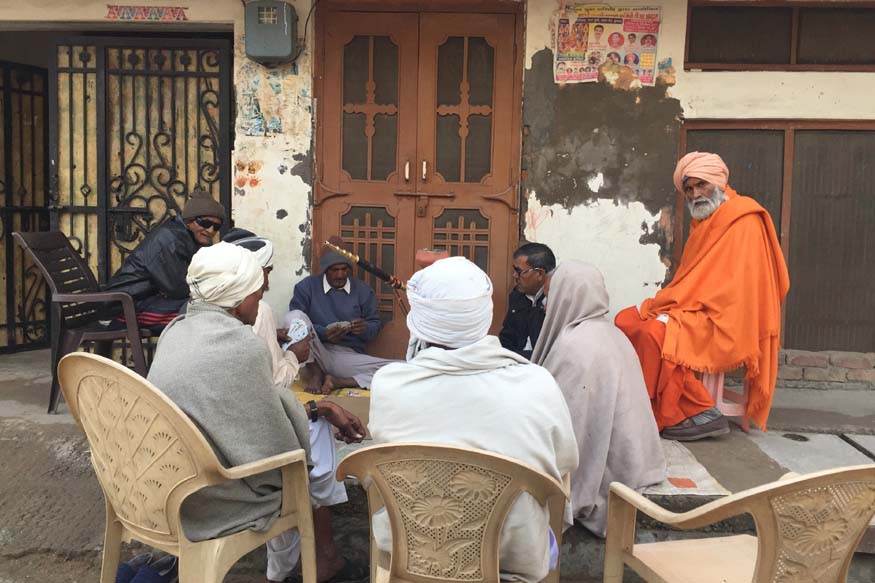 A group of men smoke hookah at Chotu Ram Dharamshala in Jhajjar city. (Image: News18)
Jhajjar: Behind a huge wooden door at Chotu Ram Dharamshala in Jhajjar city, a group of men have started their day with a hookah. This seems to be the regular norm in the district; a mark of manhood even today.
"Aadmi toh bada wala hookah peeta hai. Aur auratein, agar peeti bhi hain, toh chhota waala aur bahar toh koi nahi peeta (men smoke the large hookah, while women, if at all they smoke, is only from the small ones, that too, they don't smoke so openly)," says Prakash Chandra Dhankhar of Gramin Mahila Vikas Samiti.
Surrounded by lush mustard fields, Jhajjar remains deep-rooted in its culture, one which does not give a lot of leverage to its women.
Haryana has been infamous for its skewed sex ratio, and Jhajjar specifically has had one of the lowest sex ratios at 834:1000 as against India's average of 943:1000 (according to 2011 Census).
Cut to 2018, the state government said that it had achieved a ratio of 920:1000, a phenomenal improvement.
"Sex ratio toh poore desh ki samasya hai. Sirf Jhajjar ki nahi hai (this is a nationwide problem, not just Jhajjar's)," said a social worker.
Echoing the same sentiments, Khap leader OP Dhankar said that females have been lesser in number since ancient times. "One woman used to care of nearly five brothers in a single household," he added.
"Mahabharat ka kissa le lo. Draupadi bhi toh ek hi thi paanch bhaiyon mai (for instance, in Mahabharat, Draupadi was the only female among her five brothers)," the Khap leader said elaborating his viewpoint, while other men in the group nod their heads in agreement.
Among them is a social worker, Prakash, who waits for his turn to get the hookah hose, while others, including some youths, watch anxiously to grab the much-popular flask.
Dhankar and Prakash said that while the rise of wrestler Sakshi Malik and Miss World Manushi Chillar, both Haryana natives, has made some difference to the mind-set of people, sex ratio was in fact just a matter of chance.
"Ek yahan Deswali belt hai, jisme Sonepat, Jhajjar, Rohtak aur Mahendragarh aata hai. Isme aadikaal se ladka zyada paida hota hai. Yeh yahaan ki hawa aur vatavaran ki baat hai (The area covering Sonepat, Jhajjar, Rohtak, Mahendragarh is called 'Deswali Belt'. Since centuries, this belt has always had more boys. It's all about the atmosphere here)," Dhankar said.
A FIGHT TO BRING CHANGE
In Najafgarh, a 33-year-old doctor had started off from her home at 7am on what is usually the most difficult trip of her day. For Dr Sarita Gauri it's a two-hour drive to Jhajjar and the doctor dreads the pothole-ridden road with no streetlight. At night when she drives back there is not a soul on that stretch, she said.
Gauri is the only female in Jhajjar's health department team that cracks down on people and institutions that allow illegal abortion, including sex selective ones, under the Pre-Conception Pre-Natal Diagnostic Techniques (Regulation & Prevention of Misuse) (PCPNDT) Act.
Health department officials conduct campaigns and workshops to spread awareness on sex-selective abortion. (Image: News18)
Married to a software engineer who's based in the United States of America, Gauri has been in Jhajjar since 2013. There is not one day when her husband does not tell Gauri to quit her job, or at least move to a safer region.
In 2016, Gauri, along with her team, had probed a hospital in Bahadurgarh for illegal practices. Soon after, calls and messages started coming in. People started landing at her office in Jhajjar city.
"They used to tell me that they know my address and my route back and forth. They threatened to hurt my family," Gauri said. She had to tell her family in Najafgarh (where she stays with her in-laws) to stay alert, which further invoked a cry similar to her husband's—"quit".
"I remember that particular raid clearly. There was also a lot of political pressure to withdraw the case against the hospital. But we didn't back down," she added. The case against the hospital is now pending in court.
Five years on, in what is considered one of Haryana's most backward districts, Gauri said that facing threats and patriarchy had become part of her daily routine. Just recently, she was visiting the civil hospital where a few lab technicians, on seeing her, commented, "Is it snowing today?" She has had people commenting on her when she's entering office and leaving after work.
As a young girl born in Haryana's Yamunagar, she had her uncles telling her to dress according to her 'colour', and like many other girls, dealt with eve teasing on the bus during college and been hooted at while driving her two-wheeler.
"This strength that I get, to drive to Jhajjar every day doesn't surprise me because I have seen how bad the society can get towards a girl," said Gauri.
"There have been times when I have had to head for a raid at 2am. I make sure only my eyes are uncovered. I hide everything else under a scarf so that people don't know I'm a woman. I don't want that for anyone else," she added.
Her senior, 45-year-old Dr Rakesh Kumar has been in Jhajjar for the last 14 years. His wife was allotted a petrol pump in the district, and Kumar moved with her from Matanhail, where he was working at a Public Health Centre (PHC).
For someone who waited to have a child for eight years and then had a daughter, he wears the idea of equal chances on his sleeve.
"I wouldn't have it any other way. Cracking down on every single illegal institution and people who encourage others to abort the girl child is my only agenda. Even one such crackdown makes a huge difference," he added.
The raids don't happen every day. Each raid takes months of planning. The authorities take help of decoys in establishing who does sex selective ultrasounds and abortions.
"It takes weeks, at times months, to convince a patient to become our informer and help us. It's a huge risk for them too. We can't use a government vehicle. We need to use private vehicles to protect our identities. We have to prepare the patient with recording devices and other equipment," Kumar said.
During one such raid in 2017, where he had cracked down on an Auxiliary Nurse Midwife (ANM) conducting an abortion using Medical Termination of Pregnancy (MTP) pills, he was held at gunpoint while on his way back. Gauri was also in the car with him.
"They told us they had killed two already and didn't mind killing two more. We called in for help from the car behind us, which is how we escaped," he said.
However, the irony is that Kumar later received a call from a senior political leader, who is said to be associated with 'Beti Padhao Beti Bachao' (government's save the girl child programme), telling him that he had done wrong by cracking down on the ANM.
STILL A LONG WAY TO GO
Prakash and Dhankar still think that the numbers are merely for ensuring people in government departments have some work to do and that even buffalos have a skewed sex ratio in the state.
"I went to Balana village along with a few other district level authorities. We saw that out of 19 buffaloes, 11 were males. In another village we visited, six were males and three were females. Now, do buffaloes have ultrasound? No. Then how come even they are having more male child?" they question.
Despite the threats and the mind-set around sex ratio, the strict implementation of the PCPNDT Act, among other things, have paid off, Jhajjar's chief medical officer (CMO), Dr Ramesh Dhankar told News18.
Jhajjar has recorded a staggering increase in its sex ratio over the last couple of years.
In 2013, the ratio, as per ANM (physical) data, stood at 784, which rose to 795 in 2014, 834 in 2015, 883 in 2016. The state government, last month, said it had achieved a ratio of 920:1000 in 2017. According to the ANM data available with the CMO, the ratio for 2017 is actually 926:1000. But the increase, according to the records, is ground-breaking. ANM physical data is considered to be the actual population of the district.
The CMO said that the strict implementation had unprecedented effects. The number of FIRs, arrests and convictions had created a fear among residents.
Beti Bachao Beti Padhao has also made a difference, he said, adding that the principal secretary, Dr Rakesh Gupta, holds quarterly meetings where all details are discussed and all stakeholders participate.
"This has made everyone sit up since they now know that their work is being tracked. Along with that, we also hold awareness camps and talks to sensitize the people. We've had a few converts, if not a lot," the CMO said.
Recalling a seminar in Chuchakwas, Kumar said that by the end the session, people came crying to him, confessing on whatever they knew and did.
And it's not just in Jhajjar—there have been instances when health officials have had to move to another state with the decoys. The CMO added that the crackdown had also forced a few people to move out of the district, and even the state, to get their ultrasound done.
The officials, with the help of their informers and decoy patients have cracked the whip on such institutions as well.
Recently, a joint team of the Haryana health department, Haryana police in cooperation with Dehradun police sealed a clinic in Uttarakhand's capital allegedly involved in illegal sex determination tests. The alleged racket was busted after four decoy customers from Haryana reached the clinic to get sex determination tests done.
In their fight for achieving and maintaining the sex ratio, the health officials are empowered by an army of (Accredited Social Health Activist) ASHA workers, ANMs, Anganwadi workers and those working with Reproductive Health Centre (RHC). There are around 1,000 ASHA workers in the district and about 200 ANMs, who give in their all to ensure that every woman in their village knows them.
"It's important because there are times when under family pressure, they go for ultrasounds and abortions. We make sure that every time someone gets married in the village, we go with a congratulatory letter and get the new couple registered at the nearest PHC," said ASHA worker Sunita Asavankar from Malikpur village. Contact details are shared and then start the regular visits so that the new bride starts trusting the workers and confides in them.
Sunita herself has two daughters and a son. Her husband works as a driver, who supports her work and the time she has to give to it.
"There was this one time when I reached a woman's house with an ambulance as her due date arrived. I found out that the girl's mother-in-law had already called a 'dai' (midwife). A girl child was born, and immediately the 'dai' told me that it was stillborn. I rushed the mother and the child to a hospital in an ambulance. I didn't even let the 'dai' cut the umbilical cord," the ASHA worker said. The child survived, and it has, till date, been one of Sunita's happiest moments.
"I've saved at least one life. Isn't that something to be proud of?" she said smilingly.
Neelam, who works with the RHC, said that there have been times when a woman doesn't even know if she's pregnant. So, they have to ask her in various ways about her last menstruation cycle. "What festival was it when you last bled?" are the usual questions that the woman is prodded with.
"There are also times when we've had to jokingly ask the woman about the time period of her pregnancy. That is when we know how regressive the family is, and that there were chances of an abortion. Then the woman would blurt it out after repeated questions or such jokes," she said.
Girls, she added, are getting a chance. "People's mind-set is slowly changing. Conversations that we've had with families are also changing. It is a good sign," the RHC worker said.
Dr. Sabu George, considered to be India's leading activist against female foeticide, said that the efforts by the current government could not be ignored.
Lauding former Haryana Chief Minister Om Prakash Chautala, the activist said that his efforts in this regard has been commendable, and it made Haryana the first ever state in India to convict under the PCPNDT Act.
"Then the Hooda government came and there was not much that was done. However, with the current government and its schemes like 'Beti Bachao Beti Padhao', one has to admit that there has been improvement. In Haryana, there has definitely been pressure and deterrence," Dr George said.
The activist, however, added that girls in Haryana still had a long way to go. "There has been improvement, if numbers are to be believed. But we need to see if the girls are being treated equally. Land is still a huge issue of honour there; are the girls getting a shot at inheritance? We need to see it holistically," Dr George said.
Also Watch
| Edited by: Sumedha Kirti
Read full article