J&K polls: Invisible native Christians, least talked about and most neglected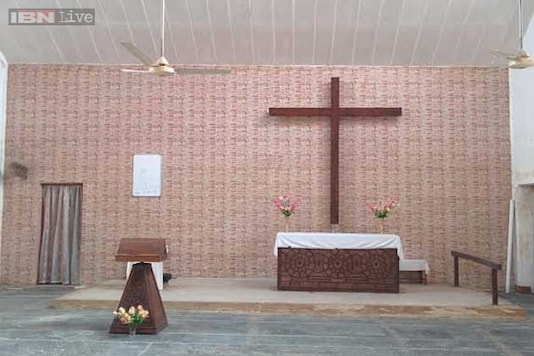 The recent conversions of local Muslims to Christianity has led to tensions between the native Kashmiri Christians and the new age missionaries.
Last Updated: June 25, 2015, 15:08 IST
FOLLOW US ON:
Srinagar: Jammu and Kashmir's summer capital Srinagar has two churches - Holy Family Catholic Church on Maulana Azad road and the Protestant's All Saints Church near Sher-E-Kashmir cricket stadium. These churches look almost invisible most part of the year and come alive during the Christmas in December.
But, this time there is no Christmas party in both the churches as the devastating flood has caused a huge damage to them. The Catholic church has been closed for the repair. The Protestant church which was also under 10 feet deep water has been reopened recently. However, there is no sign of any celebration. Both of them wear a deserted look and want to be unnoticed.
Kashmir valley has less than half a dozen old Churches. The most important and century old churches are Srinagar's Holy Family Catholic Church, All Saints Protestant Church, St. Joseph's Church in Baramulla and St. Mary's Church in Gulmarg.
According to unofficial records, the population of Jammu and Kashmir has 67 per cent Muslims, 29.6 per cent Hindus and 0.2 per cent Christians, but the Kashmir Valley region is 97 per cent Muslim. There are just 650 native Christians living in Kashmir valley. They are almost invisible and the least talked about community. They want to stay away from trouble and maintain a very low profile. They don't even want to talk to the media on condition of anonymity.
Such a small community of a few hundred people runs schools where many state leaders and other known personalities from the state have studied. Burn Hall School for the boys on Gupkar road was founded in 1943 and the Presentation Convent for girls on the banks of Jhelum River was founded in 1936. Both are Catholic run institutions and the most sought after educational institutions in Srinagar.
Kashmir's 'who is who' send their children to these schools. Even Chief Minister Omar Abdullah went to Burn Hall School.
But, the recent conversions of local Muslims to Christianity by the enthusiastic foreign funded evangelists has led to tensions between the native Kashmiri Christians and the new age missionaries. In a hushed voice, the native Christians complain that these evangelists are putting them at risk. A local Christian, who spoke to IBNLive over phone, confirmed that there are over 650 native Christians in Kashmir. But, he asked us not to bother them. They are the least talked about community in Kashmir, like an almost forgotten religion. He said, "We want to lead a very quiet life. Times are not good. We don't need any attention. New age missionaries are creating tension in Kashmir."
When IBNLive visited the Holy Family Catholic Church, then except a Nepalese caretaker, there was nobody. He told that the priest was away and the church had been closed after the flood destroyed its interiors. He refused to share the details of native Kashmiri Christians with the media. He even maintained that local Christians rarely visit the Church and most of the visitors are outsiders working or living in Kashmir.
In a hushed tone, he said that local Christians want to stay away from the limelight and requested the media not to bother them.
The same story was repeated at the Protestant run All Saints Church. A Nepalese woman caretaker said that she did not know anything about the local Kashmiri Christians and almost all visitors are outsiders.
Both the Christian run schools in Srinagar have a Christian faculty and almost all of them are outsiders. They also refused to share the details of local Christians. Keeping a very low profile is not an easy job for a liberal community like Christians. But, militancy has taught them some tough lessons in life. Unlike, two other religious minorities, Hindus and Sikhs, Christians don't want any attention.
They lead a very reclusive life and interact mostly among themselves. They want to be unnoticed when they venture out. The recent floods have also destroyed the century old Christian cemeteries in Srinagar.
Churches at Baramulla and Gulmarg
St. Mary Church at Gulmarg was built during the British rule. The 110-year-old Church was given a new look in 2003 with a renovated façade and the first Christmas mass was held in 14 years. It was attended by the then chief minister of Jammu and Kashmir Mufti Mohammad Sayeed. This is a Catholic church located in the valley of shepherds in Gulmarg and known for its multi-coloured lightings.
After the rise of militancy, the church stopped functioning in 1989. However, Christian missionaries and institutions are still associated with the Church. It will be buried under snow for half of the year.
St. Joseph's Church at Baramulla is also a British era church. It also runs a full pledged hospital. Most of the local Muslims go to this hospital for treatment. When IBNLive visited this church, it was closed. The local church run hospital's staff maintained that there are no local Christians and all the people who come here for the Sunday Mass are outsiders.
A Sister who works there told IBNLive over phone that increasing missionary activities by the new age evangelists are causing a tension for the local Christians, who have nothing to do with it.
The church and hospital were attacked by Pakistani raiders in 1947 after Independence. Noted journalist and Editor, BBC World Service News at BBC News Andrew Whitehead's book 'A Mission in Kashmir' talks about it in detail.
Allegations of conversion and activities of evangelists
According to a local journalist, new age evangelists are secretly converting the local poor Muslims by baptizing them after offering money and jobs. He said, "These neo-converts don't admit in the public that they are Christians. They secretly follow Christianity at home. It is very difficult to estimate their exact numbers. We are aware of the fact that the local Kashmiri Christians have nothing to do with this."
Another Kashmiri Muslim dismisses the fear of local Christians that they won't come out fearing reprisals. He says that no Christian was ever attacked in Kashmir except only once. He said, "It is a part of the propaganda. They (referring to intelligence agencies) want to turn the Christian dominated Western countries against the Kashmir issue by creating fear psychosis among the local Christians."
"Christians are free to follow their religion and lead a good life like all others. If the Hindus and Sikhs can live openly, why can't the Christians do the same?" he says.
According to a report published in 'Christian Post' the Reverend Chander Mani Khanna, pastor of All Saints Church in Srinagar, was arrested on November 19, 2011 on charges of hurting religious sentiments of Muslims after several youths were allegedly baptized. He was released on bail on December 1, 2011. This incident led to a huge tension and even a fact finding commission was sent to Kashmir valley to ascertain the claims.
According to a report in 'The Sunday Express' journalist Tariq Mir writes that Kashmir is witnessing a discreet spurt in conversion - from Islam to Christianity. Christian groups are putting the number of neo-converts at over 10,000 and a Sunday Express investigation confirms that conversions have been taking place regularly across the Valley. At least a dozen Christian missions and churches based in the US, Germany, the Netherlands and Switzerland have sent evengelists to the valley and are pumping in money through intermediaries based in New Delhi.
In the valley where death and trauma are a way of life, the missionaries are getting immediate attention because they reach out to the poor, needy and those affected by violence. Also, they bring in a lot of money. Though conversions have not encountered any resistance from Muslim organisations, it has led to tensions between Kashmir's native Christians - a miniscule community of 650 - and the enthusiastic evangelists, he explains in his article.
He also claims that the native Christians are increasingly getting vocal against the outsiders. "This type of conversions isn't good for local Christians who had shared a cordial relationship with Muslims here for centuries. The conversions they are doing are Bibilically wrong. There are umpteen cases in which one person has been baptised thrice within a few months. These so-called evangelists have set up businesses in the garb of Church and social work," says Pastor Leslie Richards, a native protestant living in Braen, Srinagar. "The converts here do it for monetary reasons and the people who convert them too do it for the same reasons," he adds.
Missions based in US, Germany, Switzerland and some other European countries are active across the Kashmir valley. There are more than 200 missionaries from different branches of Christianity who are active in Kashmir. Most of these missionaries blame the Roman Catholic Church and the native Kashmiri Christians for running a negative campaign against the Christians who work among the poor.
According to some researchers of religion Jesus Christ died in Kashmir at the age of over 100 years. Some link him to tourist place Pahalgam in South Kashmir. Some argue that he was buried in Srinagar.
But, these theories have been dismissed by the Vatican and other Christian organizations as a mere imagination.
Election and Christians
According to Jagmohan Singh Raina, Chairman of All Parties Sikh Coordination Committee (APSCC) in Kashmir, native Christians are in touch with the Sikhs and the Hindu Pandits over getting minorities status for them in Kashmir. "There are a few hundred Christians. But, they prefer to stay away from publicity. Since their number is too small and the new evangelists are creating trouble for them, local Christians normally don't come out," he said.
Since their number is around just 650 and they are almost invisible, nobody is talking about the Christian voters in Kashmir. "No political party is interested in us. Nobody comes to us for votes. Nobody gives us any political posting. We don't exist for them. We are nobody's children," says a local Kashmiri Christian with a tinge of sadness.
First Published: December 09, 2014, 14:39 IST
Next Story