JNU sedition case: Umar Khalid, Anirban Bhattacharya get bail for 6 months
Umar Khalid and Anirban Bhattacharya have been in judicial custody for more than three weeks in the JNU sedition case.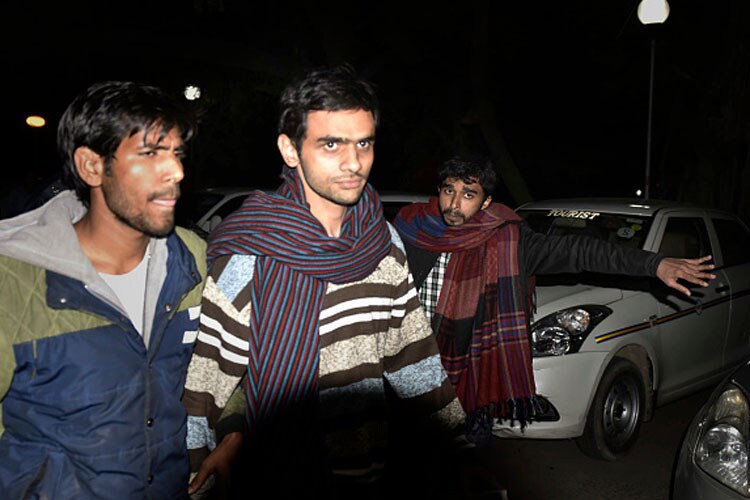 A file image of JNU student Umar Khalid, who was implicated in a sedition case. He was not allowed to participate in a seminar at Ramjas college on Feb 21, 2017, due to protests by ABVP and DUSU.
New Delhi: JNU students Umar Khalid and Anirban Bhattacharya, who have been in judicial custody for more than three weeks in a sedition case, were granted interim bail for six months by a Delhi court on Friday.
Additional Sessions Judge Reetesh Singh granted relief to the two accused on furnishing of a personal bond of Rs 25,000 each with one surety of the like amount.
"I am granting them interim bail for six months," the judge said, adding that the two will not leave the country without its prior permission.
The court said, "although the allegations levelled against Umar and Anirban are per se serious in nature but as claimed by the police themselves, the video footage of the incident has been sent to the forensic sciences laboratory. Its analysis and final report will certainly take time."
The court also took into view the two had no criminal record and that nothing indicated they were likely to abscond.
The two, along with JNU student union president Kanhaiya Kumar, have been accused of raising anti-national slogans at a meeting held in the campus on February 9 in memory of Parliament attacker Afzal Guru.
Umar and Anirban, who are lodged in jail since February 23, had sought bail on the ground of parity with Kanhaiya, saying he has already been granted bail and the incident did not attract charges of sedition.
The court order came on the bail pleas which were earlier opposed by the police on the ground that allegations were grave as they were the main organisers of the campus event in which anti-national slogans were allegedly raised.
Kanhaiya, who was arrested on February 13, was granted interim bail for six months by a Delhi High Court on March 2. Umar and Anirban had gone missing along with three other students -- Rama Naga, Ashutosh Kumar and Anant Prakash -- but returned to the campus two days before they surrendered to the police on February 23.
Students raised 'azaadi' slogans inside the JNU campus and smeared each other with gulaal as soon as news broke of the bail order for Umar and Anirban.
Get the best of News18 delivered to your inbox - subscribe to News18 Daybreak. Follow News18.com on Twitter, Instagram, Facebook, TikTok and on YouTube, and stay in the know with what's happening in the world around you – in real time.
Read full article