After Meeting Judges, CJI Dipak Misra to Take up Justice Joseph's Seniority Issue With Centre
The Supreme Court collegium had first recommended Uttarakhand High Court Chief Justice Joseph's name for elevation in January.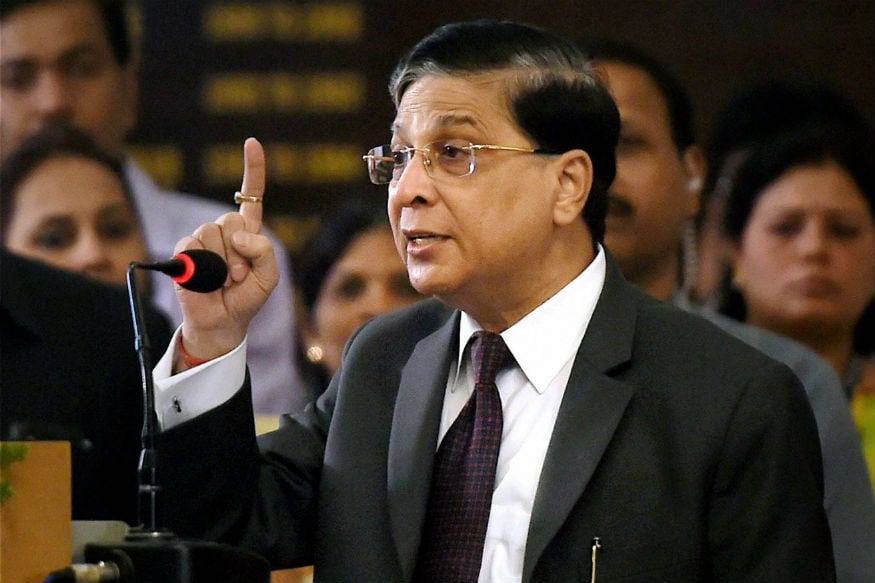 File photo of Chief Justice of India Dipak Misra. (PTI)
New Delhi: After a group of Supreme Court judges on Monday reached out to Chief Justice of India Dipak Misra on the question of 'seniority' Justice KM Joseph will enjoy in the Supreme Court, the latter has decided to take up the matter with the government.
Sources said Justices MB Lokur and Kurian Joseph, who are members of the Collegium, met the CJI at the judges lounge during the tea before start of the day's working, reported PTI.
Justice Ranjan Gogoi, who is the senior-most judge after the CJI, was not present at this meeting as he was on leave. However, CJI Misra has apparently said that he will consult with Gogoi before approaching the government.
On Friday, the government cleared the judges' appointments and placed Justice Joseph's name third in the notification, making him junior to the other two judges — Justice Indira Banerjee and Vineet Saran.
It is part of judicial convention that seniority of judges is determined in accordance with the order of names notified by the government.
The warrants of appointment of the three judges were signed by the President on August 3.
The move is expected to hamper Justice Joseph's chances of being elevated to the post of CJI as well as head a Supreme Court bench.
The CJI has apparently said he will also consult Attorney General on the issue.
There is however no word yet on Tuesday's swearing in.
The Supreme Court collegium had first recommended Uttarakhand High Court Chief Justice Joseph's name for elevation in January.
However, after the government struck it down on the grounds that he lacked seniority and his elevation would lead to "over-representation" from Kerala, it was sent in July again along with the names of Madras HC Chief Justice Indira Banerjee and Orissa HC Chief Justice Vineet Saran.
The Uttarakhand High Court Chief Justice's elevation to the apex court had ended a protracted stand-off between the government and the judiciary.
Justice Joseph had struck down the imposition of President's Rule in Uttarakhand in 2016 after the dismissal of a Congress government led by Harish Rawat.
An earlier recommendation of the collegium to transfer Justice Joseph to Andhra Pradesh and Telangana high court on health grounds was kept pending by the government for a long time.
The collegium on May 16 in-principle reiterated the decision to recommend Justice Joseph's name. But the recommendation was sent to the government in July.
Get the best of News18 delivered to your inbox - subscribe to News18 Daybreak. Follow News18.com on Twitter, Instagram, Facebook, Telegram, TikTok and on YouTube, and stay in the know with what's happening in the world around you – in real time.
| Edited by: Ashutosh Tripathi
Read full article