Jyotiraditya Scindia Seeks CBI Probe Into Mandsaur Rape, Dalit Farmer's Murder
Talking to the media, Scindia said, "Statements are being issued, announcements are being made and bills are cleared in the assembly but the state is persistently reporting rapes in places such as Shahdol, Gwalior and now Mandsaur."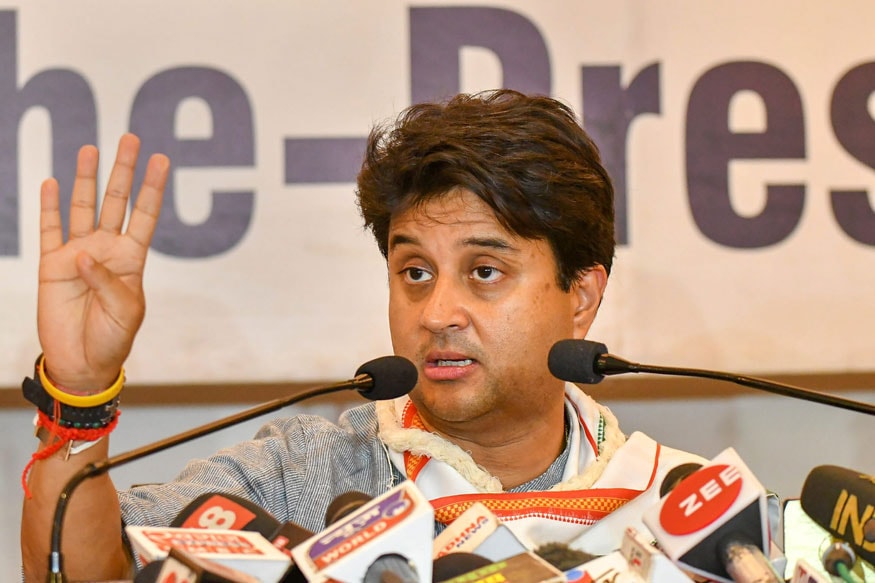 Bhopal: Congress party's state election campaign committee head Jyotiraditya Scindia addresses the media, in Bhopal on Saturday, June 30, 2018. (Photo: PTI)
Bhopal: Congress Campaign Committee chairman Jyotiraditya Scindia launched a scathing attack on the Shivraj Chouhan government's performance on women safety on Saturday and demanded a CBI probe into the Mandsaur rape.
The former union minister also sought a similar probe in the murder of a Dalit farmer on the outskirts of Bhopal.
Talking to the media, Scindia said, "Statements are being issued, announcements are being made and bills are cleared in the assembly but the state is persistently reporting rapes in places such as Shahdol, Gwalior and now Mandsaur."
Referring to the Mandsaur incident, the Guna MP said a seven-year-old was abducted from a school affiliated to the RSS in broad daylight, even as the Centre had issued guidelines on children's safety in schools.
The former union minister also attacked the Bharatiya Janata Party (BJP) for the rising farmer suicides, saying 16,000 peasants ended their lives but not a single leader from the BJP visited their home.
"It was absolutely atrocious the way a Dalit farmer was burnt alive in front of his wife in Berasia, just because the elderly man wanted a right on the piece of land allotted to him in 2002," he said.
Scindia also contested the clean chit given to the police in the Mandsaur firing last year, saying if the police was not responsible, then the blame for the deaths of the farmers had to be pinned on the government.
When asked how the Congress planned to improve the situation of the agricultural community in the state, Scindia said his government would add farmers to the value chain on the lines of Gujarat's Amul and food processing would be undertaken aggressively.
Expressing hope, the Congress leader said their campaign would bring favourable results in the impending elections, adding that party chief Rahul Gandhi's campaign schedule was being chalked out for MP and other states.
On being asked about the party's chief minister face in the state, he hinted that all was well between him and MPCC head Kamal Nath and the focus was on party workers and public issues.
The leader also rejected the government's push for simultaneous elections and said it was possible only if the Lok Sabha was dissolved.
The Scindia family scion defended the Congress over accusations of it being a dynastical party and asked what was wrong if a son or daughter of any politician had the urge and dedication to serve the country and were voted to power. "I am extremely proud to be my father's son and my grandmother's grandson," he said.​
Get the best of News18 delivered to your inbox - subscribe to News18 Daybreak. Follow News18.com on Twitter, Instagram, Facebook, Telegram, TikTok and on YouTube, and stay in the know with what's happening in the world around you – in real time.
Read full article