'Kadhalil...' will be a trend setter: Amla Paul
The popularity graph of Amala has been on the rise, thanks to her back-to-back hits Deivathirumagal and Vettai.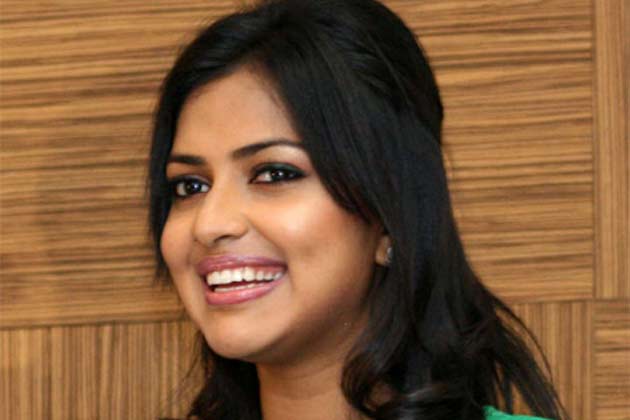 The popularity graph of Amala has been on the rise, thanks to her back-to-back hits Deivathirumagal and Vettai.
New Delhi: The popularity graph of actress Amala Paul, who first shot to fame after her commendable performance in Mynaa, has consistently been on the rise, thanks to her back-to-back hits in Deivathirumagal and Vettai.
Now, it seems that the lady's career graph is set to soar even higher. Yes, that's because she plays the female lead in two of the season's most awaited movies, Muppozhudum Un Karpanaigal (MUK) and Kaadhalil Sodhappuvadu Yeppadi (KSY). Both are set to hit screens tomorrow. If sources in the industry are to be believed, both films have triggered huge expectations and are being touted as sure shot winners.
Says Amala, "I will be competing against myself this weekend. I am thrilled because I am reasonably certain that both my movies will emerge winners in their own right." It is not without reason that Amala is confident of their success. The films have impressive crew and cast lists.
MUK has Atharvaa playing the lead and has been directed by Elred Kumar, who already has the honour of having produced two fine movies including the Gautham Menon-directed blockbuster Vinnaithaandi Varuvaaya. Music for MUK has been composed by G V Prakash.
Kadhalil Sodhappuvadhu Yeppadi on the other hand has Sidharth as the protagonist and Thaman as its music director. It's director, a newcomer called Balaji Mohan, seems to have earned the admiration of those in the industry, even before the release of his first film. In fact, actor Sidharth, who is also a producer of this film, has said that he decided to make this film after watching a ten-minute capsule made by Balaji on YouTube. The actor remarked, "I kept searching for Balaji because I was so impressed with this concept and the manner in which he had portrayed it. That was when Sashikanth of Ynot studios told me that the director was at his office. I met him and decided to make that 10 minute capsule into a film."
Commenting on her films, Amala says, "Both films might focus on love but believe me, both films are very different from each other and from the ones that have been made on the topic so far."
"MUK is not just a love story. It's a three-in-one movie. I play a bold girl who travels through the hero's life without his knowledge in the film. My role has different shades to it and my body language had to change accordingly. MUK's script is a strong one and has the standard of an international film. Once audiences understand what it is, it is bound to create waves," says Amala, who goes on to add in the same breath, "KSY is what we call the smallest big film. It will be very different and is sure to succeed. It will be a trend-setter. The film, which is a bilingual, was made in just 50 days."
Amala, it seems, is impressed with both her directors. "Elred Kumar sir is a good friend and a perfectionist. He wouldn't bother about costs or pressure and not rest until he got the quality he wanted. Balaji is just 24 but his thoughts and ideas are amazing. He is a very creative person, whose films people of all kinds can watch. Both films have been made by professionals and are bound to win."
Get the best of News18 delivered to your inbox - subscribe to News18 Daybreak. Follow News18.com on Twitter, Instagram, Facebook, Telegram, TikTok and on YouTube, and stay in the know with what's happening in the world around you – in real time.
Read full article