Kamal Nath Says Congress Open to Forging Anti-BJP Coalition for MP Polls
Nath said that talks with parties have not yet started and it is yet to be decided whether it should be a seat sharing agreement or a pre-poll understanding.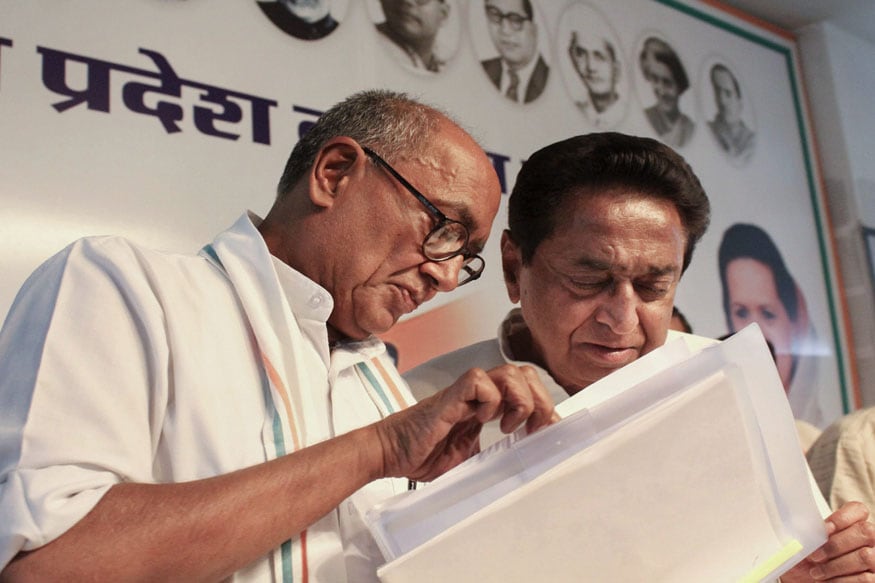 Digvijaya Singh and Kamal Nath in Bhopal. (File photo: PTI)
Bhopal: Madhya Pradesh unit head of Congress, Kamal Nath, on Wednesday said the party was open to forging an alliance with "like-minded" parties for the upcoming assembly election in the state at the end of this year.
Speaking to reporters, Nath said that talks with these parties have not yet started. "It is yet to be decided whether it should be a seat sharing agreement, understanding on candidates and other such details," he told reporters.
Explaining the logic behind considering an anti-BJP coalition, he said that in the 2014 election, BJP had received 31 per cent of the votes polled and 69 per cent of the votes were against him. "Despite this, the BJP claims the public mandate was with them. We do not want the secular vote to be divided, so we will start discussions with parties soon," he said.
The veteran Congress leader's statement comes just a day after several opposition leaders attended the swearing-in ceremony of Karnataka CM HD Kumaraswamy in a massive show of unity. Nath said that the situation on the national level and at the state level was different, but alliances will have to be made keeping in mind the target of 2019 elections.
In Madhya Pradesh, the "like-minded" parties Nath spoke of would be the Samajwadi Party and the Bahujan Samaj Party. The chiefs of the two parties were also on stage with Rahul and Sonia Gandhi in Bengaluru on Wednesday. But there would be hurdles in an electoral alliance as the Samajwadi Party has already said that it wants to contest on all seats in the state.
The BJP has been in power in the state for three terms, but is facing considerable anti-incumbency as evidenced by the recent civic poll results, giving the Congress-led opposition a window of opportunity to wrest control.
Meanwhile, Congress' newly appointed co-ordination committee chairman in the state, Digvijay Singh, made it clear that he would not contest assembly polls and his sole aim was to lay the ground work for the party's victory in the election.
"We have decided to initiate our state-wide yatra from Raja Ram's land Orchha on May 31 and would hold meetings of party workers in Chhatarpur on June 1, Panna on June 2 and so on," said the senior leader.
"Our sole aim is to resolve differences of senior leaders and workers of the Congress party in the state and we expect to cover the entire state by August 31," said Singh.
Despite the fact his team member Satyavrat Chaturvedi skipped the inaugural meeting on Thursday, the AICC general secretary did his best to present a united face of the party saying seniors including state head Kamal Nath, Leader of Opposition Ajay Singh, Jyotiraditya Scindia and others would join the yatra whenever they find convenient.
"Satyavrat Chaturvedi ji was busy in a puja in his home so he could not come for Thursday's meeting," explained Singh.
Get the best of News18 delivered to your inbox - subscribe to News18 Daybreak. Follow News18.com on Twitter, Instagram, Facebook, TikTok and on YouTube, and stay in the know with what's happening in the world around you – in real time.
| Edited by: Aakarshuk Sarna
Read full article