Stepping up pressure on the government following the success of the Jallikattu stir in Tamil Nadu, students, artistes and politicians on Friday staged a massive protest demanding removal of the ban on Kambala, a traditional buffalo race in the coastal region held annually.
AIADMK activists and leaders demanded a ban on PETA. Noted personalities from film industry, including actors Devdas Kapikad, Naveen D Padil, Bhojaraj Vamanjoor, director-producer Vijay Kumar Kodai-lbail, and others, called for immediate government action to ensure continuation of Kambala.
Read More
Jan 28, 2017 1:37 pm (IST)
Calling for ban on PETA India is akin to calling fr ban on a child protection org that saves children from illegal trafficking-PETA #Kambala

— ANI (@ANI_news) 28 January 2017
Jan 28, 2017 11:06 am (IST)
Jan 28, 2017 10:53 am (IST)
Jan 28, 2017 10:51 am (IST)
Public reactions:
- Kambala has been going on for 800 years. It is a part of this land, it's not pertaining to just one caste or religion
- The centre HAS to pass an aordinance
- Kambala is a safe race, they don't ban horse races, why? Even after there are deaths due to it. Save Kambala, it's our heritage, our culture
Jan 28, 2017 10:50 am (IST)
CLICK TO READ: Bring Ordinance to Hold Kambala, Yeddyurappa tells Govt
With growing clamour for allowing the traditional buffalo race Kambala, Karnataka BJP chief B S Yeddyurappa on Wednesday asked the Siddaramaiah government to bring in an Ordinance to facilitate holding of the event.
Jan 28, 2017 10:48 am (IST)
Jan 28, 2017 10:48 am (IST)
Jan 28, 2017 10:45 am (IST)
Law Minister T B Jayachandra on Kambala:
- The central Government and state government are having a say, so we want to bring a law of our own and we are thinking about it, since the Assembly is meeting on 6 February. By that time we will positively decide to bring a law in the Assembly.
- Central Govt has to support because this comes under concurrent list, and state has not taken any steps because of active involvement of animal supporters, we are trying to manage
- Now the court has given a stay order and in the light of how GOI came to the rescue of TN, we are bound to get justice
Jan 28, 2017 10:43 am (IST)
CLICK TO READ: Siddaramaiah For Buffalo Race, Seeks Centre's Favourable Stand
Karnataka Chief Minister Siddaramaiah on Tuesday said his government was in favour of holding it and asked the Centre to take a favourable stand as it did for Jallikattu in Tamil Nadu.
Jan 28, 2017 10:43 am (IST)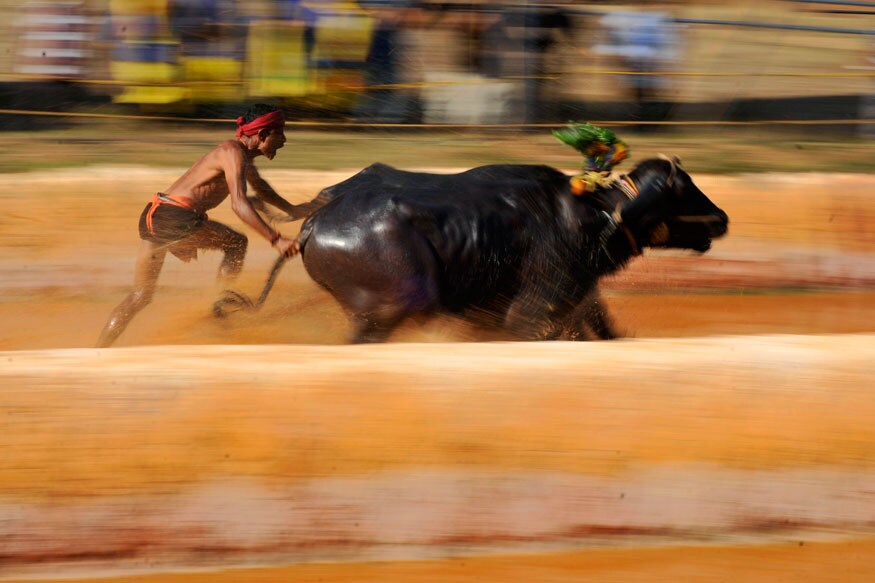 A File photo of Kambala. (Reuters)

Organisers of 'Kambala' (buffalo race) in Karnataka has decided to hold the traditional sport in Mangaluru on January 28 in violation of court orders restraining the same.

Stay tuned for more LIVE updates.


14 Aug, 2019 |

India in West Indies

WI
vs
IND
240/7

35.0 overs

256/4

32.3 overs

India beat West Indies by 6 wickets (D/L method)

14 - 18 Aug, 2019 |

The Ashes

ENG
vs
AUS
258/10

77.1 overs

250/10

94.3 overs

England drew with Australia

14 - 18 Aug, 2019 |

New Zealand in Sri Lanka

NZ
vs
SL
249/10

83.2 overs

267/10

93.2 overs

Sri Lanka beat New Zealand by 6 wickets

11 Aug, 2019 |

India in West Indies

IND
vs
WI
279/7

50.0 overs

210/10

42.0 overs

India beat West Indies by 59 runs (D/L method)

08 Aug, 2019 |

India in West Indies

WI
vs
IND
54/1

13.0 overs

/

overs

Match Abandoned