Kancha Ilaiah's Books 'Vitriolic Towards Hindu Faith', Must be Removed From Reading List: DU Teachers
Professor Geeta Bhatt, member of Delhi University (DU) academic council, said Ilaiah's books were his understanding of Hindu faith and 'there is no empirical data to establish his understanding'.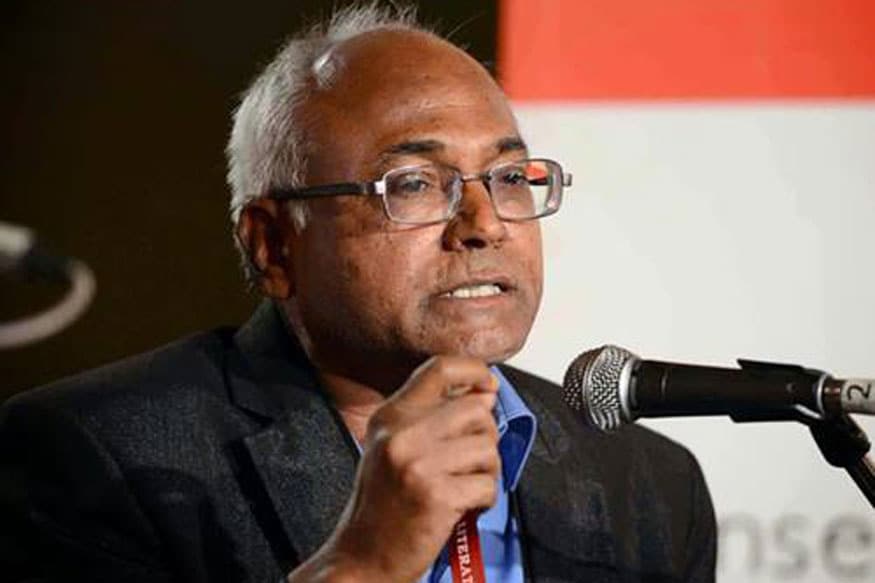 File photo of writer Kancha Ilaiah.
New Delhi: The meeting of the Delhi University's Standing Committee for Academic Affairs reverberated with calls for removal of Kancha Ilaiah "Shepherd's" books from the political science post graduate course for being "vitriolic towards Hindu faith".
Professor Geeta Bhatt, member of Delhi University (DU) academic council, told News18 that Ilaiah's books were his understanding of Hindu faith and "there is no empirical data to establish his understanding".
The three books being objected to are 'Why I am not a Hindu'; 'God as Political Philosopher: Buddha's Challenge to Brahminism'; and 'Post-Hindu India: A Discourse in Dalit-Bahujan Socio-Spiritual and Scientific Revolution'.
"The political science department should look into its syllabus. These books by Kancha Ilaiah are vitriolic towards Hindu faith," Bhatt said, terming the author's writing as unsubstantiated by facts.
She added that Ilaiah wrote about how "Hindutva school wants me to treat my Christian and Muslim brothers as enemies" and how "the very sight of saffron tilak harasses him".
"He has problems with a word like 'tapasya'. It is all about his mind and his understanding of a faith. As an academic piece, there is no content in it and no reason to teach it. His every book has this vitriol," Bhatt said. The books by Ilaiah were also objected to in the last meeting.
The optional paper for MA is taught under 'Social Exclusion Theory and Practice in Political Science' by professor N Sukumar.
The protesting teachers sought clarification on the merit of Ilaiah's work and why it was important to include his books in the syllabus. They also demanded the removal of the texts or a counter narrative to be placed before the students.
Speaking to News18, the political science head of department, professor Veena Kukreja, said: "There were some objections raised that considered the work of Kancha Ilaiah controversial. We were told that if we want to teach it, then there should be a counter narrative as well. However, some wanted its removal. We are a democratic body, and the teachers and experts concerned will sit, decide and justify why we teach Ilaiah. It will be pursued democratically."
Reacting to the row, DU professor Sanjeev Kumar HM said, "We should teach everything to the students, this is the basic idea of a university. Let the students learn and decide."
Another paper that created some discomfort was 'The Militias of Hindutva: Communal Violence, Terrorism and Cultural Policing' by Christophe Jefferlot. Teachers objected to the text for the English department, saying Indian voices were being ignored.
The committee had met on Wednesday ahead of the Academic Council meeting. Various departments are expected to revise the syllabi of their postgraduate courses for the next session when the Choice-Based Credit System (CBCS) format kicks in. As of now, the CBCS format is functional at the undergraduate level. Under this system, students have the choice to select their courses, which are categorised as 'core', 'elective' and 'open elective'.
The issue of objections being raised against texts, however, is not new. In the last meeting, teachers had objected to two books — professor Nandini Sundar's 'Subalterns and Sovereigns: An Anthropological History of Bastar' and professor Archana Prasad's 'Against Ecological Romanticism: Verrier Elwin and the Making of an Anti-Modern Tribal Identity (2003)'.
Get the best of News18 delivered to your inbox - subscribe to News18 Daybreak. Follow News18.com on Twitter, Instagram, Facebook, Telegram, TikTok and on YouTube, and stay in the know with what's happening in the world around you – in real time.
| Edited by: Apoorva Misra
Read full article