Kannada Review: 'Parie' should have been better
Given a good opportunity from a team of producers the debutant director Sudhir Attavar has not utilized the work.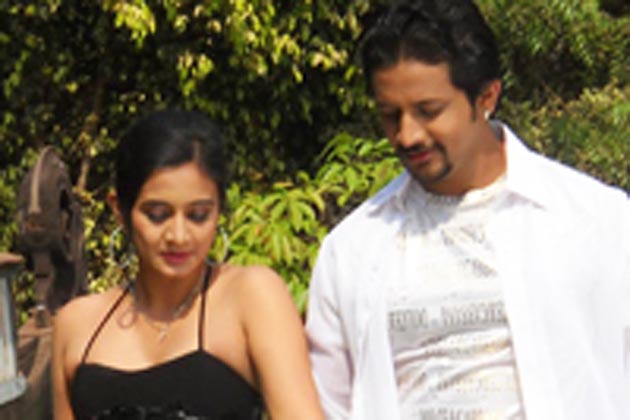 Given a good opportunity from a team of producers the debutant director Sudhir Attavar has not utilized the work.
Given a good opportunity from a team of producers the debutant director Sudhir Attavar has not utilized precisely to give a convincing cinema. The essential point of applicability to the present audience and putting the producer in the comfort zone for investment is not taken care. Firstly the film is protracted and giving big task to the tender faces it looks rubbish. Secondly sex hungry aspect in all the prominent characters (Nivedhitha, Harshika Poonacha and Rakesh) is depicted that was not necessary. Instead of tender love Sudhir Attavar goes beyond it and it is mismatch to the artists he has selected.
There is very good music and cinematography but that is not enough to hold the audience in this lengthy film. At the rain filled scenes even the dialogues does not reach the ears. It is a futile exercise from BDT Abhiyanthara banner. The new producers have nothing much to give and take from this film.
Bharadwaj (Rakesh) loneliness is obstructed by the sensuous looks of Parie on the banks of river. Bharadwaj finds his father one day fulfilling his sexual hunger. That makes it easy for Bharadwaj to freak out with Parie. The caste factor is the major hurdle when Bharadwaj joins the Lambani community. He knows how to prepare illicit liquor and waiting to marry Parie is not possible. Dejected Bharadwaj leaves this camp and works in distillery unit where he finds his fortune. He turns a blender of fine variety of liquor and that is the major winning point for Sumedha (Harshika Poonacha). Out of happiness and loneliness Sumedha extends physical attraction to Bharadwaj that is mistook as love. Bharadwaj once again finds at loss when he finds Sumedha is romancing with Chandramouli (Nagakiran) competitor in the business.
Back home to his village he finds his father in mental loss situation after receiving blows severely from Valia (Sathya) who married Parie but not enjoying his married life because of Bharadwaj earlier connection with Parie.
In the true cinematic style badly beaten Bharadwaj gets up when Parie beats his chest in anger. That indicates the reunion of Parie and Bharadwaj.
Rakesh looks good, does very good action and reaction he needs to improve. He has been given an opportunity at this age not expected (you know what it is - associating with two heroines). Harshika Poonacha looks grand in a few costumes. Her anger in the distillery unit is good the romancing with two boys Rakesh, Nagakiran plus underplay of the role is superb. Nivedhitha looks very tempting but not made an attempt to act. Nagakiran should get good roles to perform. Usha Uthup song is very ordinary and her presence in the mixture song from old hits of LR Ishwari is average.
Veera Samarth has given his best work so far. Mugiladhare is superb. Dr SPB singing the poem of Mallige Poet KS Narasimha Swamy Ninna Premadha Pariye....Naa Nariye Kanakangi.....is long lasting melody that is already a well known in light music field.
For the mood of the film Ananth Urs camera whirrs to showcase the developments. The costumes for this film are pretty good. Sudhir Attavar should attempt make films to save the producer.
Get the best of News18 delivered to your inbox - subscribe to News18 Daybreak. Follow News18.com on Twitter, Instagram, Facebook, Telegram, TikTok and on YouTube, and stay in the know with what's happening in the world around you – in real time.
Read full article