Kannada Review: Ramya's 'KVSS' is a content crash
The grandeur filled technical treat for the Kannada audience from this 3D film 'KVSS' has not much to prove.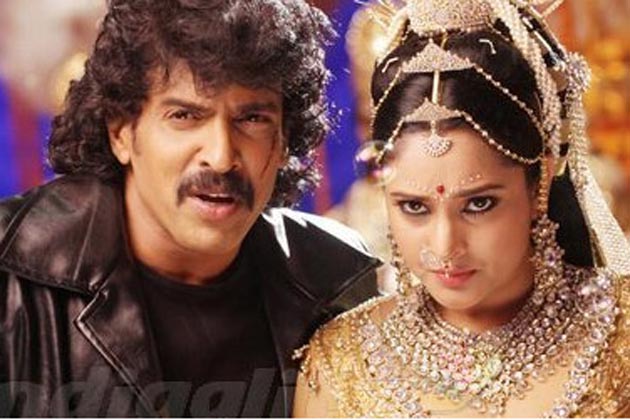 The grandeur filled technical treat for the Kannada audience from this 3D film 'KVSS' has not much to prove.
The grandeur filled technical treat for the Kannada audience from this 3D film 'Katari Veera Sura Sundarangi' has not much to boast content wise. It falls flat in good and neat narration. Upendra fans lap up the lengthy hard hitting dialogues. Upendra has banked on his earlier film 'Raktha Kanneeru' style to retain his super star position. What he adds new from this film 'Katari Veera Sura Sundarangi' is a small message that small mistakes should be punished more than big mistakes.
Reputed South Indian director Suresh Krissna looks lost in the dialogue punches which is demanding factor for any Upendra film.
Imagine a blackberry mobile in hell with Upendra catching Chitragupta romancing with a middle aged lady. It is used by character in hell to blackmail Chitragupta to secure his ends meet. Like how there is not even an iota of logic in this scene there are several such scenes in the film making it a big nonsense. The readings and understandings so far are pooh-poohed by this film in heaven and hell. The lord of death Yamadharma Raja succumbs to tricks of Mass Manava in hell and heaven despite of Vajrayudha Indra becomes a puppet by the hands of Mass Manava.
Why this Mass Manava goes to hell and heaven? Mass Manava (Upendra) era has ended on earth. He is a very clever person. He has an entry to hell and heaven because he is a good chartered account of his life. He has balanced the good and bad equally. The fickle minded Mass Manava is uncontrollable in heaven and hell. He creates confusion from election to Yamadharma Raja (Ambarish) post and uses his brain to come to heaven where Indraja attracts him. The love affair of Mass Manava and Indraja (Ramya) is again a hard issue to digest for Indra (Sridhar). Brahma is invited to solve this problem.
Lord Brahma carefully balancing the things says Mass Manava and Indraja will reach to earth if they get married. On earth they should not commit more than three mistakes. Yama Dharama should see to it if they commit three mistakes says Brahma. This results in the film shifting to earth once again.
Finally it is the true love that wins the battle. Mass Manava and Indraja live happily on earth. Yamadharmaraja blesses the couple for good life.
Speedster in dialogues Upendra wins the hearts of his fans. When Mohan, the character of Raktha Kanneeru takes the position of Yamadharama Raja in hell. The Upendra avatar is excellent by dialogues. In the role of Yamadharama Raja, Upendra's hard hitting dialogues are eye openers to all those who make small mistakes. Upendra looks grand in the mythological costume.
Ramya the sizzling beauty romancing with Upendra in one song on earth is a new attempt for her after 'Julie' (with Dino Morea). For the talent like Ramya there is not enough of building up the character. In the close up shots she looks very fat. Ambarish as Yamadharama Raja has a good built and his dialogues are also powerful. Sridhar as Indra is fine. Upendra in the get up of Raktha Kanneeru Mohana gives powerful dialogues.
The graphic shots that show Dr Rajakumar in one scene and others with MGR, NTR, Kuvempu, Chi Udayashanker Sathya Saibaba are shown in the heaven. In the hell Hitler, Gaddaffi, Veerappan, Laden are caricatured as receiving punishments.
HC Venu deserve few awards for his hard work and excellent results on screen. He has the good support of technology. The 3D shots attract the eyes at more than half dozen places.
V Harikrishna is not with lovely numbers in this film. Parijatha song for Ramya in heaven is the best one.This is worth watching for 3D technology lovers.
Get the best of News18 delivered to your inbox - subscribe to News18 Daybreak. Follow News18.com on Twitter, Instagram, Facebook, Telegram, TikTok and on YouTube, and stay in the know with what's happening in the world around you – in real time.
Read full article