Kansas Shooting: Indian Victims Were Nice, We Called Them 'Jameson Guys'
"Srinivas and Alok would order a Jameson Whisky. They would sit, have a cigarette, have a few drinks and pay their tab and leave, said the bartender Garret Bohnen, who has served the two.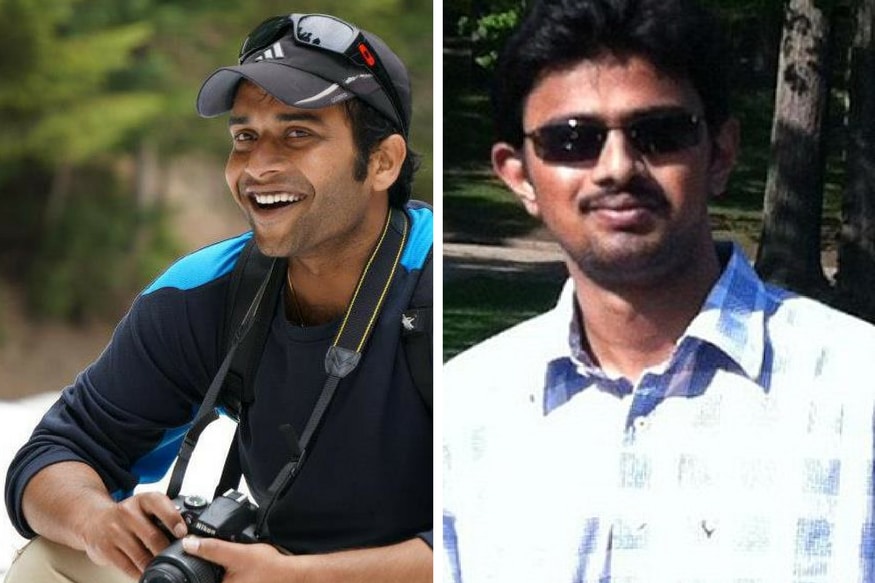 Alok Madasani (Left) and deceased Srinivas Kuchibhotla (Right)
New Delhi: They were nice guys and we used to call them 'Jameson guys' because they used to love Jameson Whisky, said a bartender who regularly served drinks to two Indians, who were shot by a US Navy veteran in US city of Kansas on Wednesday, said a report in The Kansas City Star.
Srinivas Kuchibhotla was killed and his co-worker Alok Madasani was injured in the shooting at Austins Bar and Grill. Srinivas was reportedly declared dead in a nearby hospital. The other injured was identified as Ian Grillot who tried to intervene.
"Srinivas and Alok would order a Jameson Whisky. They would sit, have a cigarette, have a few drinks and pay their tab and leave," said the bartender Garret Bohnen, who has served the two.
Also Read: Ex-US Navy Officer Shouts 'Get Out of My Country' Before Killing an Indian, Injuring 2
The bartender also reportedly said that Adam Purinton used "racial slurs" before he started shooting as patrons were watching the University of Kansas-TCU basketball game on television.
ALSO READ: US Hate Incidents Rise Sharply After Trump Win: Records
The victims were employees of the Aviation Systems Engineering team at Garmin, headquartered in Olathe.
A US Navy veteran Adam Purinton, 51, has been arrested from another bar in an Applebee's in Clinton, Missouri.
Meanwhile, some witnesses have said the attack was racially motivated.
Also Read: Sushma Swaraj Condemns Killing of Indian in US, Says 'I Am Shocked'
After committing crime he reportedly called up one of his friends and told him that he had just shot 'Middle Eastern' men and needed a place to hide.
U.S. Sen. Jerry Moran of Kansas posted a statement on Facebook saying that he was very disturbed by the shooting.
"I strongly condemn violence of any kind, especially if it is motivated by prejudice and xenophobia," Moran said.
The investigators while probing intercepted his calls and successfully managed to arrest him from Applebee's bar.
"After killing Srinivas Kuchibhotla he wounded his colleague Alok Madasani. He then fired at a third man, identified as Ian Grillot, who had tried to intervene," police sources said.
"I am shocked at the shooting incident in Kansas in which Srinivas Kuchibhotla has been killed. My heartfelt condolences to bereaved family."
The Hindu American Foundation (HAF) called the attacks a hate crime. But officials had not classified it a hate crime as of Thursday night, saying they were investigating the angle.
According to his profile on LinkedIn, Kuchibhotla, 32, graduated from the Jawaharlal Nehru Technological University in Hyderabad in 2005 with an electrical engineering degree.
He received a master's degree from the University of Texas in El Paso and was working as an aviation programmes manager with Garmin, an electronics manufacturer best known for its consumer navigation systems.
The manager at Rockwell Collins, Kuchibhotla's former employer, Rod Larson, told the Star: "He was very sharp. A top-of-his-class kind of guy. His personality was exceptional."
Madasani, 32, was a graduate of the Vasavi College of Engineering in Hyderabad. He was also a manager at Garmin.
The Star reported that acting federal prosecutor for Kansas, Tom Beall, said his office would be evaluating the case and "there will probably be more to come later from us".
On Thursday, the company sent an email to employees informing them about the shooting.
"As many of you may have heard, last night, there was a triple shooting at Austins Bar & Grill in Olathe. Unfortunately, two associates on our Aviation Systems Engineering team, Srinivas Kuchibhotla and Alok Madasani, were shot. We are devastated to inform you that Srinivas passed away and Alok is currently recovering in the hospital," read the statement in the email.
Later, the company issued a public statement, reported The Star.
"We're saddened that two Garmin associates were involved in last night's incident, and we express our condolences to the family and friends of our co-workers involved. Garmin will have grievance counselors on-site and available for its associates today and tomorrow," said the statement.
(With inputs from agencies)
Get the best of News18 delivered to your inbox - subscribe to News18 Daybreak. Follow News18.com on Twitter, Instagram, Facebook, Telegram, TikTok and on YouTube, and stay in the know with what's happening in the world around you – in real time.
| Edited by: Nakshab Khan
Read full article