Kansas Shooting: Slain Techie's Mother Not to Allow Younger Son to Return to US
After losing one son in a racist attack in the US last week, Parvatha Vardhini is not ready to take risk by sending back another son to that country.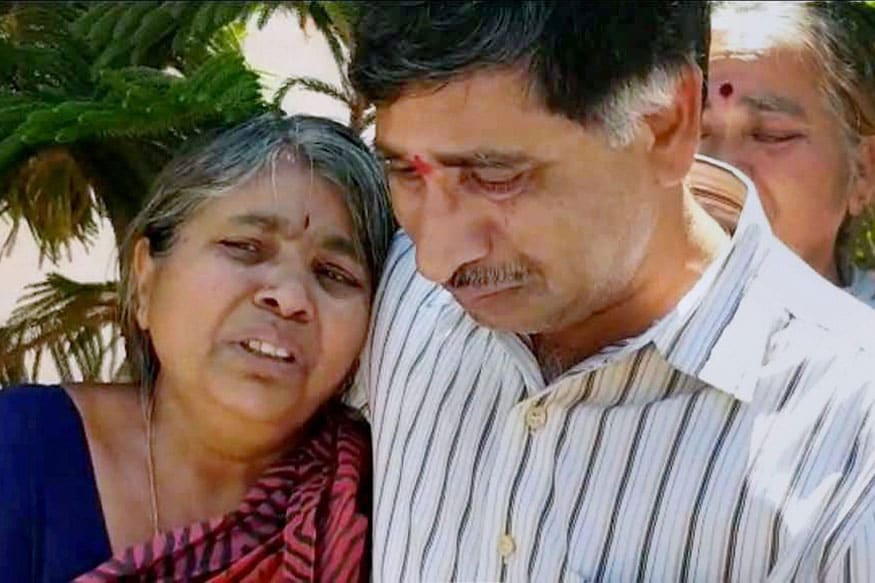 Parents of engineer Srinivas Kuchibhotla mourn his death in Hyderabad (PTI Photo)
Hyderabad: After losing one son in a racist attack in the US last week, Parvatha Vardhini is not ready to take risk by sending back another son to that country.
Sai Kishore, who is employed in a firm in the US, arrived with the body of his elder brother Srinivas Kuchibhotla, who was shot dead in Kansas by an American.
Grieving over the lost of her second of the three sons, the mother is not willing to allow the youngest to return.
The eldest of the three brothers live with the parents.
Kuchibhotla's body was brought home on Monday night and the last rites were performed on Tuesday.
Also Read: Is This The Same Country We Dreamed of, Slain Indian Techie's Wife on Facebook
The mother blamed the policies of US President Donald Trump for the killing of her son. She questioned the immigration policies of President Donald Trump, which allegedly triggered racist attacks.
"The US is the country of migration. People from all countries migrate to US. Who are you to say don't come," asked Parvatha Vardhini, mother of Srinivas Kuchibhotla, who was cremated here on Tuesday.
"If you kill people because of their colour and race, what will happen to their parents? Did you give birth to them, raised and educated them," asked the grief-stricken mother, opening up for the first time since Kansas shooting incident which killed her son.
The techie's wife Sunayna Dumala, brother Sai Kishore and other relatives had come with his mortal remains.
Sai Kishore was also settled in Kansas.
It was not clear if Sunayana, who also works at a firm in Kansas, will be returning to the US.
Kuchibhotla, 32, was killed and Alok Madasani was injured when Adam W. Purinton, a white man who earlier served in the US Navy, shot them at the Austins Bar & Grill in Olathe, Kansas state, on Wednesday night.
Purinton reportedly got into an argument with the victims and hurled racial slurs. He yelled "get out of my country", "terrorist" before shooting them.
Kuchibhotla of Hyderabad and his colleague Madasani from Warangal district in Telangana were working as aviation programme managers at Garmin, an MNC.
Parvatha said her son had gone to the bar with his friend to see the football match on a big screen. "His wife had gone to the office and till her return he wanted to spend some time. Was this a crime?" she asked while talking to media persons at their house in Bachupally on the outskirts of Hyderabad.
She claimed that Kuchibhotla did not say anything to the man who entered into an argument. "My son did not say anything even though the attacker kept throwing racial slurs," she said.
She said Indians living in the US should stay united to prevent such incidents. She, however, was not sure how they will succeed in the atmosphere created in that country.
Madasani's father Janardhan Reddy already said that he would ask his son to return home as the situation had turned bad in the US after Trump became the President. He had also appealed to parents not to send their children to the US.
"My son, like many other Indians in US are well qualified and can get better jobs in India," he had said.
Get the best of News18 delivered to your inbox - subscribe to News18 Daybreak. Follow News18.com on Twitter, Instagram, Facebook, Telegram, TikTok and on YouTube, and stay in the know with what's happening in the world around you – in real time.
| Edited by: Ananya Chakraborty
Read full article