Karnataka Govt Bows to SC, Decides to Release Cauvery Water to Tamil Nadu
He has also appealed to farmers to drop the agitation.
File photo of Karnataka-CM Siddaramaiah
Bengaluru: Karnataka chief minister Siddaramaiah on Tuesday said that his Government would release the Cauvery water to Tamil Nadu to honour the Supreme Court's judgement over the issue.
He made this announcement after chairing an all party meeting in Bengaluru even as the Opposition JDS leaders walked out of the meeting protesting the government's decision to release water to TN.
"With a heavy heart we have to give the water. It's a constitutional dilemma we are facing. Defy SC or to say we can't would be difficult. On October 18 main petition of Karnataka is coming up in the SC. We should also ensure our legal strategy doesn't harm that case. Though we are in trouble," Siddaramaiah said while addressing the media.
"We will ensure that the drinking water for the towns fed by these dams doesn't suffer. We are trying to meet the needs of the farmers too. At the same time some leaders have given us advice that we should go to SC again. We will approach the SC with a modification petition. As this order is difficult to implement, we will go before the supervisory committee too. We will go to SC to modify order of 5th September", Siddaramaiah added with an effort to reach out to the farmers from Karnataka opposing the release of the water.
Also read: Cauvery Row: Protests in Karnataka Intensify, Mobs Ransack Govt Offices
He has also appealed to farmers to drop the agitation.
"My appeal to farmers is to maintain calm. We are making all serious efforts to help them. Farmers should not do anything in haste," Siddaramaiah told the media during the briefing.
Earlier, agitated farmers and activists belonging to pro-Kannada outfits blocking Bengaluru-Mysuru Highway against the Supreme Court directive to the state to release Cauvery water to Tamil Nadu.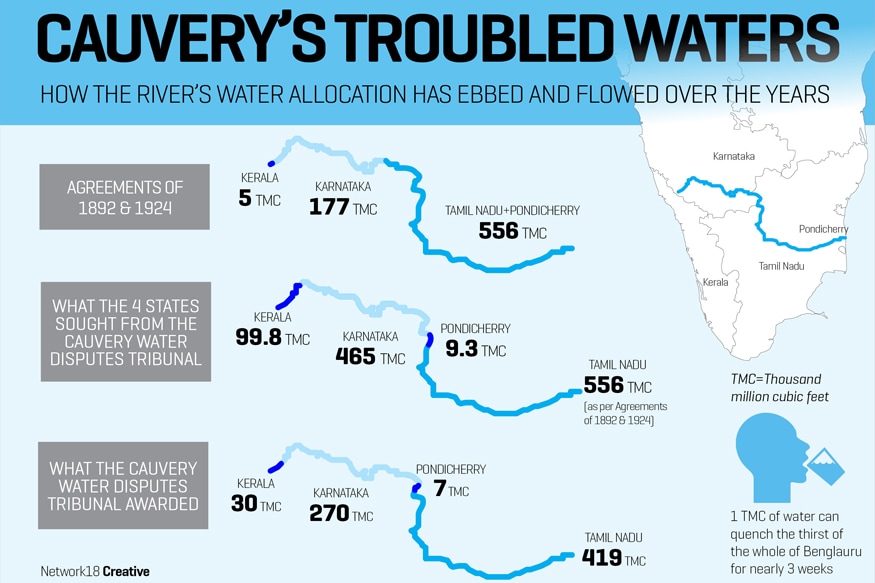 How the Cauvery river has ebbed and flown over the years (Network18 Creative)
Protesters held bandh in Mandya and blocked roads at several places, ransacking several government offices in Mandya and forcing them to shut down even as the attendance at government offices remained thin.
Over 2,000 police personnel were deployed in the Cauvery belt to contain the protests and to maintain law and order. Prohibitory orders have been clamped around Krishnarajasagar Dam and the entry of visitors to it prohibited till September 9.
Also read: Cauvery War Hits South Karnataka, Tamil Films Go Off Screens, Bus Services Suspended
Get the best of News18 delivered to your inbox - subscribe to News18 Daybreak. Follow News18.com on Twitter, Instagram, Facebook, Telegram, TikTok and on YouTube, and stay in the know with what's happening in the world around you – in real time.
| Edited by: Smrithin Satishan
Read full article