Karnataka Has Shown the Way with Good Samaritan Bill, It's Time Rest of India Joins in
While experts think that the Good Samaritan law is a step in the right direction, at the same time there is a general consensus that there needs to be more awareness around the subject.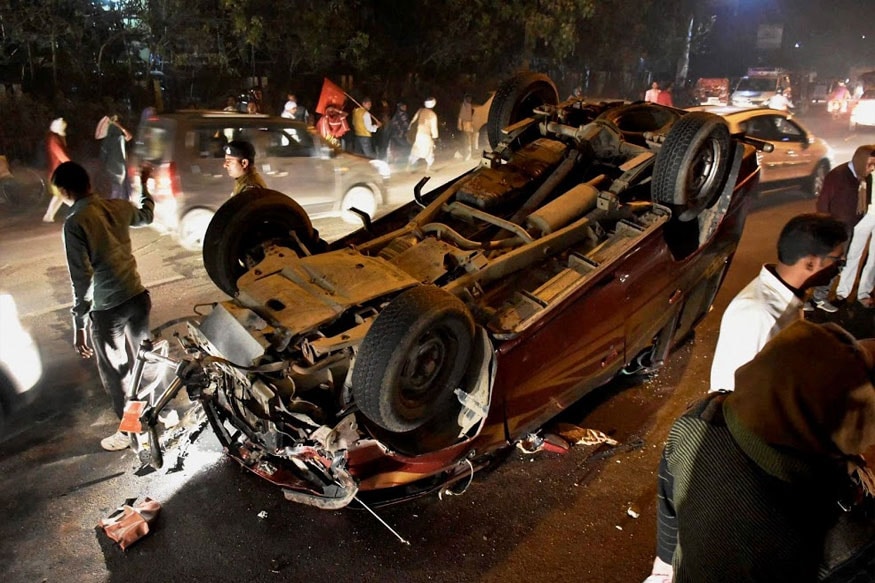 Image for representation only. (Photo: PTI)
New Delhi: At first sight, Akhilesh Kumar, a driver in a south Delhi household, thought it was one of the roadside squabbles the national capital is notorious for. When he pushed through the scrum and drew closer, Kumar realised that a man lay injured. "He had lost consciousness and there was blood splattered everywhere. Some people had pulled out their mobile phones and were frantically taking photos and videos. But nobody was helping him."
Kumar, with the help of another man, took the injured inside his car and then to a hospital. He remembers being warned by someone about doing so. The injured man succumbed to his injuries soon after, turning into another speck of statistic: one of the thousands who die on the daunting roads of the country, every year.
India has the highest number of road accidents deaths in the world – almost 140,000 in 2012 alone. On average, 15 people die and 60 are seriously injured every hour in road accidents.
According to the Ministry of Road Transport and Highways, 1,50,785 people were killed and another 4,94,624 were injured in 4,80,652 road crashes in 2016. This translates into 1317 crashes and 413 deaths every day or 55 crashes and 17 deaths every hour. The number of deaths have increased by 31% from 2007 to 2017 and that of fatal road crashes have increased by 25.6% in the same period.
What's even more startling is that a sizeable proportion of these deaths could have been avoided if victims had received emergency medical treatment on time. In fact, the Law Commission of India in a report, noted that over 50 per cent of road accident deaths can be averted with timely medical care within the first one hour. This translates to 70,000 lives that could be saved.
"Nobody wanted to help the man that day, everyone was too afraid of the consequences of getting involved," said Akhilesh. His experience points to the larger problem: there exists an overriding fear among bystanders at the time of road accidents. People are hesitant to help a victim as they are unwilling to get entangled in a charade of legal hassles, police interrogations and long wait at hospitals. Akhilesh too, underwent a painful procedure of filling forms and answering police questions.
The Good Samaritan Law
In March 2016, the Supreme Court introduced a "good Samaritan" law, which gives legal protection to those who help road accident victims, instructing police and hospitals not to hassle people who provide emergency help.
The Karnataka government was the first in the country to approve the court's ruling in 2016, months after a 24-year-old man was run over by a lorry in Bengaluru. He died before emergency services could reach him, flaring up a national debate about the role of bystanders.
Karnataka has now moved a step closer to a good Samaritan law with President Ram Nath Kovind giving assent to the Good Samaritan and Medical Professional (Protection and Regulation during Emergency Situations) Bill, 2016.
According to the new law, the Karnataka government will extend financial assistance to those who help accident victims. This means that they will not have to make repeated attendances in courts and police stations.
This would also mean that the good Samaritans can leave immediately after ensuring that the victim is in the safe hands of doctors and hospital authorities. Further, in case of mandatory attendance at courts and police stations, a Good Samaritan Fund will be created which will take care of all expenses.
Considering Karnataka is one of the top 5 states in road crash deaths in India with over 11,000 people being killed in 2016 alone, this legislation can potentially save over 5000 lives annually.
Piyush Tewari, founder and CEO of SaveLIFE Foundation, a road safety advocacy group, welcomed the move. "This (the President's nod) is a huge milestone and will create an enabling atmosphere where bystanders feel protected by law and come forward to help road crash victims. This will be a game-changer for Karnataka in reducing the number of road crash fatalities. We hope that other states will follow Karnataka's lead."
The 'Golden Hour'
In a nationwide survey conducted by SaveLife, it was revealed that 50% of road accident deaths could have been avoided if rapid assistance and medical treatment was rendered.
The World Health Organisation too, states that 50% of the victims die in the first 15 minutes due to serious cardiovascular or nervous system injuries and the rest can be saved through by providing basic life support during the 'Golden Hour', which is the first hour after an injury is inflicted.
"In most cases, if the victim's injuries are not tackled immediately, their condition experiences a staggering dip. This leads to deaths that could've been avoided otherwise. Often it leads to severe brain damage as well," explained Dr M L Kalra, senior physician at Max Hospital, Delhi.
"A legislation like the Good Samaritan law becomes extremely critical in such a situation, as it allows bystanders to help victims in time, without fearing the ramifications of their actions," said Dheerendra Samineni, a road safety specialist and expert with the World Bank Project.
Fear of Police
According to another survey by the SaveLife Foundation, 88% of bystanders would not assist a road accident victim, attributing their hesitation to the fear of getting involved with authorities.
Piyush Tiwari believes that police intimidation is the foremost concern, as there is an inherent assumption that the police think, "if you help someone you're doing it out of guilt."
When Abbhinav Ravee, a 23-year old resident of Lodhi Colony, saw a head-on collision between two vehicles near his residence, he called the police immediately. "I remember how nobody called the police or an ambulance even though one of the drivers died on the spot. They just stood there and looked at the mess," he said.
When the police arrived, Abbhinav was subjected to the "most trying time of his life." "They were extremely rude and kept harassing me for my credentials, asking me if I was hiding something," he said.
For women, the prospect is even more frightening said 30-year-old Sabya who witnessed a road accident in Gurgaon. "My mother kept clenching my hand and asked me to not do it. She feared I will be harassed by the policemen," she said.
Recounting her experience at the police station, Sabya said that she felt extremely uncomfortable "by the unnecessary questions" making her feel like a "criminal".
Apathy and Empathy
In 2013, when a CCTV footage of Kanhaiya Lal seen desperately crying for help as he lay next to his young son and the maimed bodies of his wife, his infant daughter and their mangled bike was broadcast on TV, the nation mourned the death of the "Indian conscience".
In the video, Kanhaiya is seen screaming for help, as commuters swerved past him. By the time the police reached, he had already lost his wife and his daughter.
The deaths sparked a nationwide debate over the role of bystanders – while the media called it a "new low in public apathy" and, "the day humanity died".
Malay Dave, a senior psychiatrist in Mumbai, sees this seeming lack of compassion, but identifies it as something else. He explains that the system stacks people against helping victims.
"It is not like people don't want to help, but they are thinking, what if I get stuck? What if the relatives of the victim cannot be tracked? Will I be held responsible then? What if the police hassle me if the victim dies in my car? The concerns are endless," he said.
Tiwari also thinks that it is an "urban myth" that people don't come forward to help road crash victims out of apathy.
Experts often cite the 'bystanders effect' as one of the key reasons behind apparent public apathy. What the bystanders theory talks about is the inhibiting influence of other people's presence on a person's willingness to help someone in need. A bystander is less likely to help someone if they are in the real or imagined presence of other people.
"This is a mob effect. When there are a greater number of people, you automatically assume someone else will play your part," said Dr. Dave.
Challenges Ahead
While experts think that the Good Samaritan law is a step in the right direction, at the same time there is a general consensus that there needs to be more awareness around the subject.
"The real challenge is to communicate to people that they have a new right and they should feel confident to exercise it," said Tiwari.
Sameineni feels that the problem of road safety is multi-faceted and requires to be assessed from a much broader lens of understanding. "There is a larger problem of law and order. Unplanned, flawed road design and engineering, road rage are other issues that need serious attention of policy makers," he said.
It is equally important to note, currently, there is no central law to protect the good Samaritans. The Union Surface Transport Ministry had issued a set of guidelines in 2015 following a Supreme Court order to protect people who come ahead to help road accident victims.
However, President Kovind's recent assent to the Karnataka Good Samaritan Bill can be a huge imperative in facilitating speedy implementation of the law in the rest of the country.
Akhilesh too sees the bill as a step to the right direction, but believes that such structured changes require political will. "I hope the government of every state realises the importance of that one moment in a victim's life," he said.
​
Get the best of News18 delivered to your inbox - subscribe to News18 Daybreak. Follow News18.com on Twitter, Instagram, Facebook, TikTok and on YouTube, and stay in the know with what's happening in the world around you – in real time.
Subscribe to Moneycontrol Pro and gain access to curated markets data, trading recommendations, equity analysis, investment ideas, insights from market gurus and much more. Get Moneycontrol PRO for 1 year at price of 3 months. Use code FREEDOM.
| Edited by: Mayur Borah
Read full article