Karunanidhi's Condition Declines, Functioning of Vital Organs a 'Challenge'
The latest health update reporting a decline in Karunanidhi's health immediately led to hundreds of DMK supporters gathering at the Kauvery Hospital premises, praying for his health and shouting slogans for the Kalaignar.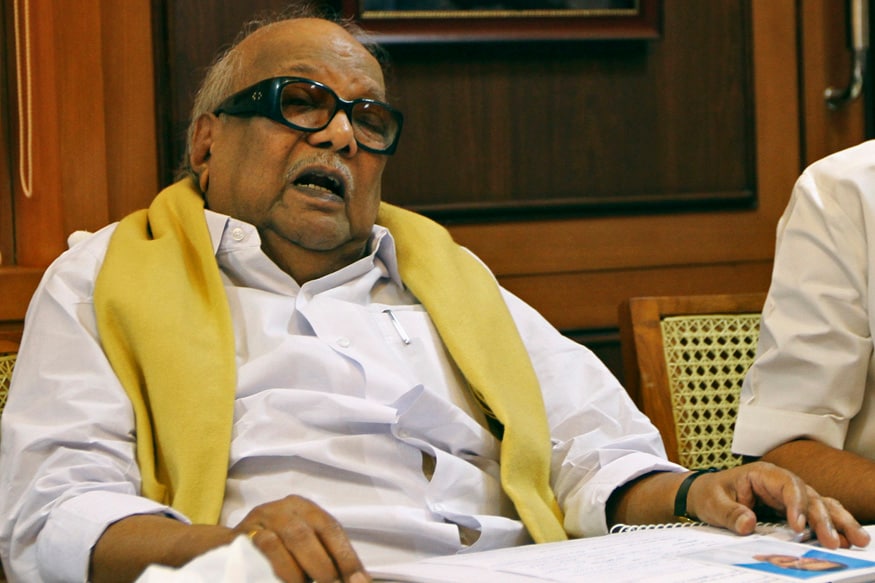 File photo of DMK chief M Karunanidhi. (Reuters)
Chennai: DMK patriarch M Karunanidhi's condition has further declined, making it difficult for doctors to keep his "vital organs functioning", the Kauvery Hospital said on Monday evening, triggering yet another scare over Kalaignar's health across Tamil Nadu.
The hospital has said that the next 24 hours could be crucial for the veteran politician.
The latest health update immediately led to hundreds of DMK supporters gathering at the hospital premises, who then continued to wait till late in the night.
The 94-year-old five-time Tamil Nadu chief minister is being continuously monitored and treated with active medical support, a press release issued by the hospital said.
"There has been a decline in the medical condition of DMK president and former Chief Minister M Karunanidhi. Maintaining his vital organ functions continues to remain a challenge considering his age related ailments," it said.
"His response to the medical interventions over the next 24 hours will determine the prognosis," Executive Director of the Hospital Dr Aravindan Selvaraj said in the medical bulletin.
Union minister Nitin Gadkari called on Karunanidhi on Monday evening amid news of his declining health. The BJP leader met MK Stalin and Kanimozhi at the Kauvery Hospital and enquired about Karunanidhi's health.
Hundreds of supporters, including a large number of women, failed to control their tears while others waved at the TV cameras, all preparing for an overnight vigil outside the hospital in downtown Alwarpet.
Karunanidhi was admitted to the intensive care unit of the hospital on July 28 following a dip in blood pressure, which stabilised following medical intervention.
The hospital had, however, said on July 31 that an extended stay could be necessary due to age-related overall decline in his general health, altered liver function and haematological parameters.
A host of dignitaries and political leaders, including President Ram Nath Kovind Vice President Venkaiah Naidu and Congress chief Rahul Gandhi have visited the hospital over the last few days to inquire about the condition of the DMK veteran.
Get the best of News18 delivered to your inbox - subscribe to News18 Daybreak. Follow News18.com on Twitter, Instagram, Facebook, Telegram, TikTok and on YouTube, and stay in the know with what's happening in the world around you – in real time.
| Edited by: Sanchari Chatterjee
Read full article