Sopore/Hajin/Srinagar/New Delhi:
A popular opinion on the ongoing unrest in the valley is that except for a few districts in South, Kashmir is largely peaceful. It is a view held by policy think tanks, public commentators and by BJP, the party ruling the Centre and together with PDP, the state of J&K.
On May 21, BJP chief Amit Shah, on the completion of three years of Narendra Modi government, said the problem in Kashmir is a problem only "of three-and-a-half districts."
A week later, the then Information and Broadcasting minister Venkaiah Naidu in an interview had said, that except for South, the rest of the state was free from violence. "Other than five districts, remaining parts of the state are free from violence. Let us understand this. Except for South Kashmir, the state is in peace. In North Kashmir there is no major problem."
However, data mined by News18 shows that this narrative — of the unrest being confined to the Southern districts of Kashmir — is not entirely true.
Districts in North and Central Kashmir are seeing frequent encounters between security forces and militants, a remarkable number of casualties of civilians and security force personnel, and a higher number of militant deaths. The data combined with conversations that News18 had with police officers on the ground and many other people in North and Central Kashmir point to a resurgence of active militancy well beyond the South.
THE NUMBERS
Of all the militants killed in Kashmir this year – 147 – more than half — 75 — have been killed in North. 43 of these 75 militants were killed near the LoC in 16 encounters, and the remaining 42 in 16 other encounters deep inside the valley.
The presence of militants is also significantly greater in North than in South.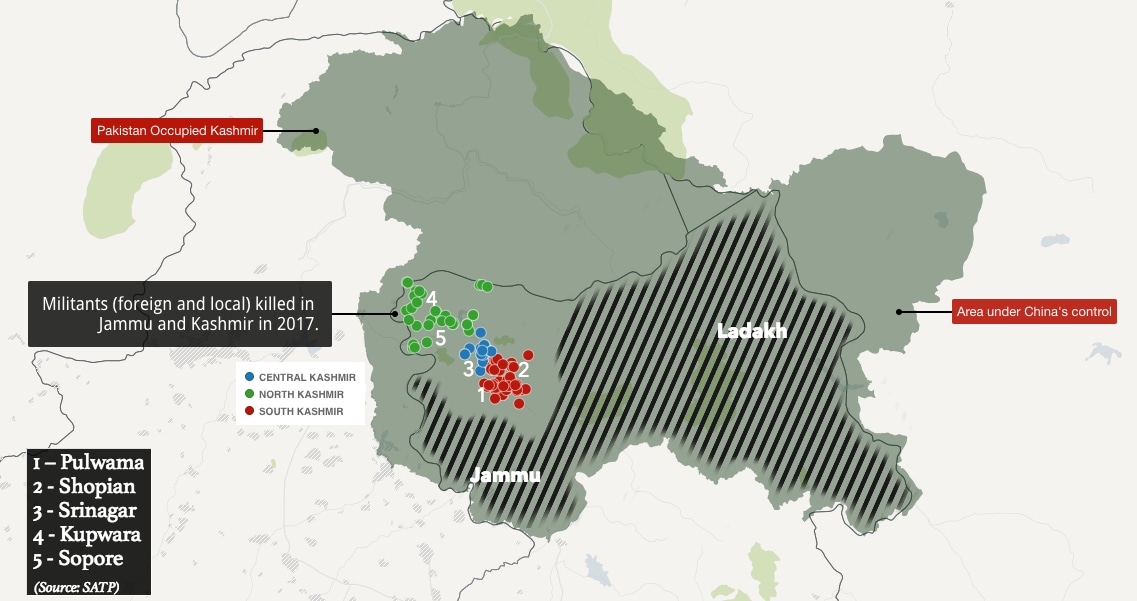 The data, last updated on September 19, includes figures from the Kashmir Valley only.
According to data obtained from various sources in police department, there are 141 militants active in North, 23 of who are Kashmiris and the rest foreigners. South has 112 militants of which 99 are locals.
The situation in North is particularly dangerous also because of the high concentration of trained foreign, mostly Pakistani, militants, as opposed to South Kashmir that has mostly local militants who have little combat training and are mostly engaged in creating and sharing propaganda videos and photos.
Places like Kupwara, Handwara, Sopore, Hajin and Bandipora, which are major towns in North Kashmir, have witnessed regular and fierce encounters between security forces and militants over the past one year.
NORTH KASHMIR: A GROUND REPORT
On April 15 this year, militants in North killed an infamous Ikhwan Abdul Rashid Parray alias Rashid Billa, at his home in Hajin. Ikhwan-ul-Muslimeen was a counter insurgency force, comprising mostly surrendered militants, created in 90s by the state.
By murdering Billa, the militants not only disrupted the intelligence gathering network of security agencies, but also sent a very clear message to the rest of the valley – that they hadn't forgotten or forgiven their enemies.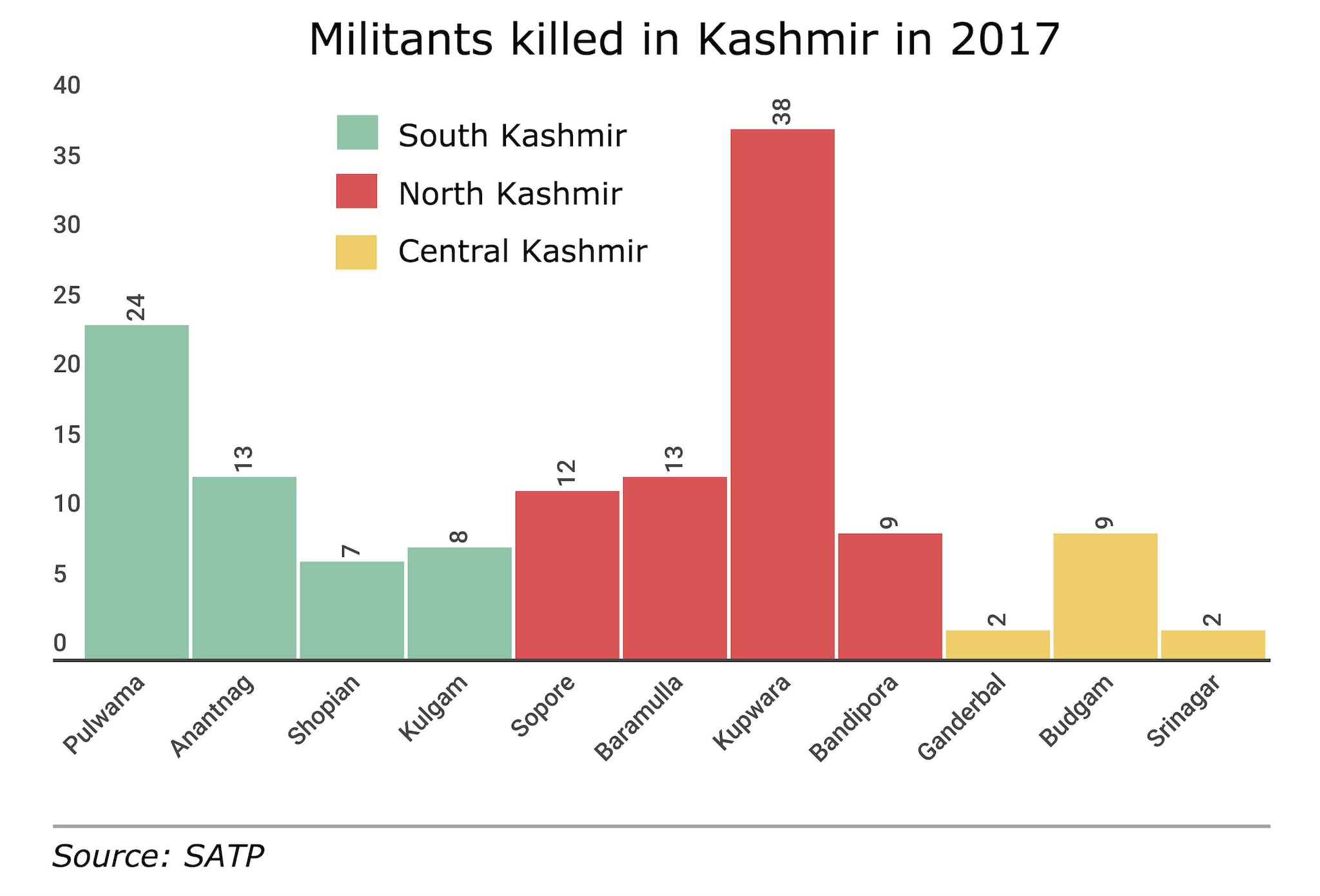 The data, last updated on September 19, includes figures from the Kashmir Valley only.
"Billa's killing caused some disruption in our intel network, no doubt about it. At the same time we're seeing that militants are enjoying support of local population as never before," a senior police officer, who has been part of many counter-insurgency operations in North Kashmir, said.
"Areas in North that had been quiet and peaceful for years are seeing resurgence in local militancy," the officer said. "Areas like Baramulla, Bandipora, Hajin and Sopore, which hadn't seen militancy for at least last 10 years, are witnessing active militancy again."
For example Sopore, which was the epicenter of militancy for decades, and was dominated by Lashkar-e-Toiba during 2010 to 2013, was calm for last few years. However, a series of encounters have brought the area back into the attention of security agencies.
This year, Baramulla town saw its first local militant killed — Javed Dar — in an encounter for the first time since 2008. Dar, 22, was a conductor with a long-permit truck before joining militancy. One of Javed's friends said that police had arrested him in stone pelting case in 2016.
Hajin also saw a local militant killed after two decades. Abid was the first local militant from Hajin to die after more than two decades. Abid and Javed, both affiliated with Lashkar-e-Toiba, were killed in a same encounter on August 5 in Sopore.
News18 spoke to father of an active militant in Hajin. Nasrullah Mir joined militancy on May 12 this year. His father, Nazir Ahmad Mir, says that militants these days are getting more support from the locals than what they used to get during the nineties. "Militants today are steadfast on their path. They don't even surrender unlike the militants of 90's," Mir said. A senior police officer posted in the area estimates that as many as 15 militants, all affiliated with LeT, are active in Hajin.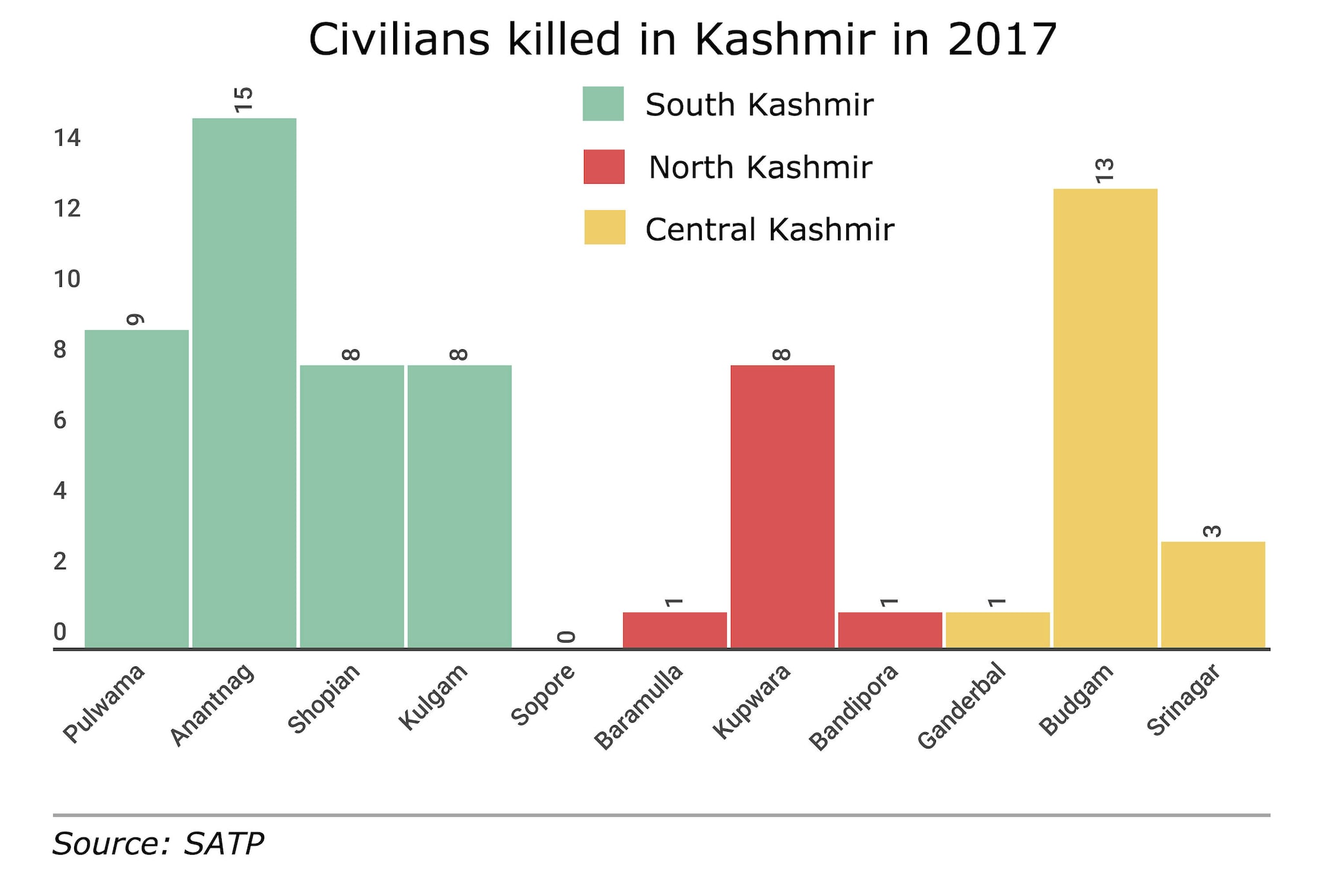 The data, last updated on September 19, includes figures from the Kashmir Valley only.
And just like South, North is beginning to witness huge militant funerals and 'gun-salutes'.
On September 4, during the funeral of a local militant Nayeem Najar, who was killed in an encounter in Shankergund area of Sopore, several militants arrived unexpectedly and fired shots in the air. "A small group of militants came in and offered a gun salute. This wouldn't happen in North Kashmir. Militants never showed up so easily at crowded places but this incident changes a lot," a police officer posted in Sopore said.
The police officer added Over Ground Workers (OGWs) of militant networks have become active recently. "The terror groups have a lot of OGWs on the ground which operate in many modules in Lolab Valley, Kupwara, Handwara, Sopore and Hajin," he said.
In a conversation with News18, the Inspector General of Police, J&K, Muneer Khan, also termed North Kashmir's Lolab valley, as "an area of great concern for police force."
Lolab and the areas surrounding it have a high concentration of foreign trained militants who have seen and fought in the peak of 90s insurgency and counter-insurgency operations.
These militants, unlike their counterparts from South, never click and upload pictures of themselves, which makes it hard for security agencies to identify them through surveillance or through informer networks.
"Lashkar-e-Toiba and Jaish-e-Mohammad are beginning to exert their control over the areas again. Recently you saw infiltration of a number of Jaish militants. We also know for a fact that Lashkar is building its networks and contacting its old associates again," another police officer said.
'WHAT FLOWS FROM SOUTH REACHES NORTH'
Apart from the resurgence in militancy some visible changes are happening in North militancy as well. For the first time in as far back as one can remember, Pakistani flags were lowered and black Tawheed flags were raised during funeral of a local militant, Shahid ul Islam.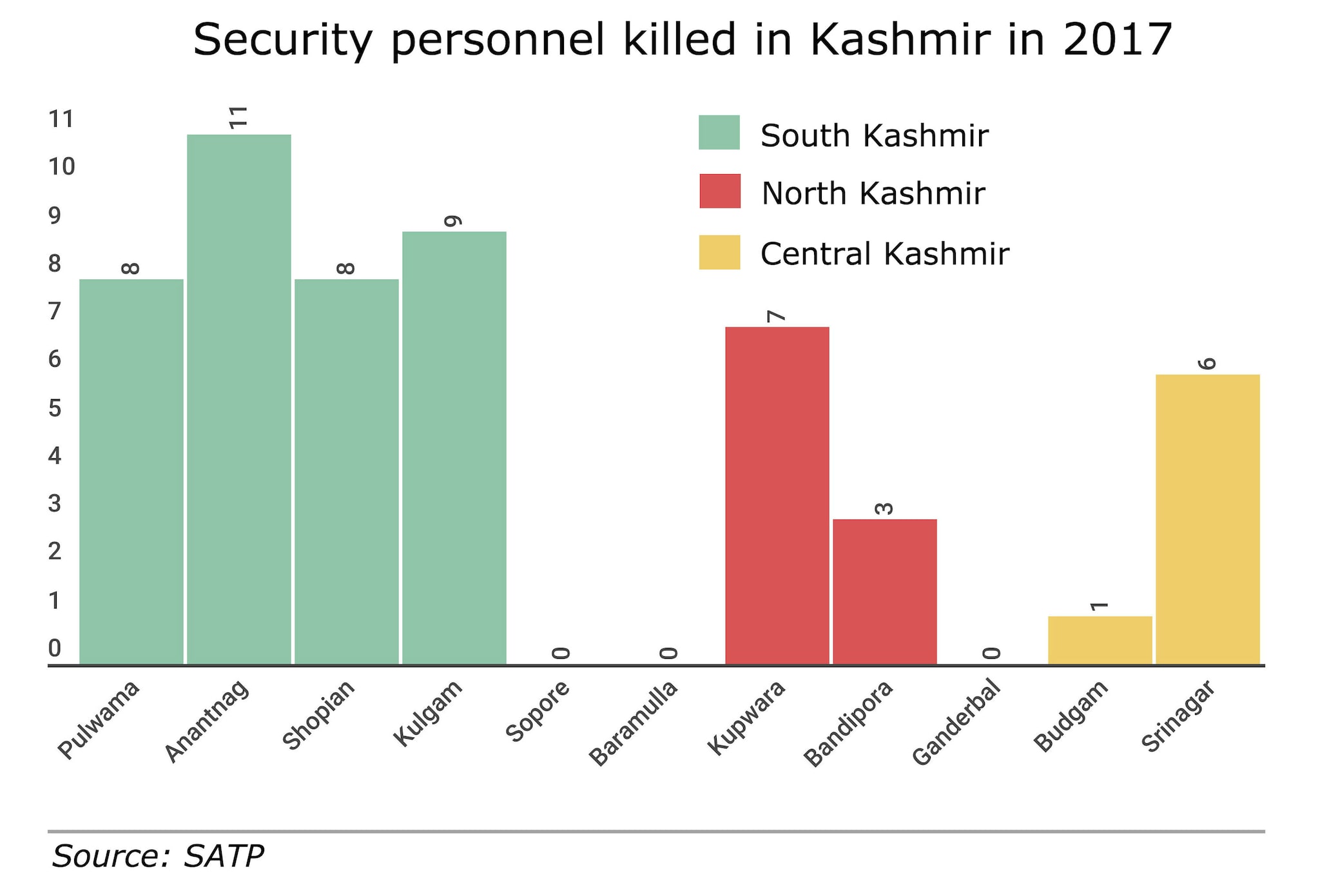 The data, last updated on September 19, includes figures from the Kashmir Valley only.
In a conversation with News18, the militant's father recounted the last conversation he had with Shahid. On September 9 at 3 AM Abdul Rashid Sheikh woke up to a sudden phone call. It was an unknown number. But he answered anyway. For the first few seconds the person on the other side didn't talk, then he heard a whisper, which he recognized as the voice of his son. "Father, I won't survive today," Shahid said over the phone. "They [security forces] have cordoned the area. I won't be able to escape. It is my last day."
A student in Azamgarh, Uttar Pradesh, Shahid, 28, had left studies a year back, after Burhan Wani's death, to join militancy.
In his conversation, "Shahid wished that no Pakistani flag should be hoisted at his funeral. Only the flag of 'Tawheed' should be hoisted," said his father.
Dozens of Pakistan flags were lowered down during the funeral for the first time in North Kashmir. A local who was present at the funeral said slogans in favor of Zakir Musa, the head of an Al Qaeda's Kashmir wing, which has called for the establishment of an 'Islamic Caliphate' in the valley, were also raised.
"People — local youth and militants alike — are now doing exactly what is happening in South Kashmir. After all, like Jhelum, what flows from South has to reach North eventually," he added.
— Read more stories from Kashmir Beyond Cliches series here