Kashmir Mob Lynching: Mufti, Abdullah and Gandhi Condemn in Same Language
As the Valley continues to boil after a police officer was lynched by a mob late on Thursday night, political leaders across India have condemned the incident.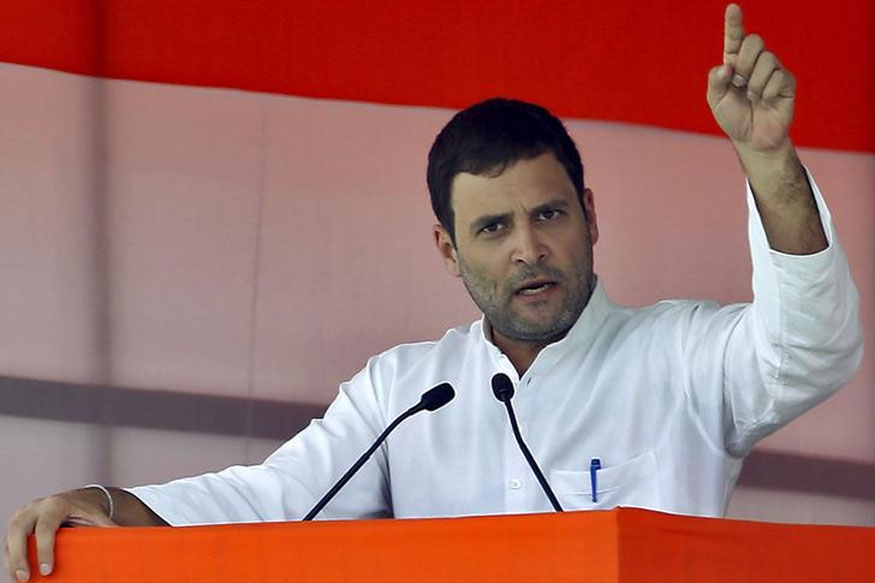 File image of Congress vice-president Rahul Gandhi. (PTI)
New Delhi: As the Valley continues to boil after a police officer was lynched by a mob late on Thursday night, political leaders across India have condemned the incident.
The police officer, Deputy SP (Security) Mohammed Ayub Pandith, who was in civilian clothes, was caught clicking pictures inside the mosque and hackled. According to locals, the officer opened fire with his service pistol, injuring three people. He was caught by an angry mob outside and beaten to death.
Here are some key reactions:
Rahul Gandhi, vice president, Congress
"The brutal lynching of Dy SP Ayub Pandith marks a new low. I am pained beyond words at the horrific incident. It is heartbreaking to see J&K being pushed back several decades because of the complete failure of the PDP/BJP Govt"
Omar Abdullah, leader of the opposition, J&K
"His death is a tragedy and the manner of his death a travesty. May the people who lynched Dy SP Pandith burn in hell for their sins. He was a Dy SP in the Security Wing of J&K Police and I understand he was there on security duty for access control at Jamia Masjid"
Menbooba Mufti, Chief Minister, J&K
"What can be more shameful than this? I want to say that J&K police is one of the best police forces in the country, they are brave but they are showing maximum restraint because they feel that they are dealing with their own people"
Mirwaiz Umar Farooq, Separatist, the head of the Hurriyat Conference
"Deeply disturbed and condemn the brutal act at Nowhatta. Mob violence and public lynching is outside the parameters of our values and religion. We cannot allow state brutality to snatch our humanity and values"
Junaid Azim Mattu, Spokesperson, J&K National Conference
"The murky details are heartbreaking… Those barbarians responsible for this should be swiftly hunted and brought to book. They deserve hell. I say this strictly in my personal capacity that Jammu and Kashmir Police should immediately withdraw the Z security cover for Mirwaiz Umar Farooq"
Sitaram Yechury, General Secretary, Communist Party of India
"Lynching of citizens is becoming a feature of BJP-ruled states. Commiserations to the family of the lynched police officer"
Ghulam Nabi Azad, Leader of opposition, Rajya Sabha
"The way the DSP was lynched to death was so shameful. Killing a person in the holy month of Ramzan is condemnable. If the mob was suspicious about the identity of that person, then they should have informed the police instead of taking law in their hand. Such thing is against both the Islam and the humanity"
Shahnawaz Hussain, spokesperson, BJP
"These kinds of elements who attack Police or armed forces are enemies of India and must be dealt with very strictly. It is really sad to know about the lynching of Ayub Pandith of J&K police. Only cowards of the worst kind would do such a reprehensible act"
Hansraj Ahir, MoS Home Affairs
"It is an unfortunate incident. The police have to work in challenging circumstances and there is no avoiding that. Now report will come from the state and then we will know exactly what happened and compensation will be paid as per settled norms"
Get the best of News18 delivered to your inbox - subscribe to News18 Daybreak. Follow News18.com on Twitter, Instagram, Facebook, Telegram, TikTok and on YouTube, and stay in the know with what's happening in the world around you – in real time.
| Edited by: Swati Sharma
Read full article