'Kashmiris Being Used as Shields': With a Veiled Attack on Pakistan, Jamiat Ulama-i-Hind Backs Centre on Article 370
The Jamiat Ulema-e-Hind also hit out at Pakistan for its bid to project on the international stage that Indian Muslims were opposing the government's moves.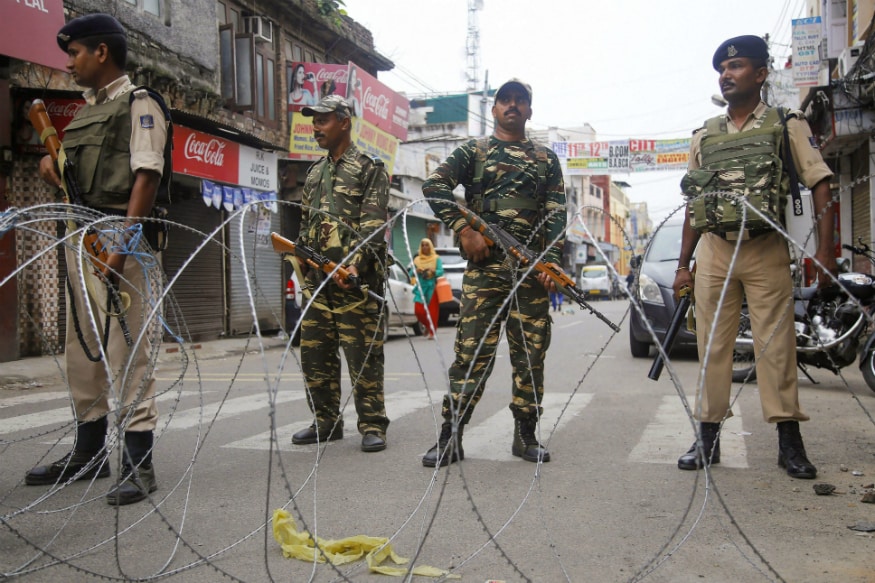 Paramilitary personnel stand guard during restrictions in Jammu on August 9, 2019. (PTI Photo)
New Delhi: Jammu and Kashmir is an integral part of India and Pakistan's attempts to project on the global stage that Indian Muslims are opposing their own country are condemnable, says the Jamiat Ulema-e-Hind, a leading group of Islamic scholars. The organisation also says it has no problems with the Centre's National Register of Citizens (NRC) to identify illegal immigrants and the plan should be implemented nationwide.
"Kashmir is an integral part of India and all Kashmiris are our compatriots. Any separatist movement is harmful not only for the country but for people of Kashmir as well," reads a resolution adopted by the organisation at its general council meeting in the capital on Thursday. "We are not unmindful of the desire of Kashmiri people, their self-respect and the demand of preservation of their cultural identity."
The Jamiat's general secretary and former Rajya Sabha member Mahmood Madani also said at a press conference that he has no disagreement if the NRC is implemented across the country as it would help separate genuine citizens from "intruders".
"The NRC should be carried out in the whole country as it will help determine how many intruders are here," he said. "Even those who are genuine are being blamed. So it should be done. I have no problems with that."
His statement comes close on the heels of the implementation of the NRC in Assam, which identified 19 lakh people as non-citizens.
Madani also repeated his organisation's stance on Kashmir.
"We have always said that Kashmir is an integral part of India. We are reiterating it again," he said at the meet. "But we are concerned about the human rights issue. It is our duty to raise the issue of protection of the democratic and human rights of Kashmiris. Our neighbour country and other enemies want to destroy Kashmir. They have made Kashmir a platform for their politics and because of this we are not able to listen to the demands of Kashmiris. We believe Kashmir is an integral part of India."
Some areas of the Valley remain under a security and communication clampdown after the central government stripped Jammu and Kashmir of its constitutionally sanctioned autonomy on August 5 and reorganised the state into two union territories – J&K and Ladakh. Most of Kashmir's political and separatist leadership is also being held in custody by authorities.
The Jamiat feels that there is a chasm between Hindus and Muslims in India which needs to be bridged with new projects and initiatives. One of the proposals made at the organisation's general council meeting was about building a "sadbhavna manch" (goodwill forum) in every district where members of the two communities can discuss and deliberate on matters of common and national interest.
"Our meetings are usually with Muslims," said Madani. "As a result, non-Muslims don't get to know our views on many important issues. There is a gap that needs to be filled with interactive sessions."
He stressed on his organisation's nationalist credentials and that it was always in favour of "sampoorna swatantrata" (complete independence) during the freedom movement. He also announced at the press conference that the Jamiat would push for reforms in madrassa education. "We have advised madrassas that when students leave or graduate from there, they should have certification or ability equivalent to senior secondary," he said. "A committee will be formed to look into the matter related to modernising education in madrassas."
Get the best of News18 delivered to your inbox - subscribe to News18 Daybreak. Follow News18.com on Twitter, Instagram, Facebook, Telegram, TikTok and on YouTube, and stay in the know with what's happening in the world around you – in real time.
Read full article