New Delhi:
In the backdrop of bulldozers and heavy police presence, Delhi Development Authority (DDA) officials tried to sweet talk the residents of New Delhi's Kathputli Colony into signing a contract as they found themselves yet again facing down the city's grand plans to redesign their historic basti.
Alarm was raised on Sunday night, when the police barricaded the entry to the basti. Monday morning, the police descended on the colony of artisans, puppeteers and street performers with a water cannon at one entrance, pushing bulldozers inside the winding lanes, barely wide enough for them, keeping them on standby in the square of colony.
However, the bulldozers seemed symbolic at best as instead of forcing through a violent exit, the DDA changed tack to persuasion. We are assuring families that the contract they'd sign is the best for them and Kathputli colony would become "heaven", DDA official told News18.
Delhi is no stranger to winters of sudden demolition, where thousands of families find themselves suddenly homeless in the freezing cold, overnight, as the jhuggi jhopris that were homes are reduced to rubble. Last year, Shakur Basti in north Delhi was reduced to dust, and earlier this month the same happened to Kishangarh basti in south Delhi.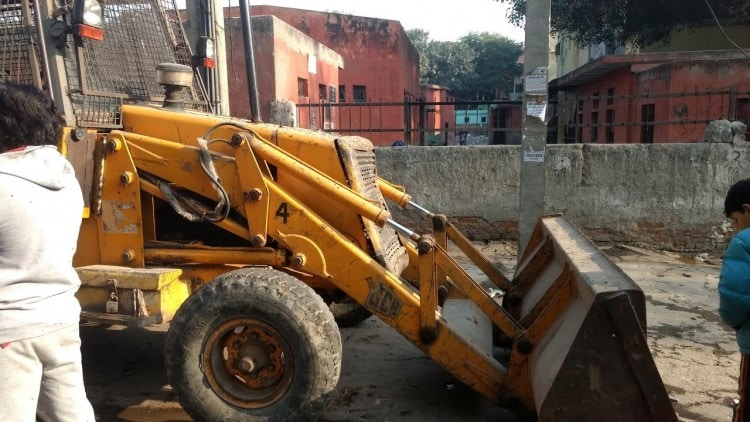 Kathputli, established in the 1950s, escaped this fate, as over the past few years it has become a championed cause of activists, many of whom flocked to the basti Monday morning, ensuring enough attention and bad publicity for the DDA, deterring them from immediate destruction.
Every resident in the basti has a Delhi High Court order on their fingertips that no house can be demolished by force and only those families who voluntarily agree can be sent to the transit camp. Yet, the symbolism is enough to terrify and anger residents who did not take kindly to the police walking about streets they call home nor to their electricity and water supply being cut allegedly by the DDA.
"Why has the police been here all night?" asked an agitated Ramesh, who told News18 that he came to Kathputli colony as a child in knickers and now is seeing his grandchildren growing up here. "We can't even have roti in peace. The police need to leave," he said, speaking for crowd that had gathered at the quarters of one of the pradhans, to discuss the situation. "We're illiterate, they could make us sign anything. We haven't been able to sleep all night," he added.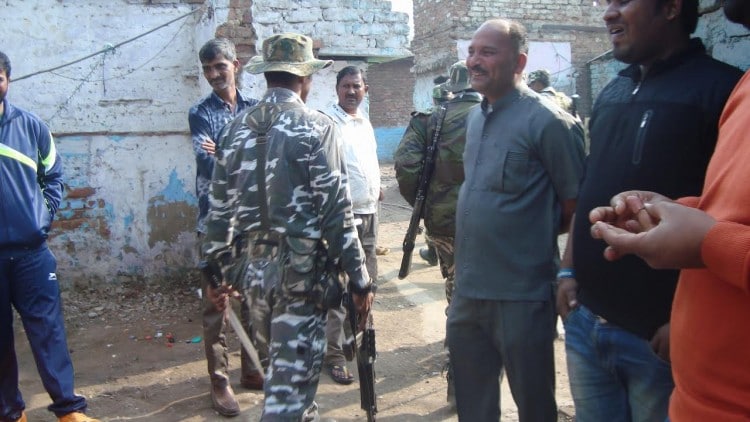 Kamini Bhatt, another resident said that while no force was used, scare tactics were abundant. "Police and DDA went inside some houses and told the women that machines were standing ready to break their houses, and if they didn't leave they'd be thrown out," she said.
The problem isn't with redevelopment but with the homes DDA will give families afterwards. Distrust, of the agency and a vastly different lifestyle being forced on them, runs deep."We don't mind moving out if we'll get good home. The DDA has said we'll all get a two room flat," said Dilip, one of the colony's 12 pradhans, who says he was beaten up a year ago by the police because he tried to stop the demolition.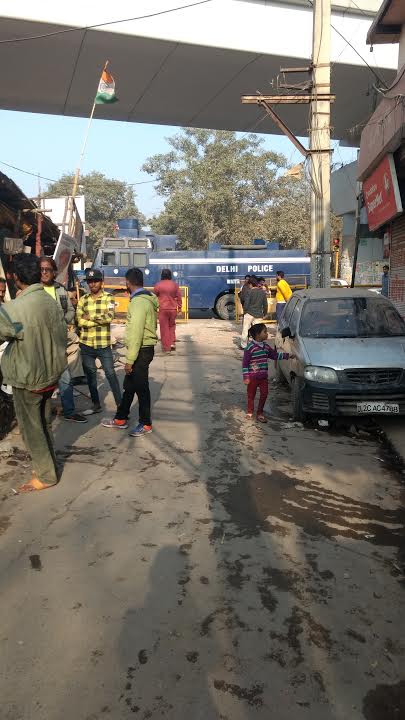 "There is now a court case against me. But we can't live in 15 story houses; we want to stay in four story houses. Who will maintain the lift, we're not used to lifts," he added. This change is a sore point with the residents, from living sprawled out in the eight acre area to being boxed in eight towers of high rise tenements, in 2-3 acres, while the rest is turned into a mall or a shopping complex by Raheja developers. Nor, it seems, are all families accounted for.
Dilip said that the DDA's 2008 survey had only my counted 2800 families --hence 2800 rooms in the transit camp and 2800 flats planned for resettlement --- yet there are about 3300 families in the basti. Residents say that the DDA has not counted married children as a separate family unit from their parents'.
"It's the initial fear of shifting to a new place, which even you and I would feel," said the DDA's JP Agarwal, Principal Commissioner, housing and land development, on site to talk to residents and push for the start of the demolition.
"Delhi doesn't have space to build houses horizontally, we have to make multi-storey flats. But we're bound by our commitment to resettle them in-situ." Though activist feared that the DDA was taking itself out of any legal accountability, Agarwal said the agency was part of a tripartite agreement with the residents and the developers.
He also denied that the DDA had deliberately cut power and water to the colony, to force people to move, which only returned late afternoon after Delhi's health and PWD minister Satyendra Jain visited the area.
Agarwal indicates the filth and open sewage in the area, saying that living conditions would be better for all, yet residents said that the filth had accumulated because the DDA neglected to clean the area.
In the midst of this tussle, some 500 families who moved to the transit camp a few kilometers away, two years ago, are caught in limbo. They left as their houses were too close to an open sewer, and had have set up home in the prefabricated, white and blue rooms of the camp.
Suspicious of outsiders and reluctant to say much or give their names, they were careful to not criticise the camp, in case their words get out and scare away the other families, ostracising them further. Yet, they admitted to News18 that they couldn't live in the camp forever and wanted to return. That is possible only if the rest of the families shift out of Kathputli and let the work get on. Something, as the stalemate continues, won't come to pass smoothly.