Kathua Rape Victim's Mother Dreads Coming Back to Her Village, Says 'We'll be Shot If Accused Released'
On Monday, the Supreme Court will hear the Kathua rape-murder case in the backdrop of multiple pleas being filed both by families of the victim and the accused.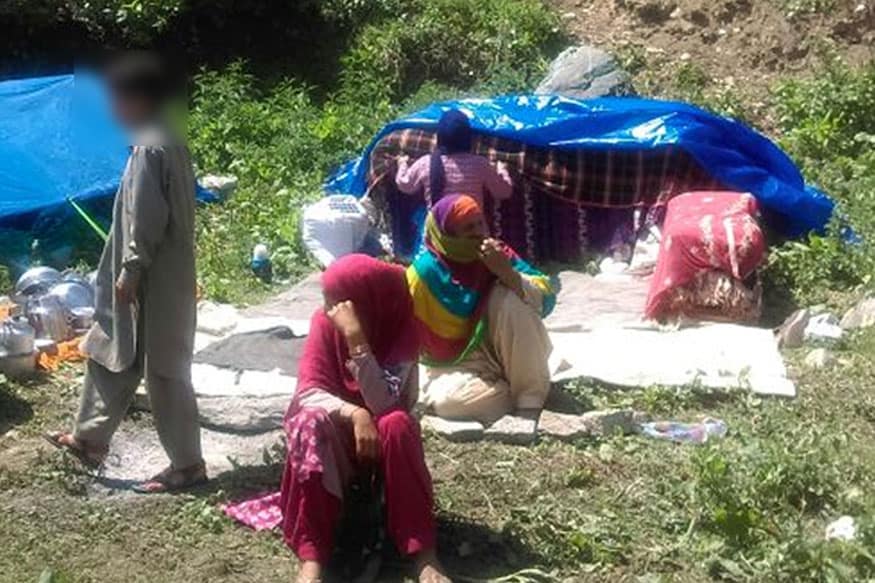 Kathua rape victim's mother in the Banihal Valley. (Image: News18)
Banihal:
Here in the summer grasslands, inside a light blue tarpaulin tent, Fatima (name changed) spends her nights gazing at the skies and thinking if she can ever afford to return to Kathua after six months, where bitter memories of her minor daughter's brutal death and a hostile neighbourhood awaits her.
Fatima feels betrayed and emotionally broken over the events that followed the rape and murder of her 8-year-old daughter by people who have been her neighbours for years in Rasana village of Kathua district.
On Monday, the apex court will hear the Kathua rape-murder case in the backdrop of multiple pleas being filed both by families of the victim and the accused.
Fatima wants the case to be heard in a fast track court and accused hanged.
The family of the accused backed by many lawyers, politicians, social and volunteer groups in Jammu, however, wants the Central Bureau of Investigation (CBI) to probe the matter afresh.
They have alleged that the Jammu and Kashmir Crime Branch — that produced a chargesheet against eight persons for plotting, executing and destroying evidence of the heinous crime — had picked up random people and forcefully extracted confessions from of them.
Chief Minister Mehbooba Mufti and police chief S P Vaid, a Jammu native, have praised the Crime Branch for doing a fair and thorough investigation.
The Crime Branch has produced a chargesheet in a local court listing gut wrenching details that shook the nation and provoked international condemnation.
According to investigations, the girl was abducted, held captive for days, drugged, raped and then brutally murdered by the accused men, which includes a juvenile.
While Jammu has been the epicentre of somewhat belligerent politics and heightened tension, Fatima's family and a few others from the nomadic Bakerwal community last month quietly slipped out for the Valley meadows with their livestock. The Bakerwals from Jammu plains trek through the stunning Valley to graze sheep, goat and horses for six months. They return to their settlement once the cold sets in.
The first of their many halts across the Pir Panjal in Banihal is a small village known for the 2.5 km surface tunnel that links Jammu with Kashmir.
"It was a living hell in Rasana. My child's bruised dead face kept flashing before my eyes. It would choke me, so we decided to leave earlier than usual," cries Fatima, even as a few Bakerwal women gather to hear her but seemingly lack the courage to console her.
"Those who have done this horrible thing to my daughter are demanding a CBI probe. People like Sanji Ram, Deepu, the lawyers and even the women related to these accused are demanding CBI probe. What for? Aren't they shocked themselves," she shouts.
She breaks down repeatedly and still goes on to say, "Do I have no right to ask for justice. I am the one who is wounded, have lost everything, including my small daughter's izaat (honour) and jaan (life)."
"Some people are playing mischief to deny us justice. I fear to even think what would happen if the culprits are released. They will never allow us to go back," she tells News18.
"If they are set free, all four of us — me, my husband and two other children — would be shot dead."
She wondered why people were out to subvert justice by holding rallies and issuing statements in favour of the accused.
The Bar Council of India, too, recently favoured a CBI probe into the incident and gave a clean chit to Kathua lawyers who had disrupted the police from filing a chargesheet in the court.
A self-appointed "fact finding committee" comprising retired district judge from Nagpur Meera Khadakkar, Supreme Court lawyer Monika Arora, journalist Sarjana Sharma, assistant professor at Miranda House Sonali Chitalkar and social activist Monica Agarwaal submitted a report on Friday before Home Minister Rajnath Singh, again, favouring a CBI probe. The committee chose to meet the families of the accused, Mehbooba Mufti, minister for tribal affairs, but not the victim's family.
Worse, the state BJP unit uploaded a video on its official website of an advocate questioning the Crime Branch's investigation and arrests made in the case.
The BJP axed two senior BJP ministers last month triggering a mammoth Cabinet rejig. The new Deputy CM, soon after his appointment, said there was no issue if the case was handed over to CBI, sparking tension between in the Mehbooba-led PDP-BJP coalition government.
But that is of little or no concern to Fatima and her family. She says she prays and hopes the court listens to her and delivers justice.
"I want to sleep. I want to dream of my little girl smiling and herding the horses," she says, pointing towards the lush green hills. "She would be happy here. The lower Munda point fascinated her," she recounts.
Abida, Fatima's mother, (name changed) says she did not travel with her family this year but chose to be with Fatima instead as she needs her support.
"She has gone crazy. I cannot leave her alone," she says, adding, "Will we get justice?"
| Edited by: Sanchari Chatterjee
Read full article
Countdown To
Elections Results
To Assembly Elections 2018 Results