KCR's Landslide Win Good News for Jagan Reddy in Andhra, Bad Tidings for TDP and BJP
K Kavitha indirectly hinted that TDP chief and Andra Pradesh CM Nara Chandrababu Naidu's entry into Telangana caused a huge defeat for Congress.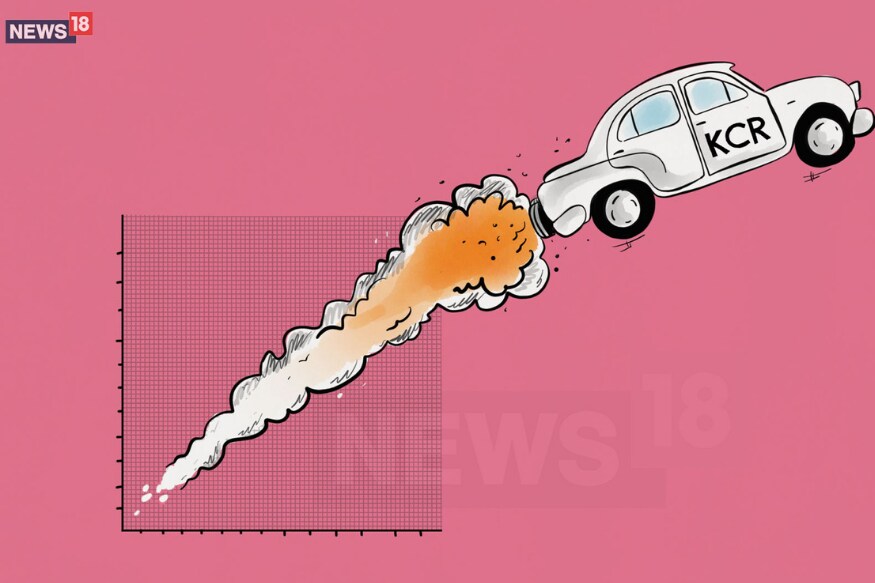 News18 Creative by Mir Suhail
Hyderabad: Chief Minister K Chandrashekar Rao's daughter and TRS MP from Nizamabad, K Kavitha was the first to react after her party established a massive lead over Congress and TDP led Prajakutami (grand alliance). She said that the "close fight" in Telangana was created by the "national media" and TRS was always sure of a big win.
She indirectly hinted that TDP chief and Andhra Pradesh CM Chandrababu Naidu's entry into Telangana caused the huge defeat for the Congress. "Till two months ago national media paid no attention to Telangana. They kept saying it was TRS. Only after Naidu formed Prajakutami, they called it a close fight. He is an excellent media manager. But he has lost badly".
KCR's gamble of advancing elections paid off handsomely. He has achieved a landslide win in the state for whose creation he had led a decade-long movement.
All along it was an arithmetic versus perception battle between TRS and Prajakutami. KCR always maintained that he was going to win over 100 seats. But it was dismissed as a mind game. Even several TRS leaders had admitted that the fight was fierce and they may win by a small margin.
Closer to voting day, KCR aggressively campaigned across the state taking on the Congress and the TDP. He addressed over 120 public meetings. And it was KCR who mattered and who has finally won big.
During his campaign, he always labelled Naidu as an "outsider" who would rule Telangana from AP. He knew that attacking him more would be beneficial. In response, the TDP subtly played Andhra "settlers" card to woo migrants from AP. But that seemed to have backfired badly.
KCR's Telangana sub-nationalism has triumphed over Prajakutami's arithmetic.
Impact
The one more person who is smiling today is YSRCP chief Y S Jaganmohan Reddy in AP. He is happy that his arch-rival Naidu has failed miserably in Telangana. A victory for Prajakutami would have made his job difficult in AP which is going to polls in April/May 2019.
Since Naidu is done and dusted in Telangana, Jagan has an edge over him in AP. His followers are doubly hopeful that YSRCP will defeat TDP in the Assembly elections.
The Congress, which is almost defunct in AP, may not extend its support to Naidu there after a near decimation in Telangana.
KCR who allegedly had an "unofficial" arrangement with the BJP in Telangana may not go with the BJP in the Lok Sabha elections after today's landslide victory.
He will now try to win almost all Parliament seats on his own to play a bigger role in New Delhi. The mandate he has got today gives him that freedom and leverage.​
Get the best of News18 delivered to your inbox - subscribe to News18 Daybreak. Follow News18.com on Twitter, Instagram, Facebook, Telegram, TikTok and on YouTube, and stay in the know with what's happening in the world around you – in real time.
Read full article