'Keep Calm and Meditate': CM Biplab Deb's New Mantra After Gaffe Bombs
Claiming that people's welfare is the motive behind this decision, Deb said, "I was elected by the people of Tripura and now it is my responsibility to serve them better. As a mass leader, meditation and yoga is necessary to serve them better."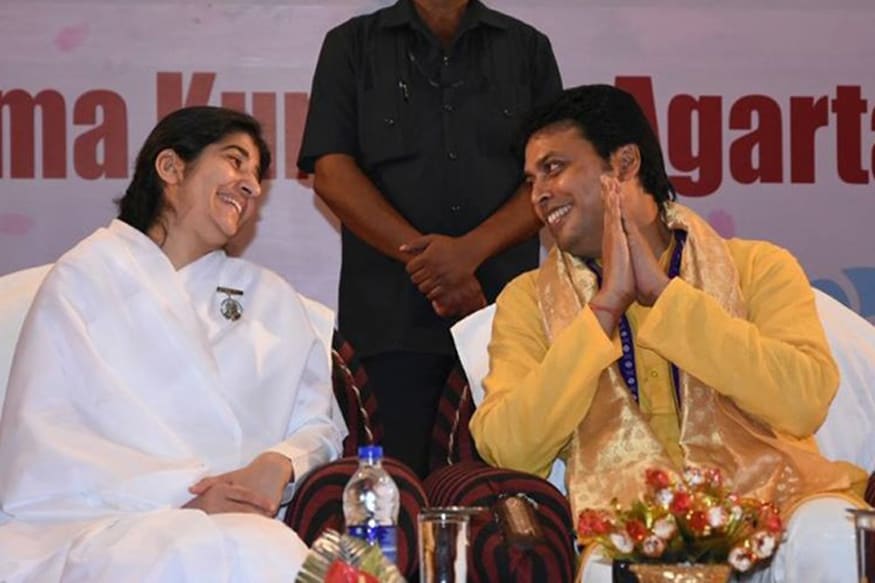 Claiming that people's welfare is the motive behind this decision, Deb said, "I was elected by the people of Tripura and now it is my responsibility to serve them better. As a mass leader, meditation and yoga is necessary to serve them better."
Kolkata:
After hitting headlines for a series of bizarre remarks, Tripura chief minister Biplab Kumar Deb is now looking for inner peace. He said he is planning to meditate to generate positive energy.
Speaking exclusively to
News18
over phone, Deb said, "I am planning to do meditation on a regular basis in the morning. It will generate positive energy and it will help me in serving better."
The chief minister has been in news for over a month for his remarks and statements.
From questioning Diana Hayden's Miss World title to claiming internet's presence in Mahabharata era
, Deb has found himself in a tight spot almost every time he makes a statement.
The BJP CM has now decided to keep his aura positive, without being bogged down by critics or trolls.
"If you have a positive mind and thinking, then automatically your actions will be positive. I recently attended a programme conducted by Prajapita Brahma Kumaris and after that I have decided to do meditation and yoga every day in order to generate energy, peace and inner strength," he said.
Claiming that people's welfare is the motive behind this decision, Deb said, "I was elected by the people of Tripura and now it is my responsibility to serve them better. As a mass leader, meditation and yoga is necessary to serve them better."
Citing Prime Minister Narendra Modi's healthy lifestyle, he said, "Our prime minister sleeps for four hours and rest of the time he is working hard for India. It is possible only because of meditation and yoga. The kind of positive energy he has is worth praising. We are happy that he is promoting yoga not only in India but also in other parts of the world. Therefore, I have decided to include yoga in all the schools in my state."
On his development plan and his immediate challenges, Deb said, "My dream to make a 'New Tripura' and a peaceful society. Drugs, liquor, crime against women is a major concern in Tripura and I have taken up this challenge to clean my state from such illegal activities."
He further said, "I have decided to make BPO and IT hub in Tripura and I am thankful that our Union Minister Ravi Shankar Prasad is providing all kind of assistance for this project. Not the least, we are also planning to set up 24 Ekal Vidyalaya and already got approval for 16 such schools in tribal areas. This will be a boarding school and construction of each school will cost Rs 1 Crore."
"The other challenge is to bring back our youths who left Tripura due to lack of development and job opportunities. In a janta darbar, a local youth who is now working in Chennai in a IT company (with a salary of Rs 1 lakh per month) told me that he wanted to return to him home town and said he willing to work here with less salary of Rs 25,000. I really like this approach and there are many like him who wanted to return and it's my responsibility to ensure job security," the chief minister said.
While hinting that his government may ban liquor in future, Deb said, "I want to make 'nesha muktha' Tripura."
When asked about his opinion on separate Tipraland, he said, "I don't believe on this. There will be no separate Tipraland. We have already planned a common minimum programme for socio-economic, educational, linguistic and political development of indigenous communities. We are focusing more on the development of Tribal area and not a separate state."
| Edited by: Sumedha Kirti
Read full article
Countdown To
Elections Results
To Assembly Elections 2018 Results