Kerala CM Extends Support to Hanan Hamid, Directs Police to Take Action Against Miscreants
Abusive comments soon started flooding her Facebook timeline as people accused her of fooling the people of Kerala.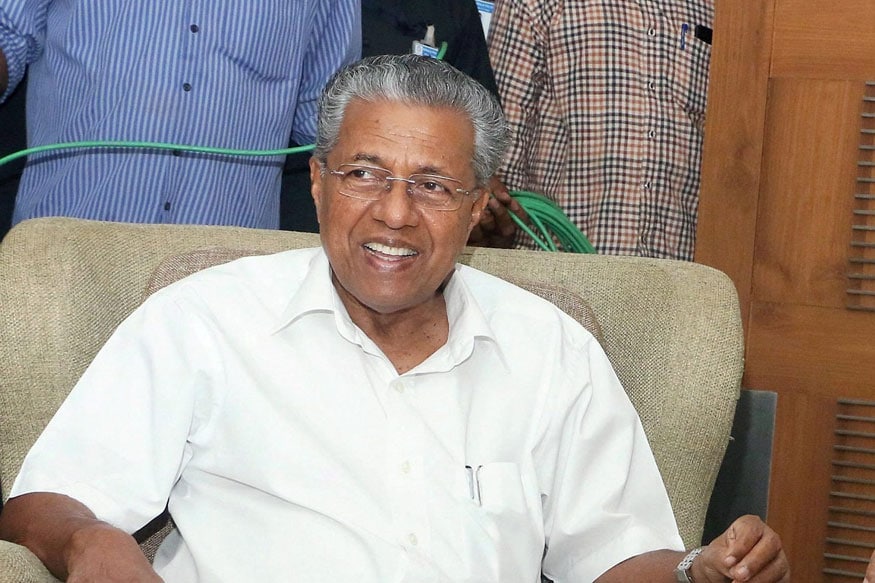 File photo of Kerala CM Pinarayi Vijayan (PTI Photo)
Thiruvananthapuram: Kerala chief minister Pinarayi Vijayan has come out in support of Hanan Hamid, the 21-year-old college student who shot to fame after selling fish in her uniform at a busy market in Kochi.
In a Facebook post, Vijayan said, "It is a matter of pride that one can stand on their own feet and study. Hanan is not just studying by earning but she is also trying to protect her family. I feel proud of her when I understand her life's situation."
The Chief Minister's Office has directed the police to take action against those trolling Hamid online and also asked the collector of Ernakulam to give her necessary protection.
Asking Hanan not to lose her morale, the CM also cautioned those spreading messages online. "It is not advisable to spread everything that one gets in social media. Without knowing the truth, many messages are forwarded and it is dangerous." He also said that Hanan should not lose her morale and should keep up the spirit with which she has been handling hard situations in her life.
Vijayan said that the 21-year-old mustn't let let go of the confidence she had in handling such hard situations in life. "Hanan, go ahead with confidence. Entire Kerala stands with you," the CM wrote in his Facebook post.
The images of Hanan, a third year BSc Chemistry student at Al Azhar College of Arts and Sciences in Idukki's Thodupuzha, selling fish at the Palarivattom-Thammanam junction had gone viral on Wednesday. She got a lot of praise and several people extended support to her after local news reports showed her effort to make a living.
Malayalam director Arun Gopy even offered her a role in his upcoming movie "Irupathiyonnam Noottandu," which stars Mohanlal.
But the gesture and the sudden stardom brought along eyes of suspicion on her as an image surfaced in which she was posing with actor Mohanlal. It has not been ascertained if the image was fan made or a real one, but it cemented netizens' suspicions that she was already a part of the movie and the selling of fish was nothing but a viral marketing strategy.
Abusive comments soon started flooding her Facebook timeline as people accused her of fooling the people of Kerala.
Hanan denied the allegations. "People are criticizing me for things they don't know. People are calling me a liar. I have been struggling since class seven. I have done different types of jobs to my make ends meet, selling fish is only one among them," she said.
"I didn't live with anyone's help till now, I didn't ask anyone for help, I will continue with my job," she told News18.
Hanan lives at a rented home in Madavana, in Thrissur. She said her day starts at 3 am.
"After an hour of study, she travels to a wholesale market to buy fish on her cycle. She then takes the fish to Thammanam in Kochi and stocks the fish at an acquaintance's house," a report which appeared in Malayalam daily Mathrubhumi said.
After attending college, which is 60 km away from her home, Hanan sells the fish she bought in the morning, the report said.
Kerala leader of opposition Ramesh Chennithala has extended support to the girl. "During my morning newspaper reading, the news about Hanan caught my attention. Beating all odds, she earns to study by selling fish in the evening. That too, after travelling 60 km every day. She is an inspiration and role model to many. Big salute to the determination and perseverance of Hanan," he wrote on Facebook .
Meanwhile, the college authorities where Hanan studies have decided to help her with expenses and also arranged for her travel, local media reported.​
Get the best of News18 delivered to your inbox - subscribe to News18 Daybreak. Follow News18.com on Twitter, Instagram, Facebook, Telegram, TikTok and on YouTube, and stay in the know with what's happening in the world around you – in real time.
| Edited by: Sana Fazili
Read full article