Bokaro: Binod Kumar, an executive engineer with Bokaro Steel Plant, was abducted from Mokama and forced to marry a girl against his will on the gun point which is popularly known as 'Pakadua Vivah' in Bihar.
A month after the incident, the victim's family approached Patna Senior Superintendent of Police Manu Maharaj for protection as they fear reprisal from strongman Surendra Yadav who allegedly played the key role in this forced marriage.
The incident came to light when the video of the marriage surfaced after which the girl's family approached Binod for settlement and accept the marriage.
Narrating the sequence of events Binod's brother Sanjay told News18, "My brother boarded Hatia-Patna express from Bokaro as he had to attend a wedding function near Patna on December 3. Surendra Yadav persuaded him to come to Mokama and he agreed. He was abducted there and taken to Pandarak where my brother was forced to marry a girl."
Binod can be seen wailing in the video pleading for help to free him amid few women performing marriage rituals. He was thrashed and forced to apply vermillion on bride's head.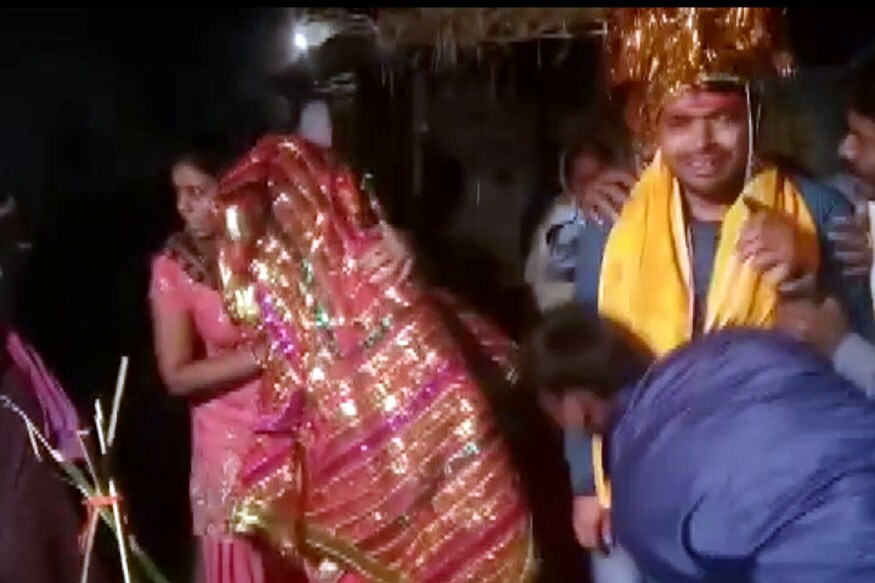 Screen-grab from the viral video
However, girl's brother Umesh Prasad denied that it was a forced marriage saying, "We know Binod for a long time and even had initiated talks with his father and extended marriage proposal. After his father's death Binod was ready for marriage and it was a planned event."
However, he became evasive when asked about the marriage video in which the groom was being thrashed. "I do not know about any video. He is now opposing this marriage at the behest of his brother. I wish they live a happy married life."
The role of the local police has also come under the scanner. Sanjay lodged a complaint with Pandarak police station when his brother did not reach home as planned and instead got a call from an unknown number who informed about the marriage.
"Pandarak police told us that Pakadua Vivah is common among Ahirs and tried to force upon a compromise formula under pressure from Surendra Yadav who boasts his link with jailed RJD leader Lalu Prasad Yadav," Sanjay said.
Then he approached Patna SSP Manu Maharaj on whose direction Pandarak Police freed Binod from the village where he was kept after the forced marriage.
After a month of the incident, Binod and his brother are getting threat calls to accept the girl and take her along. On Wednesday, Binod approached Patna city SP Amarkesh to seek protection.
"We are looking into it and will take action against the culprits. We are also probing the role of the local police," Amarkesh told News18.
According to an official report, a total of 2,877 incidents of kidnapping for marriages were reported in 2016, 3,001 incidents in 2015, 2,533 in 2014 and 2,922 in 2013. The districts notorious for such forced marriages include Begusarai, Patna, Lakhisarai, Munger, Jehanabad, Gaya, Nawada, Sheikhpura and Arwal.