New Delhi
: As thousands of farmers affiliated to over 180 organisations participated in an an open parliament to voice grievances under the banner of All India Kisan Sangharsh Coordination Committee (AIKSCC), two bills were proposed to tackle farmer debts and give women equal rights.
The farmers' parliamnent passed two bills. Hannan, leader of AIKSCC presented the Kisan Karj Mukti Bill, 2017 (Farmers Freedom from Debt Bill, 2017), and The Farmers' Right to Assured Prices for Agricultural Produce Bill, 2017'' was presented by Raju Shetty of Swabhimani Shetkari Sangathan.
The protest gathering made sure that each and every provision of the bill was discusses so that consent could be sought from all the participants present by raising their hands.
The key feature of Molla's bill are the definitions of agriculture and farmers. Agriculture has been defined to include people who indulge in horticulture, harvest to the ones gathering minor forest produce. It also includes farmers who indulge in bee keeping, rearing of poultry, silkworms etc.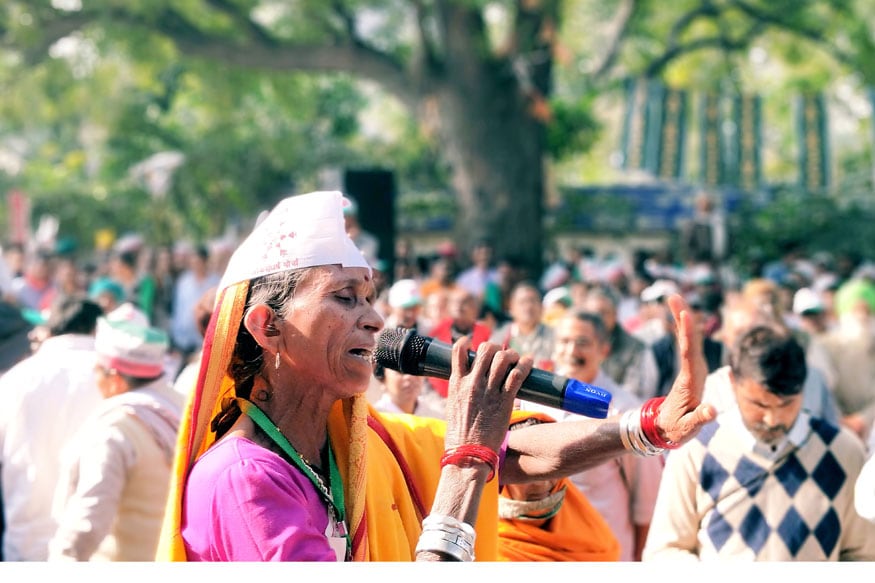 It further defines farmers as a person who works for economic reasons on a land, and also is a cultivator. Even tenant peasants or the ones working in jungles or is a part of self help group is a farmer. Whoever works on land is a farmer according to the bill.
Regarding the waiver of loans, the bill states that all loans of farmers up to November 20, 2017, shall be waived off by the government. If the loans include private loans, then such loans be converted into public loans and then be waived off.
"If a farmer takes a new loans, then it will have no relation to the old loan. All fresh loans would be given without link to old loan and this vicious cycle of debt will come to an end," said Molla.
The provision which would supervise such actions have been referred to as the formation of the Farmers Debt Relief Commission.
This commission that is proposed to be headed by a retired Supreme Court judge would function for five years and would have a status equivalent to courts and the decisions of the commission cannot be challenged in the court of law.
With regard to budget allocation, the bill aims that the Union Budget every year must have a separate provision for waiving off farmer loans. The bill also states that in case there is a natural calamity, the government will keep a provision for rehabilitating and compensating farmers in the budget.
The bill has requested the centre to set up a model law which would allow the states to follow suit.
Another bill that was discussed and passed was the The Farmers' Right to Assured Prices for Agricultural Produce Bill, 2017'' presented by Raju Shetty of Swabhimani Shetkari Sangathan.
Speaking to News18, Shetty said, "The bill should have been presented by Radha Mohan Ji. Modi in 2014 had promised that if he becomes a PM then farmers will have 1.5 times more than Minimum support price. Hence we voted for him. We told everyone that Congress should be defeated as NDA promises development. Now it's been three and a half years that we realise that Modi lied," said Shetty.
Apart from this, the protest also saw a separate women parliament function. This parliament presided by social activist Medha Patkar, had women from across the country demanding separate land rights as that of men and recognition while compensation is being decided for the farmers.
The bill drafted post discussion of the women parliament had a key demand to grant equal rights of land to woman. It also sought to waive off farmer loans and compensation to the families where the men have committed suicide due to crop failure or low prices.
Further the women demanded that "fraud in the name of crop insurance schemes need to end" as after crop failures or floods, the " government merely deposits Rupees hundred or two hundred" in their accounts after showing the farmer credit cards.