Premature for India to Celebrate ICJ Order: Sarabjit Singh's Pakistani Lawyer
Parallels have been drawn between the cases of Sarabjit Singh and Kulbhushan Jadhav, two Indians who were captured and charged with espionage in Pakistan.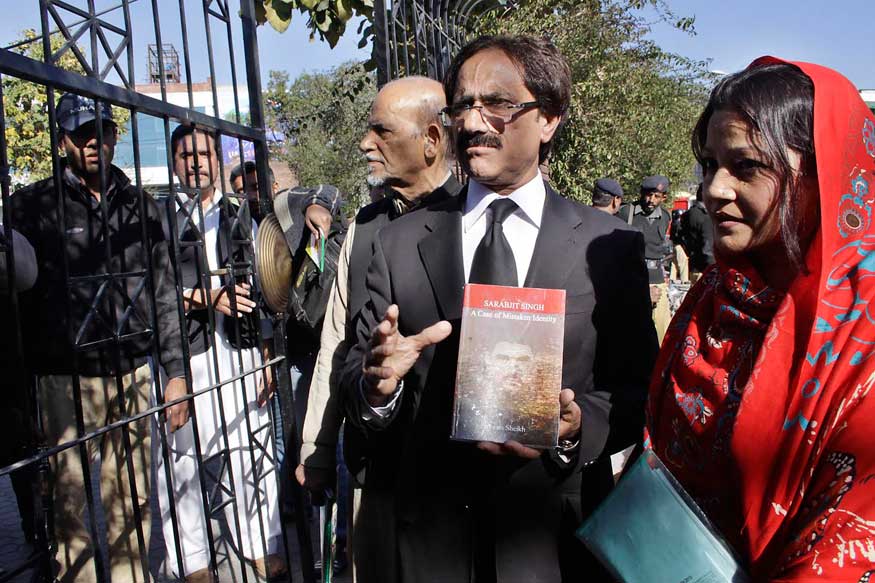 File image of Sarabjit's lawyer Awais Sheikh. (Image: Network18)
New Delhi: Parallels have been drawn between the cases of Sarabjit Singh and Kulbhushan Jadhav, two Indians who were captured and charged with espionage in Pakistan. The latter's execution has been stayed by International Court of Justice, but there concerns over his safety as Sarabjit was tortured and killed in a jail in Pakistan.
Sarabjit's lawyer Awais Sheikh paid a heavy price for defending him in a Pakistani court. He was threatened and tortured. Ultimately, he had to leave Pakistan and seek asylum in Sweden. He now visits Pakistan only while helping the Stockholm Rotary Club in its drive against polio. Sheikh has been closely watching the Kulbhushan Jadhav case and tells News18's Eram Agha that it will be premature to celebrate the ICJ order as there is a long road ahead for justice. Edited excerpts:
Are there similarities between the Kulbhushan Jadhav and Sarabjit Singh cases?
Although both were accused of spying and sentenced to death, Sarabjit's case was different. He was tried and convicted by a civil court, whereas Kulbhushan Jadhav has been convicted by a military court. Sarabjit was tortured mercilessly. My book 'Sarabjit Singh: A Case of Mistaken Identity' has the story. In the case of Kulbhushan Jadhav, it has not been ascertained yet whether he was subjected to torture.
Also Read | Kulbhushan Jadhav Case: India Had 4 Concerns. Here's How ICJ Responded
What does this case mean for the already strained India-Pak relations?
Kubhushan's case has a direct bearing on India-Pakistan relations. The excellent and very timely move by India to go to the International Court of Justice (ICJ) has attracted the attention of the whole world. The world has come to know the sensitivity and importance of this case. Now, the order of the ICJ to put the execution on hold till the final decision in August has highlighted the importance of the matter and added to the strain in relations between the two nuclear-armed neighbours.
The ICJ has stayed Jadhav's death sentence for time being. Learning from Sarabjit episode, what should India do, going forward?
In my opinion, India has won half the battle. There is no doubt that it is a legal, moral, psychological and diplomatic gain, but it will be immature to celebrate the order at this stage. It will be premature for India to celebrate. The task before India is to get Kulbhushan back home safe and secure. To achieve this, India needs to tread carefully and exhaust all possible means intelligently.
Also Read | Kulbhushan Case: Sushma Says ICJ Order a 'Great Relief', Thanks Attorney Salve
If you were to recommend India on a legal and political strategy to bring Kulbhushan Jadhav back safely, what would you suggest?
There is a long road ahead in winning justice for Kulbhushan. Through diplomatic and all other means, India should apply moral pressure on Pakistan from all quarters of the world and use all means to convince Pakistan that it would be in the best interest of peace and justice to set Kulbhushan free. It will, however, not be an easy task for the civilian government of Pakistan, which works under pressure and influence of the military, which passed this order. I think outside pressure on Pakistan can work.
Also Read | Blow-by-blow Account of How India Trumped Pakistan at World Court
How are things going to change for Pakistan politics after the stay on the death penalty?
It is yet to be seen how Pakistan reacts. I saw a discussion on the issue on a Pakistani channel. Senior journalist Rauf Klasra, to my surprise, spoke against the trial and death sentence. He was critical of the way this trial was conducted by the military court. He talked about consular access not being provided to Kulbhushan. I think India should try to gain favour from Pakistan's legal fraternity, journalists and the general public. Due to the long confrontation between the two countries, it is not an easy task. I think one step India can take is freeing Pakistani prisoners in Indian jails.
Also Read | Window Closes Today But Pak Won't Confirm If Jadhav Has Filed an Appeal
India accused Pakistan of violation of the Vienna Convention on Consular Relations. Will this impact Pakistan's reputation globally?
Yes, of course. The order of the ICJ was based on the strong reasoning that it violates fundamental rights. It will put Pakistan under moral and legal obligation to set Kulbhushan free. Pakistan cannot overlook or straight away refuse to comply with the order of ICJ. Otherwise, Pakistan will be totally isolated. It will adversely affect Pakistan's reputation and international relations.
Also Read | Kulbhushan Jadhav: Pak in Denial; India Suggests it Read Verdict
First Sarabjit and now Kulbhushan Jadhav. Is there a pattern in Pakistan's actions?
This is because of the long confrontation between the two countries. Both countries have each other's prisoners in captivity. And, unfortunately, they deal with such issues like business as usual. It has been so in the case of fishermen caught at sea. For both countries, the best way to settle their issues is through negotiation.
Also Read | Kulbhushan Jadhav Case: Meet the 'Wise Men' Behind the ICJ Ruling
Sarabjit was tortured and killed in jail. How can India ensure the safety of Jadhav?
It is important that Kulbhushan is not tortured in jail. In the case of Sarabjit, I was fortunate enough to have access to him in jail. He was tortured. When I met him the first time, I saw his left leg badly infected. He was not well. With the passage of time, I used to help him, bring him medicines, fresh fruits and other edible items. He recovered and looked healthy later. I met him 25 times in jail with the permission of the court. In Kulbhushan's case, India, through diplomatic means, should try to convince Pakistan on consular access. Also, the relatives of Kulbhushan should be allowed to meet him.
How do you think India would have dealt with a Pakistani prisoner like this?
Unfortunately, both countries deal with each other's prisoners as enemies. They are not treated as human beings. I cannot say India would be fair with Pakistani prisoners.
| Edited by: Puja Menon
Read full article