GET Stock

Quotes


Lal Jose eyeing Bollywood with 'Diamond Necklace' remake
After giving four back-to-back hits in Malayalam cinema, Lal Jose is in talks to remake his Fahad Fazil starrer 'Diamond Necklace' in Bollywood.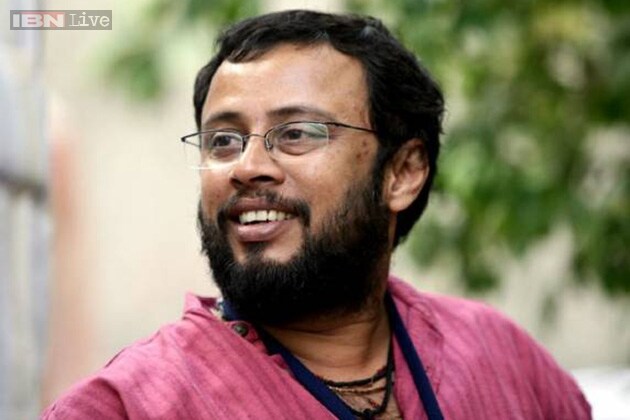 After giving four back-to-back hits in Malayalam cinema, Lal Jose is in talks to remake his Fahad Fazil starrer 'Diamond Necklace' in Bollywood.
Chennai: After giving four back-to-back hits in Malayalam cinema, popular director Lal Jose is in talks to remake his Fahad Fazil starrer 'Diamond Necklace' in Bollywood.
Jose struck gold at the box office in these one-and-a-half years with 'Diamond Necklace', Prithviraj-starrer 'Ayalum Njanum Thammil' in 2012, Mammooty starrer 'Immanuel' and more recently with 'Pullipuliyam Aatinkuttiyum' (Kunchako
Bobban), which was set against the backdrop of Kuttanad, Kerala's rice bowl in Alappuzha district.
The director also won the Filmfare and South Indian International Movie awards for best director in Malayalam for 'Ayalum Njanum Thammil.'
"Nothing has been finalised as of now," Jose told PTI when asked about the Hindi remake of 'Diamond Necklace'.
Jose has delivered bigger hits in his career, starting starting with his debut film in 1998 Mammooty starrer 'Oru Maravathur Kanavu' but there have been failures also.
"This is the first time that I had four hits in a row. Hope this will continue. I think when the planning becomes right, my likes and convictions are in sync with the majority of the people, the film becomes a hit," Jose said.
The director is currently busy giving shape to his 20th film '7 Sundara Raathrikal' (Seven Beautiful Nights) starring Dilip, Murali Gopi, Rima Kallingal and newcomer Parvathy Nambiar.
"Everything is going at breakneck speed. Editing and shooting are going in parallel. The plan is to release it on December 20," Jose said.
The director will be completing 25 years in the industry next year having started his career as assistant to director Kamal in 1989.
During the over two-decade period, Jose says he was enamoured of scripting by well-known actor Srinivasan and inspired by the visual treatment of S Kumar.
Jose's popular hits include 'Chandranudikkunna Dikhil' (1999), 'Chanthupottu (2005), 'Arabikkatha' (2007), 'Neelathaamara' (2009) and 'Elsamma Enna Aankutty' (2010).
Asked if he will take the risk of making a movie with newcomers, he said a project has been finalised next year. "A new hero, heroine and cinematographer. The film has all major characters played by newcomers."
The director, however, is not planning to write the script of his films as it requires "patience".
"Scripting requires a lot of creativity and patience. The technology and literature has to be blended. Characters have to be churned out and observations should be fast and one has to be focused.
"I do not have that patience. I did the script for a 10-minute short film, 'Puram Kazchakal' starring Mammooty and Srinivasan in 'Kerala Cafe', a compilation of ten movies. But that is it. When you have better people for the job, why lose your head on this."
Jose has directed Mammooty in four films, starting with debut film 'Oru Maravathur Kanavu' (1998), 'Pattalam' (2003), Kerala Cafe (2010) and 'Immanuel' this year.
On directing Mohanlal, the other superstar of Mollywood, he said he has committed to a project with him, but is still searching for a suitable script. "I have been director for 15 years. So expectations will be very high," Jose said.
Music composer Vidyasagar has been a constant feature in his films right from 'Oru Marvathur Kanavu.'
"We vibe well. He understands my kind of cinema and we jell together, the strain and stress is less. He has given me good songs."
But Jose decided to give a break to a new talent with 'Immanuel' where visually challenged Afzal Yusuff has composed the music.
"He is an extraordinary talent. He has surprised me with his repertoire," Jose said about Yusuff.
Asked whether he is an admirer of filmmaker Alfred Hitchcock, known for his penchant to appear in short scenes in movies, Jose said he actually did a scene in Kamal's movie 'Nadan' recently, but he is playing a character -- Jacob
Tharakan - first time in 'Om Shanti Osana', scheduled for release next year.
Jose does not have much expectation about his films winning awards. People had predicted the 2006 film 'Classmates', which became the highest grosser in the
Malayalam film industry despite having newcomers will fetch him the national award for the best director. But the movie bagged only the best popular film award for critical value.
"I do not have any such expectations. You see, my focus is to give a different presentation to the film, subject wise, location wise and treatment. That is my identity and I work towards that... Awards come much later so I don't get
disappointed if I don't get it and if I win one, I do not assume that I am the best in the industry," Jose said.
On his bagging the Kerala state best director award for Ayalum Njanum Thammil, he said it depends on the taste of the seven-eight members on the jury. And the majority's taste was in sync with his movie.
There were about 140 films last year and of this, 85 were screened for the awards.
"I am not a fool to believe that only my film was the best and I am the best director. There might have been others who had done better. The fact is that a majority liked my film and direction, that is all."
Read full article