Lal Singh, the Next Big Player in J&K Politics, Warns of Agitation for Separate Jammu
Apart from demanding a CBI inquiry in the Kathua gang-rape and murder case, the Lal Singh's Dogra Swabhiman Sangathan has threatened an agitation for a separate state of Jammu.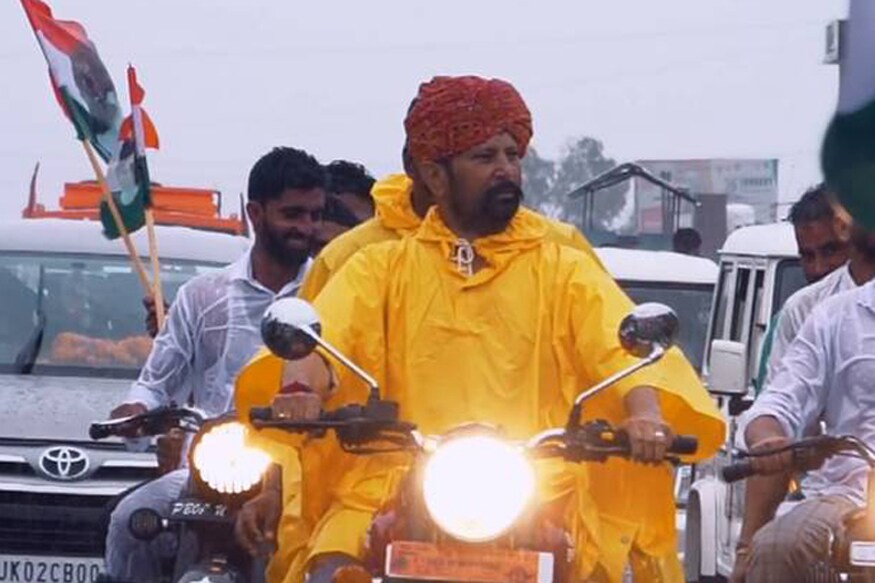 File photo of former J&K cabinet minister Lal Singh
"Listen, people of Rasana. If someone lifts their finger at you, I assure you that we will deal with them. We are Dogras. We have fought for centuries," Chaudhary Lal Singh, the then cabinet minister in BJP-PDP government in J&K told a rapt audience in a rally held in Jammu on March 1.
The rally was held under the banner of Hindu Ekta Manch, a newly created Right-wing group. Hundreds of people had participated in the rally just a few days after seven men from the majority community were arrested by the crime branch of local police for allegedly gang-raping and murdering an eight-year-old nomadic girl, in what was alleged to be a hate crime.
Hindu Ekta Manch, with patronage of leaders like Singh and his supporters, were demanding a CBI probe in the case. In April, Singh and Chander Prakash Ganga, the other minister who participated in that rally, resigned from the state cabinet after the BJP was criticised for its apparent support to the rape accused.
Lal Singh wasn't amused at being forced out of power. He hasn't attended a single meeting called by the state BJP unit. Though he hasn't resigned from the party, he has since gone on to carve out his own unique space in Jammu politics.
Though Singh calls the 'Dogra Swabhiman Sangathan' a "non-political group", their demands and agenda seem to be quite political. Apart from demanding a CBI inquiry in the Kathua gang-rape and murder case, the Sangathan has also threatened an agitation for a separate state of Jammu.
The separate state of Jammu is required, Singh argues, to account for the "aspirations" of Dogras. Jammu won't remain with Kashmir for long, Singh doesn't forget to mention in his rallies, hundreds of which he has conducted in Jammu since being expelled from the cabinet. Panchayat elections are just around the corner, and very soon, Singh, who has decided to field his candidates in them, will find out for himself whether his popularity is translating into votes.
Who is Lal Singh?
He was 15-years-old when he was first arrested by police as a student leader. In his youth, he led student agitations and labour protests in his hometown Kathua, around 80 kilometres south-east of Jammu town.
Lal Singh went on to join Kathua Degree College, while continuing his activism because of which he was arrested over a dozen times and was imprisoned three times at Jammu central jail in different law and order cases.
At one point in his youth, he had to appear in court 15 times in a month for various hearings. "My classmates would joke about me: Aaj tareekh nahi hai? (don't you have to appear in court today)," says the 59-year-old Dogra leader.
His father was a small politician, who was affiliated with Progressive Group, a Left-leaning political organisation. Lal Singh always wanted to become a politician, he says.
He contested his first elections in 1996 from Basoli constituency and won on the ticket of a party affiliated with the Congress which later merged with the main party. He was soon inducted into the cabinet as a Minister for Health and Medical Education in Congress-PDP coalition government.
The very next year, he contested parliamentary elections and won from Udhampur constituency. Lal Singh believes he was asked to contest parliamentary elections because his work as a minister was not liked in the coalition government.
In his time as a minister, he boasts of having suspended 231 doctors, of whom 215 were from Kashmir. He held all of them guilty of being absent from their duties for extended periods. He had also raided the house of a government medical college's principal for allegedly running a private practice at home. "When the principal attempted to flee, he had a close shave with death. He tried to jump to his death," Lal Singh says.
In 2009, he again was elected as an MP and was considered a senior Congress leader in the state.
However, in 2014, after being denied ticket for general polls, he parted ways with the Congress. In August 2014, Singh joined hands with the BJP in the presence of party chief Amit Shah at a massive rally in Kathua.
He successfully contested in 2014 assembly elections and was awarded the same portfolio he had held earlier — the state's Health and Medical Education minister in the PDP-BJP coalition government. Later, when serving chief minister Mufti Mohammad Syed died and his daughter Mehbooba became the chief minister nearly three months later, his portfolio was changed to Forest, Environment and Ecology.
In June this year, when the coalition ended after the BJP pulled out of the government, the Rasana rape case and controversies surrounding the special status of J&K were largely believed to be the causes that had created differences between the two parties.
Dogra Front
After Lal Singh resigned as a minister, he began to reinvent his political career. The only way to make himself indispensable was to consolidate his support among the Dogras, the majority Hindu community in Jammu. This he did by founding the Dogra Swabhiman Sangathan.
The heft of Dogra community spreads from Himachal Pradesh, some areas of Punjab and the whole region of Jammu, all of which was once ruled by Dogra king Raja Gulab Singh.
Lal Singh doesn't forget to invoke the Maharaja each time he speaks in public. "Jai Duggar, Jai Dogra" is how he begins and ends every rally.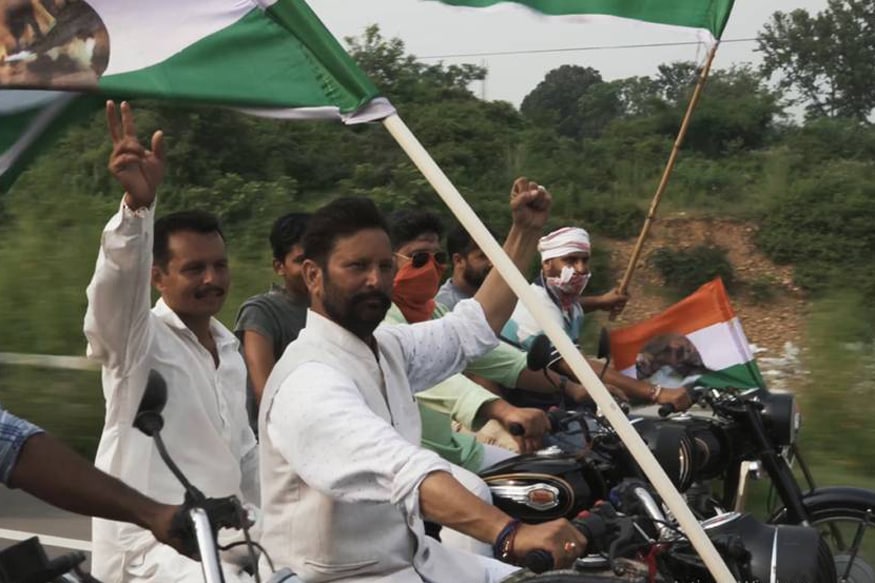 Lal Singh and his supporters during a bike rally
He began holding these public Dogra-centric rallies in his hometown of Kathua. Since then, he claims to have held more than 700 rallies all across the region. In the last 100 days, he says he has extensively toured every constituency in the region.
In a very short duration, he has indeed become the tallest political leader of the community, which has sizeable presence all across the region. Even his former colleagues at the BJP can't help but admit his stature in state politics right now.
"Lal Singh is trying to garner support from places which are already BJP stronghold. His future reactions will impact the BJP's course. If he supports the BJP, it will be overwhelming for the party, otherwise it definitely is a matter of concern," says former BJP minister of the state Abdul Gani Kohli.
Singh has, meanwhile, been releasing a list of demands in what he calls his "vision document", to further consolidate his position in state politics. The 25-point document demands 'rotational chief ministers for Kashmir and Jammu regions'.
He says that Jammu has suffered "step-motherly" treatment. According to Singh, irrespective of the party, a full-term chief minister should be from Jammu and in the next full term, it should be from Kashmir.
In the Jammu and Kashmir legislative assembly, 25 seats are vacant for areas under Pakistani control. Singh has demanded in his 'vision document' that six of these seats should be given to Jammu because refugees from the other side of Line of Control are living in Jammu.
In the last five months, he has successfully been able to gather thousands of people in his rallies in Jammu. During the rallies, he claims that Kashmiri politicians have done injustice to Jammu and threatened an agitation for a separate state if the people of Jammu "are not given equal rights".
He believes that Kashmiri politicians are contributing to the worsening situation in the Valley so that they can "sell their misery to Delhi for power". In this attempt, "Jammu, being a peaceful region, suffers".
Apart from all this, Singh is demanding Dogra reservation certificate, minority status to Hindus, Sikhs and other religions of the state; everyone except Muslims.
The flag of his organisation is the Tricolour, in the middle of which is an image of a lion and a goat drinking water together. His critics believe that it is a "communal symbol" in which he is trying to "intimidate" the Bakarwals and the minority community, who have allegedly been symbolised in form of the goat.
But Lal Singh denies it, saying that it is based on a fable of the Hindu king, Jambu Lochan, of the sun lineage, after whom Jammu has been named as he was impressed by sighting a lion and a goat drinking water together.
"It depicts what we want, which is for the weak and powerful to thrive together," said Lal Singh, in Hindi with a heavy Dogri accent.
He says that the front was created in the aftermath of the Kathua rape case. "There were combined efforts to show Dogra community in a bad light. Those who have committed the crime should be brought to justice, but how can the entire population be shamed," says Lal Singh.
He says that he has every right to demand CBI inquiry as he doesn't believe in the police. "I think the investigation was politically motivated. In 2009, Mehbooba Mufti and others demanded CBI inquiry in Shopian rape case, so what is wrong with my demands," asks Singh.
He doesn't shy away from hinting at his political aspirations. "People are not happy with the BJP and the Congress. They have put Dogras to shame. I am receiving tremendous support, so maybe we will launch a political party. Let time decide," he says.
Some see the Panchayat elections as his first independent political test. "Lal Singh is unifying people of Jammu on the Dogra identity. In 2019 elections, he will play an important role," a BJP leader told News18, wishing to remain anonymous.
Former deputy chief minister of the state and senior BJP leader Kavinder Gupta told News18 that Lal Singh was maintaining distance from the party. "Whatever he is doing is on his own. But he has not resigned from the party," Gupta said.
It is not an accident then that he is trying to claim leadership of his community with an overtly Right-wing agenda.
In May 2016, when he was minister of the state, some people from the Gujjar tribe accused him of using abusive language and making remarks, reminding them of 1947 Jammu massacres.
During his ministerial tenure, he was also accused of evicting Gujjars on the pretext that they have occupied forestland. "The community (Gujjars) is feeling a sense of insecurity," a legislator said in the J&K assembly, "because of Lal Singh".
"While he's trying to stitch together the community under this Right-wing agenda, the majority sentiment doesn't really find a resonance with his communal agenda," says Prabodh Jamwal, editor of Kashmir Times.
Another observer of Jammu politics differs slightly. "His rallies after the Kathua case have made him the only big leader of Jammu at this time. He will definitely have an impact in 50% of the Jammu region in the upcoming elections," says Vishal Sharma, a journalist based in Jammu.
Earlier as well, there have been agitations demanding a separate Jammu state but they have not been effective, he adds.
"Panthers party is working on the same politics. But they have not been able to percolate down the message like Lal Singh is doing. It is actually the alienation and lack of leadership of the Dogras coupled with Lal Singh's persona which is attracting people," says Vishal.
(The author is a Kashmir-based freelance journalist)
Get the best of News18 delivered to your inbox - subscribe to News18 Daybreak. Follow News18.com on Twitter, Instagram, Facebook, Telegram, TikTok and on YouTube, and stay in the know with what's happening in the world around you – in real time.
Read full article