Lalu a Good Actor, No One Can Match His 'Nautanki': CBI Officer Who Investigated Fodder Scam
The CBI officer recalls how it was a challenging job for him as some very powerful people were involved in the fodder scam case. Upen Biswas narrates how he was probing the scam at a time when the fates of the governments of HD Deve Gowda and IK Gujral were hanging on RJD's support.
Kolkata: While the nation closely tracks the development in fodder scam or 'Chara Ghotala' that brought down Lalu Prasad Yadav's reign in Bihar, far away in Kolkata, a man in his 60s anxiously flips through the newspapers, fishing for more information.
Meet the former CBI Joint Director Upendranath Biswas, popularly known as Upen Biswas, who blew the lid on the fodder scam.
Speaking to News18's Sujit Nath, Biswas shares how Lalu had once made several requests to him to change the venue of his interrogation to avoid the media and save his public image. Not just that, Biswas was also threatened by a CBI director that he will be framed for pursuing the case.
"It was sometime in between 1999 and 2000 that I called up the Chief Secretary (CS) of Bihar and asked him to convey my message that the CBI wants to interrogate then Bihar Chief Minister Lalu Prasad Yadav over the fodder scam," Biswas recalls.
"Within five minutes I received a call and the person on the other side was not the CS but Lalu himself."
Biswas narrates, "Lalu Prasad Yadav started out in Bengali. He said 'Nomoskar Biswas da, Ami Lalu Yadav Bolchhi… Arey aap nahi jantey upper caste ke log hamarey khilaf sazish kar rahain hai.'"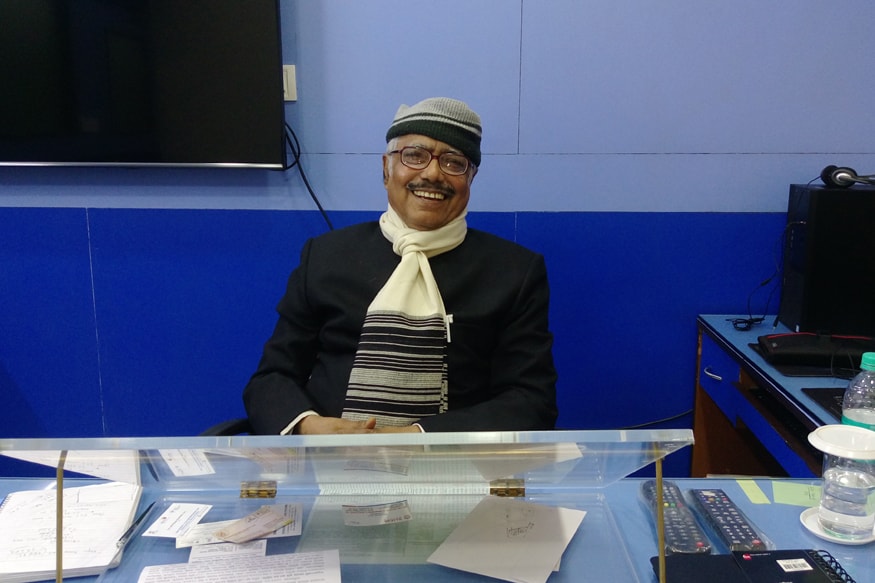 Former CBI Joint Director Upen Biswas at his Kolkata residence. (Image: News18)
The former CBI officer says he then told the RJD chief that the investigating agency will still go ahead with the interrogation as the evidence demands so. "He agreed and requested me to send CBI officers to his 1 Anne Marg, the CM's residence in Patna."
"He called me again and while criticizing the media, he said, 'Biswas da ghar main bahut problem hai due to media jasoos… Office main questioning kar lijiye."
Upen Biswas says, "I agreed and conveyed the message to my officers, including Ranjit Sinha, who was a senior CBI officer then. Lalu called me yet again and requested that his interrogation be done in Delhi and that the matter should be kept secret. I agreed but he called me back and said that there will be international media in Delhi and he should be interrogated in Kolkata. I obliged despite the repeated requests that were annoying."
However, as Biswas recollects, someone told Lalu that in Kolkata he will be in trouble as Biswas was a Bengali. "I don't know who gave him such a stupid idea. Finally, he agreed to be questioned at the Valmik Guest House on the outskirts of Patna."
"I must say Lalu is a great actor and no one can match his 'nautanki'."
"Since the beginning of the case, I was under a lot of pressure from politicians, bureaucrats and criminals. It pushed me to embrace Buddhism."
The former CBI Joint Director further remembers what followed next. "Once a CBI director asked me to join him for lunch at the North Block and I went, but only to be threatened by him. He told me, "Tum to ab phansoge… People are after you."
"I don't want to name him but I can only say that I never bowed down to the pressure."
Upen Biswas had famously approached the Army to get Lalu arrested from the Bihar capital.
He said, "I was left with no options. It was a conspiracy against me. My seniors in Delhi were not taking my calls, or approving Lalu's arrest. Then I consulted a legal officer who advised me to go to the legal bench. Taking his advice, I asked for the Army's help, which they refused. Next day my senior who was not receiving my calls issued a showcause notice against me. It was very clear that they wanted to keep me out of the case. Finally, the Supreme Court issued an order stating that I will be the investigating officer of the scam and this gave me much relief."
"It was a challenging job because some very powerful people were involved in the case. I was probing the scam against Lalu at a time when the fates of the governments of HD Deve Gowda and IK Gujral depended on RJD's support. You can imagine the circumstances under which I was conducting the investigations."
"Not only Lalu, even Deve Gowda lost his job because of this."
Yet, having said all of this, Upen Biswas says the case doesn't interest him anymore. "It was a long journey and the verdict doesn't excite me anymore because I had done my part as an officer and now the law will take its own course."
He adds, "I don't have a personal grudge against Lalu or any other person involved in the case. I was given the responsibility to clear the dirt and I am happy that I did it."
| Edited by: Sanchari Chatterjee
Read full article
Countdown To
Elections Results
To Assembly Elections 2018 Results