Rajapaksa takes massive lead in Sri Lanka poll
Counting of postal votes show the verdict swinging in Rajapaksa's favour.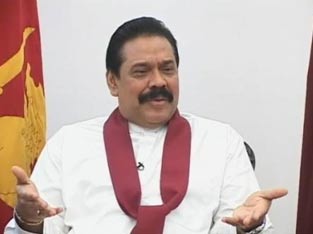 Counting of postal votes show the verdict swinging in Rajapaksa's favour.
Colombo: Sri Lankan President Mahinda Rajapaksa has established a huge lead over his main rival former army chief General Sarath Fonseka in the presidential election.
Rajapakse has won nearly 60 per cent of the ballots counted so far against about 40 per cent for General Fonseka, the man who led the charge against the Liberation Tigers of Tamil Eelam (LTTE).
The President has won in 32 of the 39 constituencies where all ballots have been tallied.
As per the latest results Rajapaksa is leading by almost 1 million votes. Except for the northern and eastern part of country, which are Tamil dominated, Rajapaksa has swept the elections in other regions.
As counting is being done by hand it's only later in the day when the final result will be declared.
Rajapaksa, who won by only 1,70,000 votes in last election, is doing very well in south and Central Sri Lanka, but not that well in the East and North which are the Tamil speaking regions.
The counting of the votes for the presidential election began on Tuesday night a few hours after voting came to an end.
Reports claim that the voter turnout was close to 70 per cent with over 8 million people exercising their rights in the Island nation's first presidential election since the LTTE was wiped out in 2009.
Voting was largely peaceful though there were reports of violence in the Tamil-dominated city of Jafna.
But the biggest irony of it all is that General Fonseka could not vote on Tuesday as his name did not feature in the voters list.
Politicians have vowed to block General Fonseka if he is voted as president.
Get the best of News18 delivered to your inbox - subscribe to News18 Daybreak. Follow News18.com on Twitter, Instagram, Facebook, Telegram, TikTok and on YouTube, and stay in the know with what's happening in the world around you – in real time.
Read full article