Li Na upset by unseeded Cirstea in Rogers Cup
Li trailed Cirstea for most of the first set and gave the Romanian a 3-1 lead.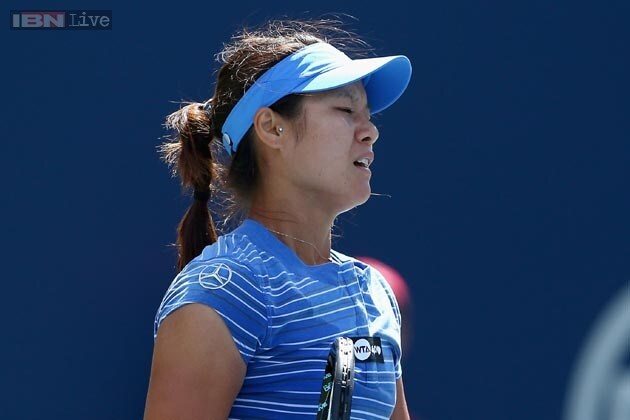 Li trailed Cirstea for most of the first set and gave the Romanian a 3-1 lead.
Toronto: World No.5 Li Na was stunned by No.27 Sorana Cirstea of Romania in the women's singles tennis semifinals of the Rogers Cup here.
Cirstea won 6-1, 7-5(5) Saturday. Li, who was runner-up to Petra Kvitova in Montreal last year, trailed Cirstea for most of the first set. The Chinese failed to hold serve in her second service game, giving the Romanian a 3-1 lead, reports Xinhua.
Li was once again broken in her next service game, unable to handle the deep returns and baseline winners of her 23-year-old opponent. Cirstea continued to dominate, wrapping up the first set 6-1 in only 21 minutes.
During the break between sets, Li spoke to her coach and husband to get words of encouragement and stormed out to a 4-1 lead in the second set after breaking Cirstea in her first service game.
At this point, Cirstea strategically took advantage of her coaching timeout and recovered nicely to win four straight games and take a 6-5 lead. Cirstea even had an opportunity to serve out the game with two matchpoint opportunities in the following set, but Li's determination forced a tiebreak.
During the tiebreak, momentum seemed to shift to Li's side, who took a 4-1 lead. Cirstea settled down and controlled the rest of the tiebreak, winning six of the next seven points.
The match concluded when Li recorded her sixth double fault of the match to lose 5-7 in the tiebreak.
"I had chances but didn't take them. I just lost the chance to take the match in to the final set," said Li.
She blamed herself for the loss but also credited Cristea's game.
"She got a lot of confidence. Sometimes I felt she couldn't hit a winner but the ball came to me as a winner. It's very tough. But nothing to say because today I didn't play the best of tennis but at least I tried."
With the victory, Cirstea reached her third career WTA final and first in nearly five years. She won the Tashkent Open in Uzbekistan when she defeated German Sabine Lisicki in October 2008.
"Everything is based on hard work. Everyone can see that I have been taking some great steps in the right direction. I'm just very excited to keep these things going and make this a habit," said Cirstea.
Her opponent in Sunday's final will be either World No.1 ranked Serena Williams of the United States or No.4 Agnieszka Radwanska of Poland.
Get the best of News18 delivered to your inbox - subscribe to News18 Daybreak. Follow News18.com on Twitter, Instagram, Facebook, Telegram, TikTok and on YouTube, and stay in the know with what's happening in the world around you – in real time.
Read full article