Life After Demonetisation: Tales From Seven Industrial Towns
News18 brings to you the ground report from Uttar Pradesh, Punjab and poll-bound Himachal Pradesh on how demonetisation affected lives of artisans, manufacturers and workers.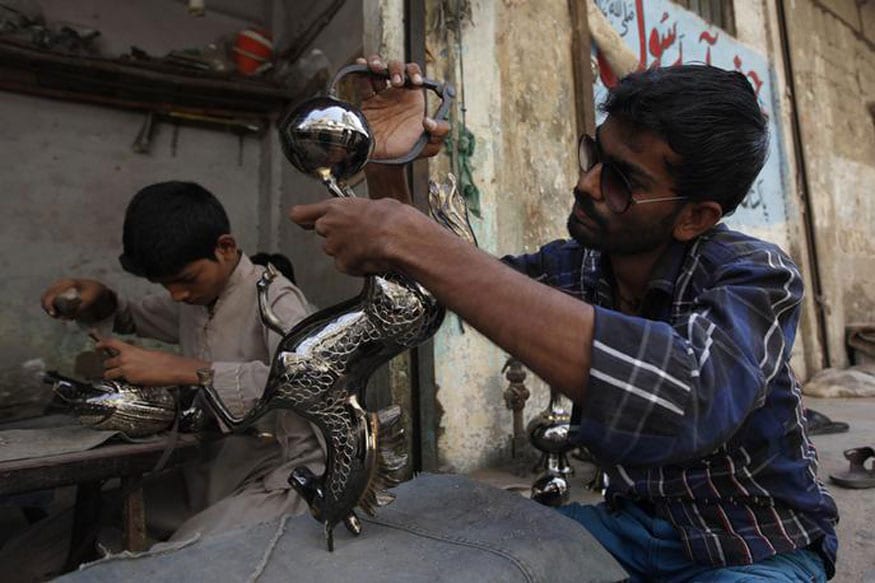 An artisan uses a tool to draw lines before carving patterns on a brass horse sculpture at a handicraft workshop along a street. (Image for representation/Reuters)
New Delhi: A year on, demonetisation continues to be the fulcrum of socio-political discourse in the country. News18 reporters travel across 7 cities in 3 states — Uttar Pradesh, Punjab and poll-bound Himachal Pradesh — to document the impact a year after Prime Minister Narendra Modi's historic announcement.
Runjun Sharma and Zeba Warsi meet industrialists, traders, manufactures and workers to understand how demonetisation has changed life and livelihood.
Ludhiana – Last Year's Wool Stock Remains Unsold
In Punjab, December 2016 was a cold winter. Especially for wool traders of Ludhiana who mostly dealt in hard cash.
Post demonetisation, the wool industry was paralyzed for months — labour shortage and a stalled cash flow forced hundreds of micro and small scale units to temporarily shut shop.
So did Apsley Wool in downtown Ludhiana. "There were no orders, no trade," recalls Anil Sehgal, the owner. A year on, workers have returned as has the cash, but the factory is plagued with another problem — overproduction.
Last winter's unsold stock is still lying around. Sehgal complains that demand that was hit after demonetisation, never really picked up. "The purchasing power of consumers has not increased even a year after note ban. The orders are far lesser in comparison to 2015. We have labourers to feed or they will flee back home." laments Sehgal.
He is one of the many small scale wool businessmen in the city who are finding it difficult to warm up to Goods and Services Tax. Multiple tax slabs and a new 5% and 12% tax on wool has only added to the confusion.
But not everyone is complaining in Ludhiana. Some workers have positive stories to share. 50 years old Mahipal Singh, who has been working in this industry for years, now has a functioning bank account. "Our factory owner may be unhappy because business is slow. But if you talk about labourers like me, we are glad to receive our salaries monthly by cheques. We are able to save some money. Earlier, our daily wages would just disappear in daily expenses," says Singh.
Moradabad – Brass Business Down By Half
On the National Highway-24, which connects Delhi and Lucknow, the brass city of Moradabad is the biggest industrial town.
In the narrow alleys of the old town's Katar Shaheed area, every second home belongs to a brass artisan. Locks dangling on many karkhanas, which once used to brim with activity through the day and a better part of night, tell a story of the industry's steady decline. The last one year has been particularly difficult — both for the artisan and the owners.
85 years old Mobeen Hussain is a national award winning artisan. Defying age, he creates intricate brass decoration with frail hands. But the last one year hasn't been productive for him. After demonetisation, the demand for his art has crashed drastically.
Once a craft that was handed down generation to generation — a heritage industry that sustained livelihoods of almost 5 lakh families — is now dwindling under the impact of macroeconomic changes.Azam Ansari, a manufacturer and the chairman of Moradabad Brass Karkhanedar Association says, "Rs 20,000 crore business (domestic and international) has seen a 50% fall. If the situation doesn't improve, the brass city, which has already lost its sheen, may completely die. Many skilled karigars are out of work and pull rickshaws for a living". Post GST, the cost of raw material has gone up but customers aren't willing to pay more for the end product, he adds.
Ludhiana – Cycle Component Makers Shut Shops
The first bicycle in India was made in this city in 1920s. And Bhogal Cycles have been pioneers in this business. A giant cycle manufacturer – Bhogal earlier operated by assembling parts which were manufactured by many micro ancillary units. But the workflow has completely changed in the last one year.
Avtar Singh Bhogal, chairman, Ludhiana Cycle Manufacturer Association, says "Demonetisation led to the slowdown. All those who worked with hard cash started shutting down after November 8 last year. And now, as the system demands organized transactions, more and more micro units are unable to survive."
Since small manufacturers were struggling, Bhogal decided to not be dependent on them. Today, Bhogal Cycle has automised the entire assembly line. This has led to job losses and many small businesses have become uncompetitive.
"More than 2500 small units have shut down in the last one year — they cannot implement GST. We also cut down on our own labour costs. In a wing where I had 4 men earlier, today one is required," says Bhogal.
65 years old BR Durga is one of the small scale manufacturers who have shut shop. He chokes while talking about his losses. "I have lost 25kg weight in the last one year. Demonetisation killed my business. I don't understand how this is good for the country if you are killing small trade," says Durga.
Jalandhar – Chak De! Moment for Sports Industry
In sharp contrast to Ludhiana's cycle industry, India's sports hub Jalandhar is fast adapting to a cashless economy.
All 200 employees in Mukul Varma's rugby ball manufacturing factory have a bank account. The second generation entrepreneur has gone completely digital post note ban. "All our business transactions are now done through net-banking and e-payments. We don't have to wait for money to be withdrawn to pay the labour. Workers are getting paid directly in their accounts – they have their own debit cards. Things have become systematic – we can call it cashless," says Varma.
Workers also seemed happy with the change. Banno, who receives her salary in bank account, says, "People like me could not imagine using debit cards at ATMs."
Businessmen like Varma saw an opportunity in demonetisation to draw new customers. "We have started selling sports goods directly to end-users through e-commerce websites," he says.
Interestingly, even small eating joints in Jalandhar have enthusiastically responded to the digital call. Aarkay Vaishno Dhaba, a popular eating spot in the city, has its own mobile app. "We are proud to follow PM Modi's vision. Our dhaba is Jalandhar's very own Digital Dhaba," says Sunder Singh, manager.
Firozabad – Glass Bangle-Makers Return to Old Means
Glass bangle manufacturers saw months-long slump post demonetisation. Traders say 70% business was lost in the initial months.
A year on, cash is back in Firozabad and so are the workers in factories. Factory owners here say the workers wouldn't accept payment by cheque. A rupee in hand is better than two in the bank account!
52 years old Madan Ram, a skilled churi karigar works 10 hours a day, melting and moulting glass at 65 degree Celsius. His remuneration at the end of the day is Rs 300. "I don't have a bank account nor do I know how to write my name. It's better we get paid in cash' says Madan.
From bangle factories to the markets – cash is back as the dominant mode of transaction.
At 5pm, in the famous Imam Bara bangle market, silence looms large. Some retailers are sleeping and the others are whining about low turnover this year.
Baddi – Workers Gets Employee Benefits
An hour's drive from Chandigarh is the town of Baddi, the industrial hub of Himachal Pradesh. The state government over the years incentivised investments here by extending tax benefits to manufacturers. All major pharmaceutical companies responded by setting up a base here.
Balwinder Singh, a medium-scale manufacturer of allopathic medicines in Baddi, is concerned more about GST. In fact, he is bitter about GST which has put an end to the tax holiday he enjoyed.
"We were enticed to set up our industry in Baddi only because it was an excite-duty-free zone. But after GST, our tax benefits have been snatched away. We should be compensated," says Singh.
However, a year after demonetisation, workers are reaping the benefits of an employee provident fund. Some of them now have a medical insurance. Industrialists said they were forced to streamline labour practices. "Our labour now not only gets salary in their accounts but also gets employee benefits. You would think that for someone who earns Rs 6000, he wouldn't want deductions. But the workers are happy that they are able to save," says Balwinder Singh.
The younger lot in the labour force is more open and receptive to change. "I like the fact that my money is being saved in provident fund. That can be used in times of crisis. We are also getting medical insurance," says 24 years old Prakash.
But the older generation is still struggling. 45 years old Sheila Phogat says, "I don't understand banking. I have never gone to a bank and I don't want all that inconvenience. I never went to a school and am fine with cash," she complains.
Varanasi – Saari Industry Losing Its Sheen
In Prime Minister's own constituency, saari weavers are struggling. Ramzan Ali started weaving saaris at the age of 10. Last season, he says, was the worst he has seen.
The age old batta system – unique to trading Banarasi saari – largely depended on credit. Demonetisation sucked all the cash out of the system, leaving weavers and traders in a lurch.
"After around 8 months, the impact of notebandi started wearing off. But then came GST to make our lives even more difficult," says Ali.
Businessmen say more than 75,000 weavers are suffering because of the double whammy of demonetisation and GST.
Many handlooms, which were already struggling to survive against powerlooms, have shut down. "Most saaris that you get in Banaras are not woven in power-looms. We anyway were going through difficult periods and the new policy reforms pushed us over the edge," says Ali.
| Edited by: Huma Tabassum
Read full article
Countdown To
Elections Results
To Assembly Elections 2018 Results