'Light' Retirement for Soldier Who Defied Death to Become 'God of Longdipabram'
Capt Pillay had been grievously injured. He had taken a bullet to the chest and three to his forearm; a grenade exploded over his foot, and he suffered a spinal fracture. All in a day's work for a soldier you could say. But what happened next is what legends are made of.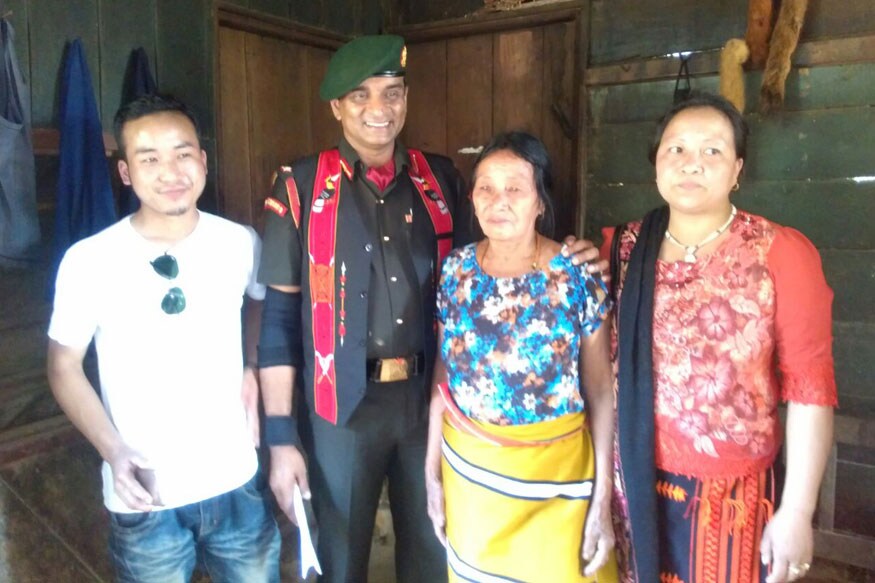 Colonel Pillay with some villagers at Longdipabram. Image credit: Shreya Dhoundiyal CNN-News18
New Delhi: It was an unusual retirement for an unusual man. It all started with a gunfight in Manipur 23 years ago.
In 1994, Captain DPK Pillay, a young platoon commander of 8th Guards, was tasked with hunting down a group of hardcore NSCN (IM) insurgents who were planning to blow up a vital bridge and communication tower to hamper troop movement in Manipur.
After four days of searching through the jungles, the hideout was tracked to a remote and isolated village called Longdipabram in Tamenglong.
In the three-hour firefight that followed, a few militants were killed while a couple were apprehended.
In the exchange, Capt Pillay had been grievously injured. He had taken a bullet to the chest and three to his forearm; a grenade exploded over his foot, and he suffered a spinal fracture. All in a day's work for a soldier you could say. But what happened next is what legends are made of.
As he lay grievously bleeding, waiting for a helicopter to evacuate him, Capt Pillay noticed two children, a boy and girl, who had been wounded in the crossfire.
"I had to make a choice in those few moments between taking responsibility for my own life and that of the people we were meant and sent to protect. I felt if anyone deserved to live in that moment it was those two children who did not know what the fight was about," Pillay told CNN-News18.
Capt Pillay had a choice to make. And he made it without any hesitation. He commanded his troops to ensure that the two children were airlifted to medical help before him.
Lying in a pool of blood, barely conscious, Capt Pillay also extracted a promise from his platoon not to seek revenge from the village in case he died. In that one moment, the young captain who had come to raze the village to the ground became its saviour.
As he fell unconscious, he thought of his mother. He hoped his fauji father would be proud of him. The last sounds he heard were of village women wailing in gratitude for what he had done. He was 26.
Capt Pillay was evacuated an hour later. Miraculously, he lived to tell the tale. For displaying exemplary courage under fire, the young captain was conferred a Shaurya Chakra in 1995.
But Longdipabram didn't know. They thought their hero was dead.
Long after the incident, as Pillay rose up the ranks in the Army, he often thought of the place that had taught him the real meaning of being a soldier. "The entire episode was etched my memory just as the battle wounds on my arms and chest. When I saw my own children, I often thought about the two kids in the village. Had they survived? I didn't even know their names," he said.
He got a chance to find out 14 years later. Capt Pillay, by then Colonel Pillay, chanced upon a friend commanding a brigade in Tamenglong who sent up a patrol to Longdipabram.
"That is how the village found out I was alive. The village head man told the patrol that I had saved them from calamity. Both the children had survived and the village wanted a reunion," he told CNN-News18.
Col Pillay had never expected to see Longdipabram again. But there he was, a decade and a half later, at the very courtyard where he lay bleeding. This time, he didn't have to break in. The grandmother of the house welcomed him with open arms, weeping between words of gratitude he didn't understand. But he knew he was home.
The two children, who he had last seen with blood streaming down their skin, were now young adults — Masebiliu and Dingamang. As they were growing up, they had often wondered why a soldier from an "occupational force" was willing to die for them. The answer left them in tears.
"As a soldier, I knew I could lose my life defending the ideals of my country, and the values of our Constitution. But I could not transfer this liability to both of you. For me, and many other soldiers like me, you were worthy of any sacrifice, irrespective of our differences," he told them.
There were more differences to melt in this emotional reunion. The insurgent who had lobbed a grenade at Col Pillay almost costing him his leg came out to hug him. They had both come close to killing each other all those years ago. But, that day, all was forgiven and forgotten. He told Col Pillay that his act of kindness had inspired him to surrender.
"For us, Col Pillay is god. Our village had many underground workers and active insurgents. We were number one on the hit list of security agencies. When the gun battle was on, we had heard clear instructions on the radio set that our village should be burnt down. But Col Pillai saved us that day. We are all alive because of him," said Atanbou, the village head.
For Longdipabram, Col Pillay had done what only a family member would have. The only way to reciprocate was to make him family. In an unusual show of respect, Col Pillay and his children were adopted by the village and given land and voting rights. The villagers now call him Pillay Pamei. Pamei is the surname of the people of the Zeliangrong community who live in the village.
Since his return, Pillay Pamei has moved mountains to do whatever he can to give back to his new clan. Now, everyone in Longdipabram is looking forward to the new 100 km national highway from Manipur to Nagaland that will pass through their village and end their isolation. It took Pillay six years to get it sanctioned. It is something that will change the topography and politics of this strife hit region forever, he says.
"We have to make our institutions work for our people. All our people. I would like to see young people from my village feel and believe that they are as much part of this country as anyone else; that they have the right to work, study and travel without being attacked or labelled. We cannot have peace without development. We also cannot have any development without peace. It is where the road ends that insurgencies begin," Pillay said.
On March 31, Col Pillay will hang his boots after 29 years in service. But before that, he is back in the village where he almost died, this time with the gift of light. He is carrying 500 solar lights, one for every home in the village along with 100 solar lanterns sponsored by the Assam Rifles.
For Col Pillay, it is a pilgrimage before he ends one journey and begins another. For Longdipabram, he continues to be god.​
| Edited by: Ashish Yechury
Read full article
Countdown To
Elections Results
To Assembly Elections 2018 Results