INDIA
Little known facts about 'Sholay'
We celebrate the classic's 35 years in a month-long special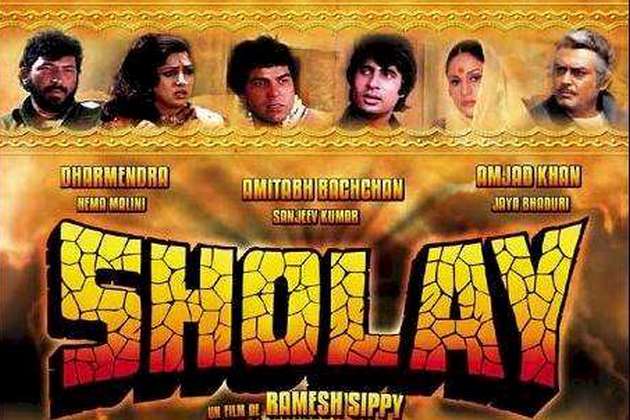 We celebrate the classic's 35 years in a month-long special
Ramesh Sippy's Sholay completes 35 years of its release in August. The film was released on August 15, 1975 at Minerva in Bombay. Read on to know little known facts about the Hindi cinema classic:
• Sholay's budget was only Rs 3 crore.
• Nobody wanted to watch Sholay at first and the theatres were empty. The film caught on through word of mouth, and went on to run for five years in a theatre in Mumbai.
• It was India's first 70mm film, but it premiered with 35mm prints, because the 70mm prints were held up while arriving from London.
• Sholay was inspired by Akira Kurosawa's Seven Samurai, and John Sturges' The Magnificent Seven.
• Shatrughan Sinha was earlier cast for the role of Jai, but Amitabh Bachchan managed to have his way and was finally given the role.
• Sholay is 3 hours 20 minutes, which is about 20,000 feet of negative. Ramesh Sippy actually exposed 3,00,000 feet, as he shot each scene twice – one for 70mm and the other for 35mm.
• Sholay is the first movie whose dialogue soundtrack was released along with the music. It was a rage.
• Danny Denzongpa was offered the role of Gabbar Singh, but he was busy shooting another film. So, the role went to Amjad Khan, a little known actor then.
• But Amjad Khan was about to be dropped from Sholay, as Javed Akhtar (who wrote the film with Salim Khan), found Amjad's voice too weak.
• The train robbery sequence was shot on the Mumbai-Pune track near Panvel. It was inspired by the 1939 Hollywood movie, Stagecoach.
• Sholay's original ending had Thakur Baldev Singh (Sanjeev Kumar) kill Gabbar Singh. But it was changed at the last minute, as the censor board thought it was not right to show Thakur taking the law in his hands.
• Rumour was that Dharmendra was keen to play the role of Thakur Baldev Singh. But when Veeru's role was going to Sanjeev Kumar, Dharmendra gladly agreed to play Veeru. Reason? Veeru would romance Basanti played by Hema Malini, Dharam paaji's real life lover who Sanjeev Kumar also wanted to marry.
• Amjad Khan had given 40 retakes for his eternal 'Kitne Aadmi The?' line.
• Foreign technicians shot the action sequences. The famous opening train sequence took seven weeks to shoot.
• Sholay almost took two-and-half-years to complete. Jaya Bachchan was pregnant with daughter Shweta during the shooting, and by the time the film released, she was pregnant with son Abhishek!
• Actor Mac Mohan who became famous as 'Sambha' due to the line 'Arre oh Sambha, kitne aadmi the?', had to travel 27 times from Bombay to Bangalore for the bit part.
• Sholay has been honoured with only one Filmfare award and that too, for best editing by MS Shinde.
• Apparently, there were multiple copies of the famous Sholay coin showing heads on both sides, on the sets of the film.
Compiled by Shweta Parande
Support the daily wage earners who have been hit the hardest by the COVID-19 crisis. Click here to contribute to the cause. #IndiaGives
The daily News18 Coronavirus COVID-19 newsletter - Get your copy here.
Subscribe to News18 Daybreak. Follow us on Twitter, Instagram, Facebook, Telegram, TikTok and on YouTube
Read full article