New Delhi:
Four days after he was miraculously found alive under 35-feet of snow in freezing Siachen, Lance Naik Hanamanthappa died on Thursday morning in the capital.
The Army paid respects to the braveheart at Delhi's Brar Square where Hanamanthappa's body is lying in state.
Read More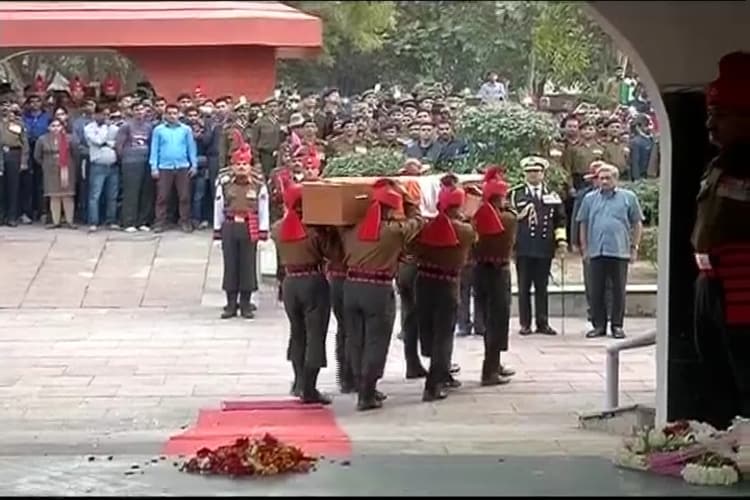 His body will be flown to Hubli in Karnataka later on Thursday and the last rites will take place on Friday. Lance Naik Hanamanthappa was suffering from multi-organ failure, pneumonia and was unable to come out of a deep state of coma.

The 33-year-old is survived by his wife and two-year-old daughter. Lance Naik Hanumanthappa spent six days buried alive under the snow after an avalanche came crashing down on his military post. Nine other soldiers from his regiment had died at the spot. Tributes have been pouring in for Hanamanthappa from across the country.






18 Sep, 2019 |

South Africa in India

SA
vs
IND
149/5

20.0 overs

151/3

19.0 overs

India beat South Africa by 7 wickets

18 Sep, 2019 |

Bangladesh Tri-Nation T20I Series

BAN
vs
ZIM
175/7

20.0 overs

136/10

20.0 overs

Bangladesh beat Zimbabwe by 39 runs

15 Sep, 2019 |

Bangladesh Tri-Nation T20I Series

AFG
vs
BAN
164/6

20.0 overs

139/10

19.5 overs

Afghanistan beat Bangladesh by 25 runs

14 Sep, 2019 |

Bangladesh Tri-Nation T20I Series

AFG
vs
ZIM
197/5

20.0 overs

169/7

20.0 overs

Afghanistan beat Zimbabwe by 28 runs

13 Sep, 2019 |

Bangladesh Tri-Nation T20I Series

ZIM
vs
BAN
144/5

18.0 overs

148/7

17.4 overs

Bangladesh beat Zimbabwe by 3 wickets