LIVE: Lalu Prasad gets 5 years in jail, Rs 25 lakh fine in fodder scam case
<p>After the arguments in special CBI court on sentencing of RJD supremo Lalu Prasad Yadav, others convicted in fodder scam case was over, the court announced the quantum of punishment via video conference due to security reasons.</p>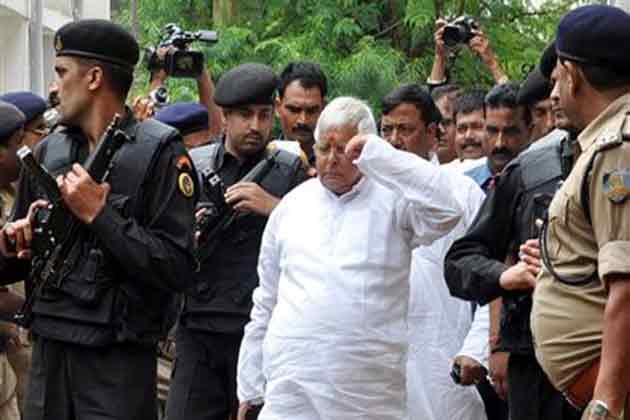 <p>After the arguments in special CBI court on sentencing of RJD supremo Lalu Prasad Yadav, others convicted in fodder scam case was over, the court announced the quantum of punishment via video conference due to security reasons.</p>
After the arguments in special CBI court on sentencing of RJD supremo Lalu Prasad Yadav, others convicted in fodder scam case was over, the court announced the quantum of punishment via video conference due to security reasons.
The court had fixed Thursday for arguments on why the quantum of sentence should be less and for the pronouncement against Lalu.
The court of Pravas Kumar Singh, which had found Lalu guilty along with 45 others in case RC 20A/96 on Monday, was hearing the arguments.
The Special CBI court has granted bail to eight of the convicts as they had been sentenced to three years' rigorous imprisonment, a prison term that allows the convict to move for bail in the same court.
Besides Lalu, the court also convicted another former Bihar CM, Jagannath Mishra and sitting JD(U) MP Jagdish Sharma. They are presently lodged at the Birsa Munda Central jail along with other fodder scam convicts.
Meanwhile, sources in RJD said that former Union minister and RJD leader Prem Chand Gupta and several other leaders,on Wednesday, met Lalu in jail.
A senior RJD leader said Lalu partook of food brought from outside by his party's leaders.
Get the best of News18 delivered to your inbox - subscribe to News18 Daybreak. Follow News18.com on Twitter, Instagram, Facebook, Telegram, TikTok and on YouTube, and stay in the know with what's happening in the world around you – in real time.
Read full article