LS pollscape: Nandan Nilekani, NaMo and Karnataka's battles of wits
Whatever is being played out at the national level, in Karnataka, the Lok Sabha story is about individualistic battles this coming election.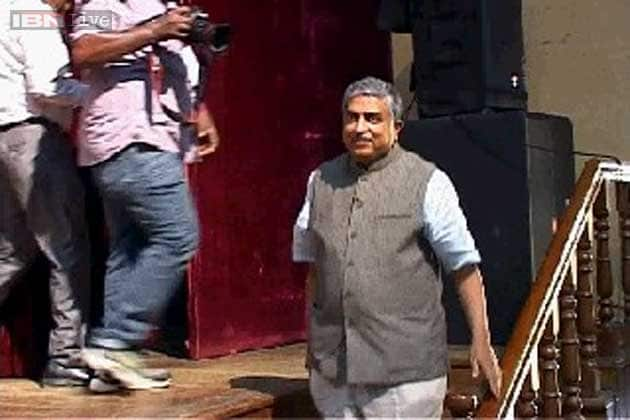 Whatever is being played out at the national level, in Karnataka, the Lok Sabha story is about individualistic battles this coming election.
The NaMo vision, the RaGa saga, the third front's brave front. Whatever is being played out at the national level, in Karnataka, the Lok Sabha story is about individualistic battles this coming election - whether it is about former chief minister BS Yeddyurappa's return to the BJP or the rise of Nandan Nilekani with his Infosys-Aadhaar credentials, or about the desperate attempts by an almost-knocked-out JDS to remain relevant.
Then there's Union Petroleum Minister Veerappa Moily's son Harsha Moily who is trying to make a debut in the Congress; and former chief minister Sadananda Gowda testing new waters, as he is likely to contest from the Bangalore North seat. Gowda is currently an MLC but has earlier been an MP from the Udupi-Chikmagalur seat in coastal Karnataka.
For the BJP, which is gambling big on Karnataka as it is the party's only hope in the south, Yeddyurappa and his coterie continue to be a thorn in the flesh.
For the last few weeks, Yeddyurappa - arguably one of Karnataka's most prominent leaders of the majority Lingayat community - has been insisting neither he nor his son would contest this time. Old BJP hands have taken it as yet another drama from a man who has thrown many a tantrum the last five years.... and know that they need to take this too in their stride, as he has earlier proved that he can carry with him nearly ten per cent of Karnataka's voters.
The BJP is grappling at straws, trying to see how it can get the maximum number of seats from Karnataka. It knows it doesn't have much of a hold in Tamil Nadu, nor in Kerala. Andhra, with the raging Telengana fires and its own regional parties, may not bring the BJP much fortune either.
So Karnataka is its only hope in the south to shore up its numbers. BJP hopes to win at least 10 of the 28 seats in Karnataka, a tough ask, under Congress rule in the state. But it's hoping to ride the NaMo wave, along with some support from Yeddyurappa's fan following. Besides, it's looking at a possible tie-up with Sriramulu - the confidante of the Reddys in Bellary who had split ways last year to form his own party too.
If they are able to bring back Sriramulu despite the mining background, they hope to win two more seats - Bellary and Raichur. And every added number counts in the final tally, with the larger picture being so fluid.
So while it's favourite tag-line was: "We care for principles, not personalities...," "The party is greater than the person...: in the Assembly elections in April 2013, these fancy slogans have been given a silent burial in the lust for numbers.
The party is also very aware that it's struggling in the coastal regions. The coastal Karnataka districts of Udupi, Karwar and Dakshina Kannada - which were once BJP's forte - have almost completely swung the Congress way - this is one of the reasons that former CM Sadananda Gowda doesn't even want to risk contesting from Udupi, a region he has represented earlier.
The Congress is in a slightly better position - it's ruling, it has won recent by-elections, it has come up with many populist schemes. It also has some star candidates - Nandan being the most famous. Whether the former Infoscion can actually win is a moot point - Ananth Kumar has been BJP MP for five straight terms, but not everyone in the party is sure of his win this time.
His margin declined considerably the last time, and there were even reports that he would look at some other constituency this time. But he's back in the reckoning for Bangalore South, hoping to ride the NaMo wave. And the battle for Bangalore South will be one of the most keenly watched.
The JDS and its patriarch Deve Gowda, still chafing their wounds after their bad performance in the Assembly elections, is trying to revive it's reach desperately. There's talk of Deve Gowda himself contesting not just from Hassan, but also Bangalore Rural, to avenge the defeat of his daughter-in-law there the last time. The JDS has also talked of reviving the third front in Karnataka but public meetings of "like-minded" parties. And the refrain of "bring JDS to victory in 20 seats and you could make Gowda PM again" is also begin heard.
Every man to his own then. Karnataka may not play a big role in how the next government finally shapes up -- that may depend more on UP, Bihar, Tamil Nadu and Andhra which have larger numbers of LS seats. Besides, there is no dominant regional party that can hope for a king-maker role. But this will be the stage of a keen potpourri of smaller battles that will dent the war.
Get the best of News18 delivered to your inbox - subscribe to News18 Daybreak. Follow News18.com on Twitter, Instagram, Facebook, Telegram, TikTok and on YouTube, and stay in the know with what's happening in the world around you – in real time.
Read full article