London 2012 Javelin: 10 things to know
Here are the top 10 interesting facts about the doodle and Javelin Throw events.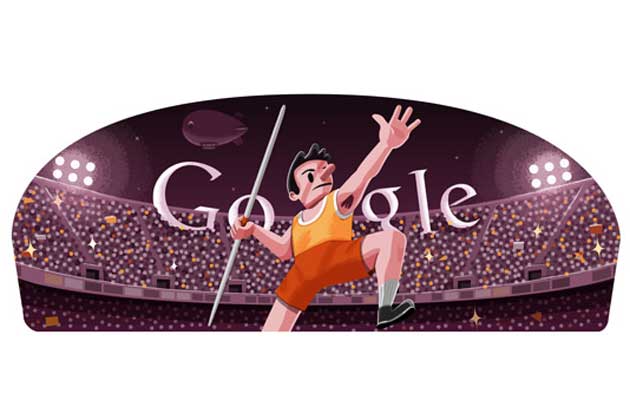 Here are the top 10 interesting facts about the doodle and Javelin Throw events.
New Delhi: Today's doodle is the 11th London Olympics doodle posted by Google on its homepage during the ongoing London 2012 Olympics. Here are the top 10 interesting facts about the London 2012 Javelin doodle and Javelin Throw events:
1. Dedicated to Javelin Throw, the doodle features a male javelin thrower taking the throwing position in a stadium. The term "Google" is written in a slapdash manner, with the second 'O' hidden behind the athlete.
2. The London 2012 Javelin doodle is the first ever Javelin doodle posted by Google during the Olympic Games. Javelin Throw is one of the throwing events in the Athletics programme.
3. In the Javelin, athletes must throw the javelin as far as possible. The javelin in the men's competition is 2.7m long and weighs at least 800g. On the other hand, the javelin in the women's competition is 2.2m long and weighs at least 600g.
4. Using a run-up the athlete must release the javelin before the end of the runway, launching it with one hand held over the shoulder.
5. The distance the javelin travels is measured from the end of the runway to the point the javelin first touches the ground, which must be within the lines of the throwing sector.
6. The javelin must land on its tip for the throw to be valid.
7. In all throwing events, athletes start with a qualifying round. Throwing in turn, each athlete gets three attempts to achieve a qualifying distance, decided by the International Association of Athletics Federations (IAAF) Technical Delegates.
8. Once all throws have been completed, all athletes who have achieved the qualifying distance go through to the final. If fewer than 12 athletes achieve the qualifying standard, the best 12 athletes go through.
9. In the final, athletes have three initial throws, with the top eight after the first three rounds then having a further three throws. The athlete who performs the longest throw is the winner. In the event of a tie, athletes' second-best throws are compared, followed by their third, and so on.
10. The Javelin throw events at London 2012 Olympics are scheduled from August 7 to August 11.
Get the best of News18 delivered to your inbox - subscribe to News18 Daybreak. Follow News18.com on Twitter, Instagram, Facebook, Telegram, TikTok and on YouTube, and stay in the know with what's happening in the world around you – in real time.
Read full article