INDIA
London Olympics: Memorable quotes
Take a read of some of the fun and memorable quotes from the London 2012.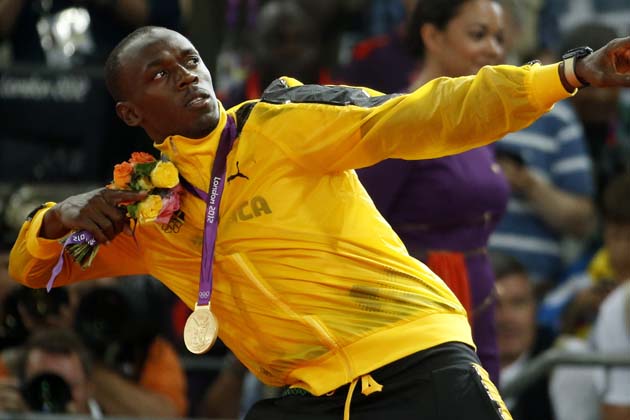 Take a read of some of the fun and memorable quotes from the London 2012.
Following are some of the fun and memorable quotes from the London Olympics:
"It's what I came here to do, I'm now a legend."
- Jamaica's Usain Bolt permits the world to proclaim him a sporting legend after becoming the first man to retain the 100- and 200 metres titles.
"There was no pressure. You should play in my country, then you will see pressure. They throw bricks at you."
- Croatia's Ivano Balic reacts after his side's handball semi-final defeat by France.
"It's hard to put it into words in English, it's even harder in Swedish!"
- Pia Sundhage, the Sweden-born coach of the U.S. women's soccer team, talks about winning the gold medal in front of more than 80,000 fans at London's Wembley Stadium.
"I'm ready to wrestle anyone who steps across that line. If the Queen of England came out on the mat I probably would double-leg her."
- An exuberant Jason Burroughs invites all challengers after the American wrestled his way to Olympic gold.
"My mother used to tell us in the mornings, 'Carl put on your shoes, Oscar you put on your prosthetic legs... So I grew up not really thinking I had a disability. I grew up thinking I had different shoes."
- South African runner Oscar Pistorius, nicknamed 'Blade Runner' because he races on carbon fibre prosthetic blades, talks about growing up playing sports with brother Carl.
"I saw the board with number 31 on it and thought my brother had got a penalty. I thought 'What an idiot Alistair, you've got a penalty'. Then I looked at my arm and realised I was number 31."
- Britain's Jonathan Brownlee took bronze in triathlon after receiving a 15-second penalty for getting on his bike too early. His brother Alistair took gold.
"I hope that this medal inspires the kids at home to put down guns and knives and pick up a pair of trainers instead."
- Erick Barrondo, winner of Guatemala's first-ever Olympic medal with silver in the men's 20-km race walk.
"Good evening, Mr Bond."
- Queen Elizabeth at 86 makes her film debut with James Bond star Daniel Craig in a clip for London's quirky opening ceremony where she appears to jump from a helicopter.
"The female body is a masterpiece. Everyone likes to look at the female body, especially in dynamic, athletic sport."
- Australia's Natalie Cook, gold medallist at Sydney in 2000, defends bikinis in beach volleyball.
"There are many people who want to start rowing because I have come to the Olympic Games. We will start when I get back. We just have to wait for the boats to arrive."
- Niger rower Hamadou Djibo Issaka trained for just three months for the men's single sculls, but never in his landlocked and mostly desert native country.
"My results come from hard work and training and I would never use any banned drugs. The Chinese people have clean hands."
- Chinese swimmer Ye Shiwen brushes aside doping suspicions raised after the 16-year-old set a world record in the women's 400 metres individual medley.
"'Inspire a generation' is our motto. Not necessarily 'Create a generation', which is what they sometimes get up to in the Olympic village."
- London Mayor Boris Johnson extols the "energy and enthusiasm" of the Games' 10,000 athletes, to whom some 150,000 condoms were distributed.
"I said 'The medal is there, we have to take it'. I had a super feeling. I felt something big, but now I feel something even bigger - a big pain."
- Injured Swiss cyclist Fabian Cancellara rues a crash in the men's road race.
"We were getting rather frustrated with Transport for London at one point and discussed internally trying to get on a bus with a coffin."
- London funeral director John Cribb expresses frustration at special road lanes set aside for Olympic vehicles.
Support the daily wage earners who have been hit the hardest by the COVID-19 crisis. Click here to contribute to the cause. #IndiaGives
The daily News18 Coronavirus COVID-19 newsletter - Get your copy here.
Subscribe to News18 Daybreak. Follow us on Twitter, Instagram, Facebook, Telegram, TikTok and on YouTube
Read full article