'Losing My Job is a Small Risk for the Debate I'm Trying to Have': Shah Faesal on 'Rapistan' Tweet Row
Jammu and Kashmir officer Shah Faesal says working under political bosses is a challenge as one's work is not considered independent. "It is determined by political involvement," he says.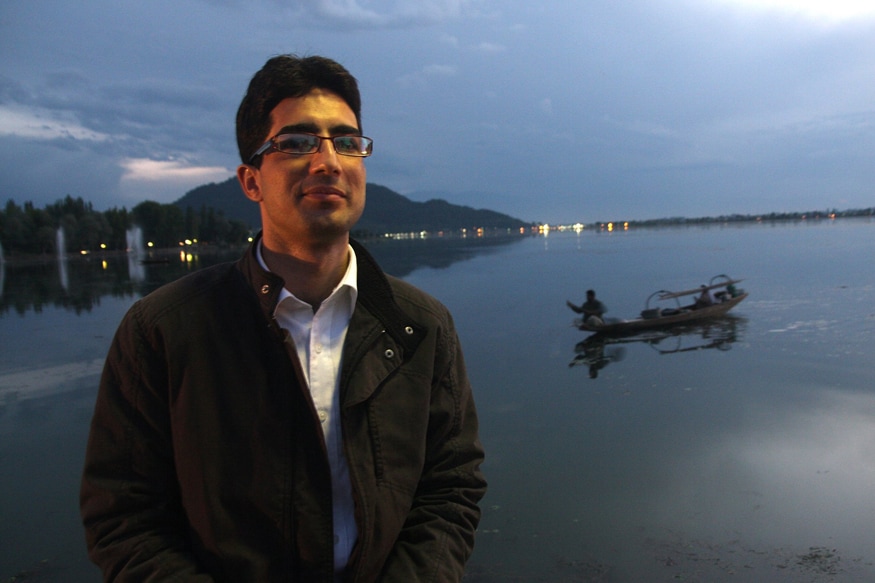 Jammu and Kashmir IAS officer Shah Faisal. (Image: Facebook)
The first UPSC topper from Jammu and Kashmir, Shah Faesal, finds himself not just at the heart of a Twitter controversy but, perhaps more willfully, at the centre of a debate on whether civil servants have the right to express themselves on social media. In coming days both are likely to attract frenzied attention.
On the latter point, as he told News18 in this interview, Faesal is prepared to forfeit an enviable career. "Losing my job is a small risk compared to the magnitude of the debate I'm trying to have. Yes, I could lose my job. But then the world is full of possibilities."
Faesal says that there is an image of the government officer. "He's anonymous, he's not supposed to debate, he's blind to whatever is happening around him — that needs to change now."
The Jammu and Kashmir officer has been in news since Tuesday for making a disciplinary notice public on Twitter while scoffing at it for what he described as an infringement on his right to free speech. The notice was served to him for an earlier message he had posted on the social networking website.
July 10, 2018
Love letter from my boss for my sarcastic tweet against rape-culture in South Asia. The Irony here is that service rules with a colonial spirit are invoked in a democratic India to stifle the freedom of conscience. I'm sharing this to underscore the need for a rule change. pic.twitter.com/ssT8HIKhIK

— Shah Faesal (@shahfaesal) July 10, 2018
The 35-year-old additional secretary to the state tourism department is currently pursuing a masters program in the US. Excerpts of the interview.
By posting the disciplinary notice issued to you for your tweet what point were you trying to prove?
My objective was to highlight the lack of freedom of expression of government employees.
Government employees constitute a large section of the society but we don't talk about them usually. The general feeling is that there is a contract between the government and the employees and the employee has to just follow the writ.
What I'm trying to argue through this tweet is that the employee too is a member of this society. He or she cannot remain detached from larger moral issues. Just being a government employee doesn't mean that he or she remains cutoff from the public discourse. And, I believe, I have exercised my right to free speech with appropriate caution. For example, in keeping with the norms I have never criticised a government policy.
You are one of the many young bureaucrats from Jammu and Kashmir who like expressing themselves on social media regularly, often writing on some very controversial topics in the course. It is a radical departure from how a civil servant is expected to behave.
Yes, there are many officers who don't shy away from speaking their minds. The thing is, rules that bind people from speaking were framed much before the internet. They were framed at a time when there were more pressing concerns like right to food and shelter. But freedom of expression today is as important a right.
At such a time how can government expect its employees to remain quiet, stay anonymous, have no opinion, not participate in public debate over larger issues?
There is a classical image of the government officer — he's anonymous, he's not supposed to debate, he's blind to whatever is happening around him - that needs to change now. The government officers need to break this conventional thought because people like me, who are also government officers, are affected as equally as any one else is. We live in this society and its progress or decline concerns us.
Do you think that by posting that letter, with an arguably vitriolic caption, you run the risk of losing your job?
You could call it provocative at max, I don't think it was vitriolic. Losing my job is a small risk compared to the magnitude of the debate I'm trying to have. Yes, I could lose my job. But then the world is full of possibilities.
How do you look back at the eight years of your service?
This has been very eventful time in which I did some work in the education sector and the in hydropower sector. It has been an amazing time and given a choice I would like to continue serving people.
Has serving in bureaucracy given you a perspective that as an outsider you never had?
I understood challenges that civil services deal with while serving people. And there are undoubtedly a lot of challenges. Working under political bosses is one of these challenges because your work is not considered independently. It is determined by political involvement. Even if I try to give my 100 per cent, my work or its appreciation is subjective to political environment. I would just hope that situation in the valley improves.
Does a former Chief Minister, Omar Abdullah, backing you on Twitter help relieve some tensions?
It's not just Omar Abdullah, I've had exchanges with several other political figures earlier as well. What I said about the right to free speech for government employees extends to public figures like them as well. When they argue or support my argument they're doing it in their personal capacity, as individuals. One shouldn't look at such comments as coming from a former so-and-so. To say that a former Chief Minister supported me would, given this context, be making an unnecessary political point.
You must be itching to return to the valley and resuming your office?
That and tweeting again [laughs].
Get the best of News18 delivered to your inbox - subscribe to News18 Daybreak. Follow News18.com on Twitter, Instagram, Facebook, Telegram, TikTok and on YouTube, and stay in the know with what's happening in the world around you – in real time.
| Edited by: Sumedha Kirti
Read full article