Guwahati:
Lt Shougrakpam Vijaya Devi is looking forward to returning home to Manipur and to the celebrations that would follow on completion of her epic voyage at sea. Lt Vijaya is part of the six-member crew currently circumnavigating the globe on the van-de-stadt designed Tonga 56 boat, INSV Tarini.
The expedition 'Navika Sagar Parikrama' is the first-ever attempt by an all-woman crew to circumnavigate the globe and is on its home run. The team is likely to reach Goa in late April or early May this year. Adhering to rules of circumnavigation, Tarini will end her voyage at the same place from where she was flagged off on September 10, 2017 – at INS Mandovi, Naval training base near Panaji.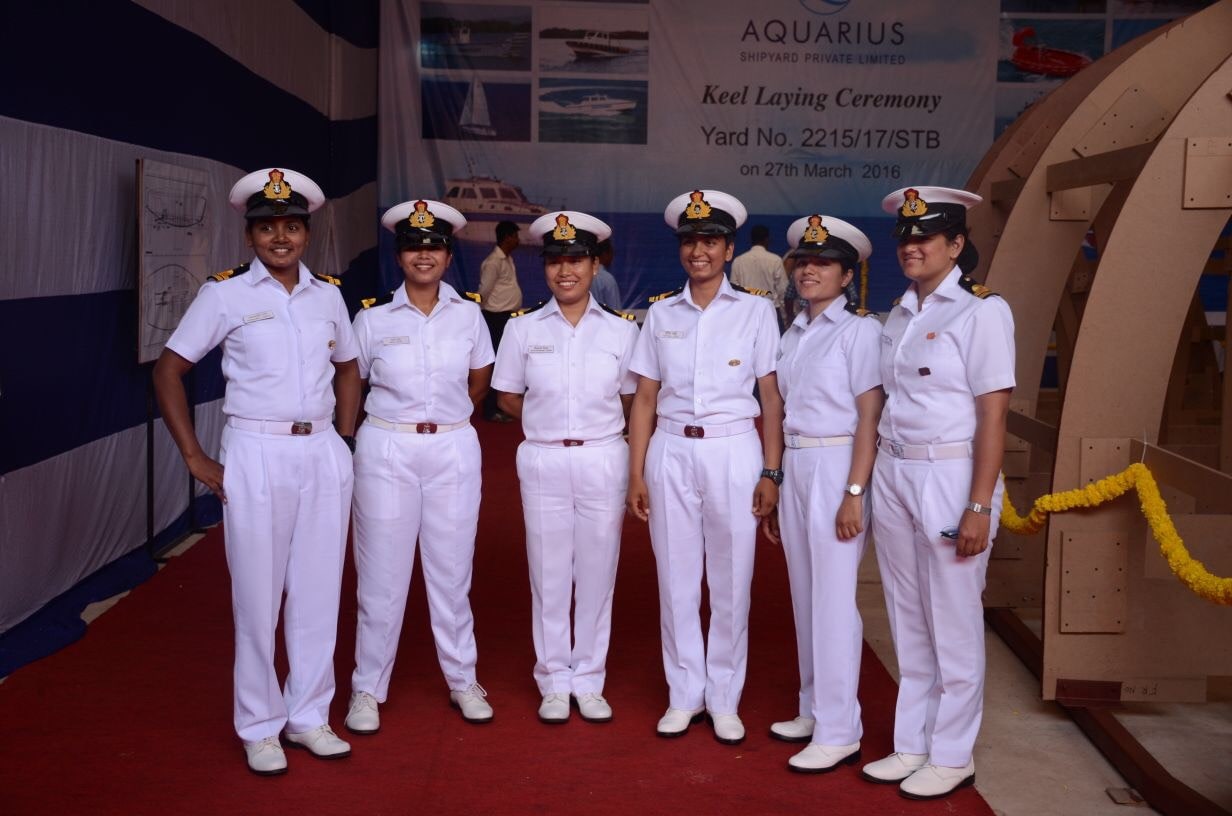 (The crew of the INSV Tarini)
The Journey to Indian Navy
From the dewy valleys and green hills of Manipur to the rough seas and distant lands - the journey wasn't easy. It was Lt Vijaya's attraction for the sea that makes her a skilled sailor today. She reveals that joining Indian Navy was a dream come true - one led by destiny, hard work, and a subconscious desire to wear the white uniform she is so proud of.
"In the Northeast, the Army is more popular. We hardly see any naval officers here. Until I joined Indian Navy, my only exposure to bits of it was on television. I used to watch Doordarshan serials like Aarohan, Udaan and Sea Hawks. I never thought I would ever get to see the ocean," Lt Vijaya said.
Vijaya was born into a family of five at Tera Khongshangbi Santhong Sabal in Bishnupur district of Manipur, 52km from Imphal. Her father, Sh Kunjakeshore Singh, had served in Manipur Rifles and her mother, Sh Binasakhi Devi, had been a school teacher before they shifted to Imphal for their children's education. Being the only daughter, her parents were initially reluctant to send her for further studies. After graduating from Dhanamanjuri College of Arts in Manipur, she pursued her Masters in English from Delhi University. She subsequently graduated with a BEd degree before being commissioned into the Indian Navy in December, 2012.
"She was like a tomboy, being brought up around four brothers, but a very bright student. I miss her a lot, and I only pray for all of them to return back home safely," her mother said, teary eyed while flipping through an old family album and reminiscing memories.
"She calls every day at 8pm. Even today, we are waiting for her call. We are proud of her. Let her bring laurels for the nation," said Kunjakeshore Singh.
Even as her parents had many a nervous moment hearing about cyclones and rough weather, Vijaya would soothe their worries by either making video calls from mid-sea or sending pictures and videos of her voyage.
"My parents are really looking out for me – to be able to complete this voyage safely and reunite with my family has been my constant motivation," Said Lt Vijaya Devi, responding to questions sent on WhatsApp as the vessel entered Atlantic Ocean.
Aboard INSV Tarini
28-year-old Lt Vijaya, who has sailed for more than 30,000 nautical miles, recalls that it was her birthday celebration (December 21) on board Tarini in the middle of the Pacific that she would fondly remember from this incredible voyage.
"Another day, on January 8, we were hit by a storm – it was scary to see very high waves, around 9-10 metres surging the boat at a wind speed of 60 knots. Though we were prepared for the storm, it was quite challenging for us. Mountainous waves were surging from behind, pushing us forward. Luckily for us, we were sailing downwind. We took turns in steering the boat, three of us were doing the watch at a time while the other three rested. It was so cold that it was difficult to stand outside for more than an hour. The storm lasted for 15 hours," she narrated.
Vijaya recalled the experience of giant waves surging up right in front of her: "We watched enormous waves break over the top of the boat and sweep across the deck. A blast of saltwater soaked me completely. I ducked as it fell on the ground. The water gushed inside our living space, soaking all our clothes in sea water. It was such a mess," she said.
The six naval officers have fought bravely – tearing through rough waves and powerful gusts of wind, they have conquered unexplored lands. INSV Tarini is captained by Lieutenant Commander Vartika Joshi, with her crew comprising Lieutenant Commanders Pratibha Jamwal and P Swathi, and Lieutenants S Vijaya Devi, B Aishwarya and Payal Gupta.
The task looks even more daunting in the wake of the fact that the vessel has to be manually maneuvered while it's on the move. The job of steering the wheel, sometimes for long hours, or adjusting a 100 kilo sail according to the direction of wind while constantly battling fatigue is as much a test of strength of body and mind as it is of grit, determination and endurance.
"Tarini has become a second home for us. We divide our day into three watches - at all times, two officers are on watch, observing the change in weather conditions. One watch lasts for four hours followed by an eight-hours break when we rest and carry out maintenance or repair work," explained Lt Vijaya, whose seamanship expertise rests on the upper deck of the boat.
Retired naval officer Captain Dilip Dhonde, who undertook India's first solo around-the-world expedition in 2009-10 on board INSV Mhadei, mentored the crew before they set sail. The first Indian non-stop solo circumnavigation was undertaken by Commander Abhilash Tomy in 2012-13.
Built by Aquarius Shipyard at Goa, INSV Tarini was inducted into the Indian Navy on Feb 18, 2017. She runs solely on wind power, and is capable of enduring long durations at sea. All of 17.10 mtr in length and 5mtr breadth, the boat's basic and uncluttered design caters for a good amount of food and water storage. Tarini also has an onboard reverse osmosis plant that is capable of generating 30 litres of water per hour, an electronic chart plotter with GPS and Weather Radar, two smart pilot self-steering systems, wind indicators for directions and speed, satellite communication for internet usage, a diesel generator and an engine.
The Indian Navy is operating four sailing vessels capable of open ocean deployment– Tarangini, Sudarshini, Mhadei and Tarini, all four of which have been built in shipyards at Goa.
The Motivation
Sailing has been an integral part of naval training. Lt Vijaya Devi had first cast off her boat in open sea in March 2015, when she took part in the Navy Open Sailing Championship held at Indian Naval Academy, Ezhimala.
"When I took part in this championship along with civilians, I was afraid of capsizing in the open ocean. In fact, I capsized a number of times during the four-day championship, but I ended up with a cash prize of Rs 2000 and even more – the 'Woman of Steel' title. This incident motivated me to take up sailing," Lt Vijaya said.
But Vijaya admits she had taken up sailing for fun, and never imagined she would dare for a feat like this someday. She has appealed to the youth of Northeast to come forward and join the Navy.
"Being in a team of an all women crew to circumnavigate the globe is itself a wonderful feeling. It's my love for adventure which has got me here today, and I believe everyone is capable of doing it. Just that I did it - doesn't make much difference," remarks Lt Vijaya.
The naval officer makes special mention of Defence Minister Nirmala Sitharaman: "On her third day after being sworn in as the Defence Minister, she came down to Goa just to flag off our voyage. It was an immensely proud moment for all of us and inspired us all the more."
INSV Tarini, now docked at Port Stanley, the capital of Falkland Islands — a British Overseas Territory will set off for Cape Town, South Africa on February 4 for the last two of the five legs of this voyage. The vessel's first port halt was at Fremantle, Australia in October and the second at Lyttelton, New Zealand in November last year.
Vijaya, who likes reading and knitting during her free time at sea, is also busy learning the Harmonica these days. She plans to get married after completing her voyage. "I now feel I have something to share with the world. At least, a story to tell our future generations," she said.
With inputs from Noren Ningombam